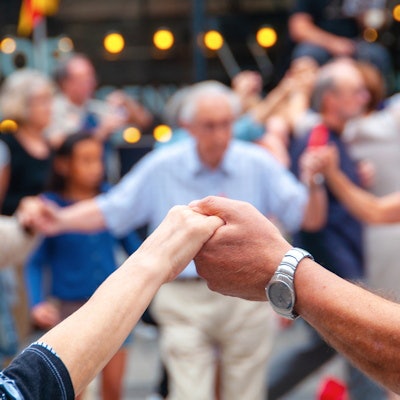 Life expectancy in Spain is the highest in Europe and the fourth-highest worldwide, with a forecast average of 85.8 years, and a multitude of reasons appear to explain this demographic phenomenon, according to RSNA President Dr. Mary Mahoney.
Environmental factors -- such as high levels of sunshine and a pleasant climate in most regions -- plus the Mediterranean diet, an emphasis on physical activity, strong social relationships, and a robust public health system seem to lie behind the longevity of Spaniards.
"Radiology plays a fundamental role in understanding the changes that occur related to health habits as well as the development of risk factors for different diseases," she told a special session on Monday.
This has serious implications for radiology, particularly in terms of the prevalence and incidence of cognitive impairment and neuroimaging findings related to neurodegenerative disease. On the flip side, the healthy Mediterranean diet has important ramifications for cardiovascular diseases and the available imaging modalities, Mahoney noted.
Hail César
The longevity of Spanish radiology is personified by Dr. César Pedrosa, who will turn 90 in February 2022 and is the oldest practicing radiologist in the country, Dr. Fatima Matute Teresa, an abdominal radiologist at the San Carlos Clinical Hospital in Madrid, told RSNA attendees.
During his career, Pedrosa has attended a remarkable 622 conferences, having been a speaker at 204 of them. He was a radiology intern and resident at the Prince George's General Hospital in Cheverly, Maryland, U.S., between 1958 and 1960, before working at the Jefferson Medical College of Philadelphia from 1960 to 1963. He was head of radiology at Hospital Clínico, Madrid, from 1970 to 2002, and he has been professor emeritus of radiology since 2002.
Pedrosa, who was SERAM president from 1977 to 1981, even has his own website, and he continues to inspire younger radiologists, Matute Teresa said.
Mediterranean diet
One of the problems associated with longevity is dementia, and between 8% and 10% of the elderly population in Spain suffer from the condition, said Dr. Núria Bargalló Alabart, head of the neuroradiology section at the Vall d'Hebron University Hospital in Barcelona. Several studies have shown that the Mediterranean diet has a positive role to play in the prevention of dementia, suggesting that it is associated with better cognitive function.
"Neuroimaging studies have been performed that demonstrate changes in brain volume and cortical thickness, as well as vascular lesions related to the Mediterranean diet," she commented.
Greater adherence to the Mediterranean diet can lead to a lower incidence of cardiovascular events, particularly myocardial infarctions and strokes, explained Dr. Antonia Arjonilla López, a cardiac radiologist at Quirón University Hospitals in Madrid. CT and MRI can detect those lesions that are most vulnerable due to their composition and are therefore more likely to cause an ischemic event. Changes in the lesions, both quantitatively and qualitatively, can be seen after the implementation of the Mediterranean diet, she said.
Organ transplantation
Spain has a leading system of organ transplantation, and radiologists play a central role in the processes of donation and implantation and post-procedure follow-up, noted Dr. Fernández Velilla, a thoracic radiologist at the La Paz University Hospital in Madrid.
She has analyzed the Spanish transplantation model as a "benchmark in Europe" and how it can boost the life expectancy of the Spanish population. The role of the radiologist in this model is that of a "main secondary actor," she said.
"We are present in all phases of transplantation -- in the shadows, but essential for the project to end well," she said. "We evaluate the possible donors, we study the patient who needs to receive this transplant to know about their anatomy, to check that they do not have other injuries that will make it impossible for the optimal development of the transplant. We also carry out the control tests once the transplant has been carried out."
Dr. Milagros Martí de Gracia, SERAM president and head of the emergency radiology section at La Paz University Hospital in Madrid, explained that this special session was originally due to take place at RSNA 2020, but it got postponed due to the pandemic. She said that demographic factors are likely to have an increasing impact on medical imaging in the years to come.