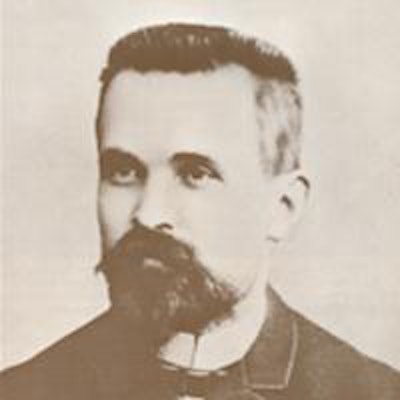 I love France, and I have spent many pleasant weeks enjoying the French countryside and the wonderful wines. The country has made enormous contributions to world culture and science, and one of the greatest of her sons is the doctor and radiologist Antoine Béclère (1856-1939).
Antoine Béclère was born on 17 March 1856 in Paris at 345 rue Saint-Martin, and as a boy, he was fascinated by a medical bag belonging to a physician who had worked in the Napoleonic armies. The physician told the boy: "I will give it to you, it will be useful to you in your practice."
His father, Claude Béclère, was a physician, and it was therefore natural that in 1873 the young Antoine entered the Hôpital Lariboisière to start his studies. He was fascinated by medicine, and even when on holiday, he visited the local hospital every day. This was at a time of major changes in medicine, with the introduction of antiseptic practices. He qualified as an intern in 1877. A major interest of his was pediatrics and he gained considerable ability in performing emergency tracheostomy.
Béclère set up a practice in pediatrics in Paris, and he was called out on many occasions for emergency tracheostomy in children. He married in 1887, and very much enjoyed the newly invented bicycle.
Béclère had wide interests in medicine including clinical applications of the work of Louis Pasteur and in the endocrinological discoveries of physiologist Charles-édouard Brown-Séquard. He treated a woman suffering from myxedema using an extract of sheep thyroid gland, and a patient with Addison's disease using calf adrenal glands. He went to the slaughterhouse at La Vilette to personally obtain fresh material. Thus, he was a pioneer of modern endocrinology.
Following the discovery of x-rays in 1895, the first radiographs in France were obtained by Toussaint Barthélémy (1850-1906) and Paul Oudin (1851-1923). Henri Poincaré presented the first radiograph in their names to the Academy of Sciences on 20 January 1896. At this time, Béclère was a successful pediatrician engaged in immunological research. In early 1896, Béclère visited Oudin's home for a demonstration of the radiological findings of Oudin and Barthélémy. Béclère arrived late, having had to attend an emergency, but he was completely fascinated by the fluoroscopic examination of the heart and lungs and immediately understood the value of the technique.
"This path appeared to me like the road to the promised land and I shall make use of it," he said. He proposed the term radiologie for the new specialty. In 1896, he started his studies in radiology and installed apparatus into his own home at 5 rue Scribe. He made a radiograph of a hydro-pneumothorax and also studied pulmonary tuberculosis.
Béclère was appointed chef de service at Hôpital Tenon on 1 January 1897, and in his general medicine department -- and at his own expense -- he opened the first Hospital Department of Radiology. For precedence, this department rivals that of the famous New Electrical Pavilion that John Macintyre opened in 1897 at the Glasgow Royal Infirmary, U.K.
On 5 February 1897, along with his friends Oudin and Barthélémy, Béclère presented a paper to the Medal Society of Paris Hospitals on the use of radiography in examining aortic aneurysm showing tracings of fluoroscopic examinations. He always kept a record of examinations, either the hard copy of the radiograph or tracings of images. He made many studies of pulmonary radiography.
Of great interest -- and showing the nature of the man -- is that in 1897, and using a principle that was dear to him that "in order to know subject well, one must teach it," he organized regular instructions in "medical radiology" at Hôpital Tenon. This teaching was the first of its type in the world, and he continued his teaching for the next 30 years wherever he worked, including San Antoine, at the Val-de-Grâce Military Hospital in the Great War, and after the war at the Curie Foundation up until 1927. This is a remarkable teaching record.
Béclère believed that hospital radiology departments should be under the control of a physician. This was in distinction to what had happened at the Necker Hospital, where a radiography department had been opened in 1898 by a nonphysician, Gaston Contremoulins. Béclère declared in 1899 that "each hospital would possess a radiographic and radioscopic installation where the chiefs of service could send their patients for investigation and which would be directed only by a qualified doctor."
In 1899, Béclère moved to the St. Antoine Hospital. He continued to develop radiology and developed radiotherapy making many developments. He published widely and presented many courses of lectures.
At the start of the Great War, he was 58 years old and did not have to do military service. He was appointed director of radiology and physiotherapy at the Val-de-Grâce Military Hospital. He developed mobile radiography vehicles. The numbers of radiologists were insufficient and he gave courses for nurses, medical students, and radiologists.
After the war, Béclère devoted his time to radiotherapy. He attended the first International Congress of Radiology held in London in 1925 under the presidency of Thurstan Holland. The second International Congress of Radiology was held in Stockholm in 1928 under the presidency of Gösta Forssell. Antoine Béclère was appointed president of the third International Congress of Radiology, which was held in Paris in 1931. Marie Curie was the honorary president of the congress. This was a huge task for Béclère. The congress was a great success, largely owing to his efforts.
The energy of Béclère was prodigious. He continued his work after the 1931 congress, and was still attending meetings in 1939. He developed a bad cold in January, and whilst recovering suffered a fatal heart attack on 24 February 1939.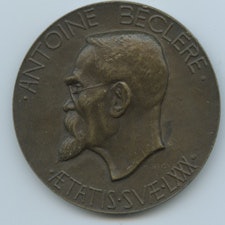 So Béclère is one of the greats of radiology. In this brief article, it is only possible to scratch at the surface of this remarkable man. He was modest and did not harbor malice. He loved direct contact with colleagues and was not attracted to awards. In 1957, he was commemorated by a French stamp (see above). It has been said that his sole desire was to serve, for "one has eternity to repose."
Dr. Adrian Thomas is chairman of the International Society for the History of Radiology and honorary librarian at the British Institute of Radiology.
Editor's Note: This article was originally published by AuntMinnieEurope.com on 23 December 2013. We've re-posted it now as part of our build-up to the Journées Francophones de Radiologie (JFR) 2023, which begins on 13 October.
Further reading
Béclère, A. Antoine Béclère. Paris: J B Baillière; 1973.
Pallardy G, Pallardy M-J, Wackenheim A. Histoire Illustrée de la Radiologie. Paris: Les éditions Roger Dacosta; 1989.
The comments and observations expressed herein do not necessarily reflect the opinions of AuntMinnieEurope.com, nor should they be construed as an endorsement or admonishment of any particular vendor, analyst, industry consultant, or consulting group.