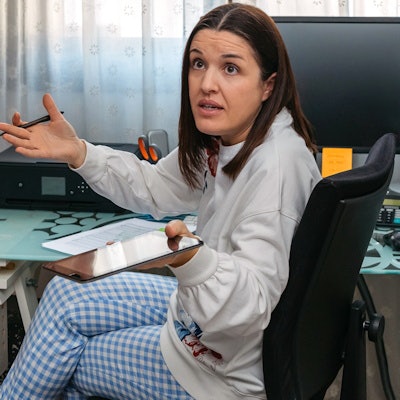 Home reporting can help to boost radiologists' productivity and avoid fatigue and burnout, but it requires careful planning, considerable thought, and rigorous attention to detail, according to a new 12-page free guide from the U.K. Royal College of Radiologists (RCR).
"Facilitating flexibility in working practice is a win for all concerned. That said, homeworking cannot replace the physical presence in the radiology department required to fulfill the multifaceted leadership and training roles of a radiologist," noted the authors of Homeworking for radiologists.
In the U.K., the massive expansion of home reporting by radiologists proposed by the RCR's Getting It Right First Time (GIRFT) scheme and accelerated by COVID has brought many changes to the specialty, and the document is intended to enable departments to harness such changes for better patient outcomes. Much of the report is also relevant to those outside of the U.K.
"While home reporting offers flexibility and reduced commuting as well as uninterrupted reporting time, an adequate onsite presence remains important to provide leadership for teams and appropriate input for clinical colleagues and trainees," the authors stated.
Equipment needs and work practices
A radiologist reporting from home needs to be enabled to work in the same way as if onsite, with an adequately specified radiology workstation, calibrated diagnostic displays, access to RIS, PACS, medical records, and additional specialist software. Adequate connection bandwidth to allow image review, reporting, and videoconferencing will be needed, they explained.
Bidirectional communication must be supported by telephone call re-routing and seamless access to hospital lines, bypassing the switchboard. Timely access to IT support prevents downtime and the need to return to the physical workspace unexpectedly.
"The whole endeavour needs to be supported by careful job planning to identify and accurately ring-fence contractual and non-contractual (additional) working periods," the authors emphasized. "Clinical leads and clinical directors must be encouraged to think laterally about the whole service when designing homeworking systems. A simple method of ensuring that work output is in line with the contracted homeworking time is helpful."
Other practices that may work well include the following:
Consider not allowing home working during known short-staffed or busy sessions.
Agree a session to be worked flexibly through the week delivering, for example, preparation and reporting for multidisciplinary team meetings.
Allow a session to be worked from home at a specific pre-agreed time with the understanding that this reverts to on-site working at short notice if required.
Allow a session of home working that never reverts to onsite, such as enabling a part-time radiologist to offer an additional session that fits with other commitments.
Facilitate insourced reporting outside of the contracted job plan, with fee-per-item reimbursement, as a way of dynamically managing reporting backlogs.
Importance of physical interaction
Some staff report loneliness, social and professional isolation, and perceived threats to professional advancement, partly due to homeworking, the authors of the report point out. It's essential to work out how to manage remote supervision with the best outcomes for trainers and trainees, and supervision of procedures needs to be face-to-face.
"Training involves checking imaging and imaging reports, one-to-one meetings, supervision or procedures and incidental interactions," they noted. "Most teaching time needs to be spent face-to-face to develop a good relationship and enable the trainee to feel supported, but occasional meetings can occur remotely."
Participation in remote and hybrid multidisciplinary teams can present real challenges for trainees. Careful thought is needed in designing systems that allow access to a senior opinion with trainee involvement when a consultant is supervising remotely, according to the RCR guide.
Technical factors
The "build to lossless" variant of real-time temporal image compression is particularly high risk for teleradiology because the image quality visually changes depending on factors such as bandwidth and graphical processing power, the authors continued. "Lossy compression in all forms is most risk prone when software fails to clearly indicate in the user interface that images are being shown in lossy form."
The three main technologies used for remote access for home reporting are the following:
A virtual private network (VPN) connects a home workstation to the hospital network and is provided and maintained by the hospital. This allows the user to log in and work on RIS and PACS. The use of client-side installed radiology software with the transmission of HL7 and DICOM data over the VPN allows for full-fidelity reporting.
A virtual desktop allows remote access to the hospital network from the user's own computer. These often use lossy compression but can be implemented with lossless compression if there is adequate bandwidth. However, the compression level is usually controlled by the hospital IT department staff, who can be unaware of the implications of changing this without reference to radiology.
Web-based reporting or virtual desktop integration (VDI) requires a significant infrastructure investment and integration work by the organization intending to use this method of reporting. The resultant software is very scalable and versatile and often less dependent on client-side software installation and maintenance.
"A home reporting station must typically have access to an internet connection of over 50 Mbps, but lower home broadband speeds (e.g., 20 Mbps) can be used with systems that offer pre-caching. An adequately powered computer (desktops tend to offer more power at lower cost) and calibrated display monitors are also needed," the authors wrote.
This document was written by members of the RCR's Radiology Informatics Committee. The lead author was Dr. Fiona Miller, and Dr Daniel Fascia made a significant contribution in co-editing the report.
You can download a copy of the document from the RCR website.