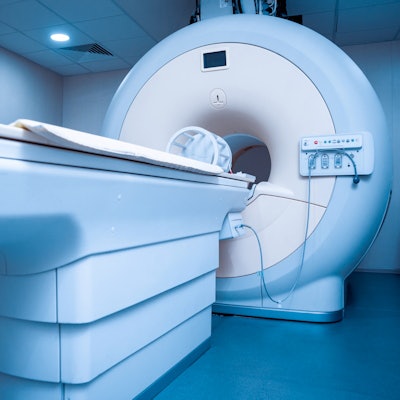 The Society for Cardiovascular Magnetic Resonance (SCMR) has released a recommendation for cardiac magnetic resonance imaging of COVID-19, noting that the modality is an effective way to assess heart health in this population.
"Multiparametric [cardiac MRI] allows a safe and non-invasive assessment of cardiac structure, function, and importantly, myocardial tissue characterization in COVID-19 patients," wrote a team led by Dr. Vanessa Ferreira of the University of Oxford in the U.K. The study results were published on 27 March in the Journal of Cardiovascular Magnetic Resonance.
COVID-19 has affected almost 600 million people around the world, and although it is primarily a respiratory disease, it can also cause cardiac injury, with a prevalence ranging from 26% to 60%, the team noted. The go-to imaging modality for assessing cardiac health is transthoracic echocardiography, but it has limitations when it comes to imaging COVID-19 patients, according to the investigators. PET is also an option, but it imparts radiation and may not be readily available.
That's why cardiovascular MRI appears to offer an effective alternative for heart health assessment in COVID-19 patients, helping physicians evaluate myocardial tissue and assess the pattern and degree of injury.
"In acute COVID-19 infection, [cardiac MR] has the potential to improve diagnostic and prognostic assessment among patients with severe COVID-19 infection and clinical evidence of myocardial injury," the group explained.
Image acquisition, analysis, interpretation, and reporting of cardiac MRI abnormalities could be further standardized -- which in turn could improve patient care. To this end, the SCMR has drafted and released recommendations for cardiac MRI in patients with COVID-19.
The Society's recommendation document outlined the following cardiac MRI findings common in COVID-19 patients:
Left ventricular involvement such as dilatation, including impair peak global longitudinal and circumferential strain parameters
Myocardial infarction
Myocarditis or myocarditis-like abnormalities
Pericardial effusion and pericarditis
Intraventricular thrombi
Myocardial perfusion deficits
Right ventricular involvement
The society also described myocarditis findings following COVID-19 vaccination, noting that "[cardiac MRI] increases diagnostic sensitivity, and should be considered in patients with suspected myocarditis following vaccination."
There are key cardiac MRI protocols for adults with active COVID-19 or those who have had the infection and are recovered but are showing signs of cardiac complications, according to the SCMR.
Recommended cardiac MRI protocols in COVID-19 patients
Cine sequences
T2-weighted imaging
Post-contrast T1 mapping (for extracellular volume)
Acquisition-based myocardial strain
Stress perfusion
Early gadolinium enhancement
Late gadolinium enhancement
Short axis full coverage and long axis views
Right ventricular late gadolinium enhancement
Real-time cine
2D flow of aorta and pulmonary arteries
Angiography of pulmonary vessels
The society also offered guidance about how best to report cardiac MRI findings in COVID-19 patients, noting that, "in addition to general assessment of cardiovascular structure, function and tissue characterization, particular attention should be paid to the possible findings reported in COVID-19."
For the SCMR, there's no doubt that cardiac MRI is a valuable tool for assessing heart health in those who are suffering or have suffered COVID-19 infection.
"[The] high reproducibility of [cardiac MRI] permits reliable longitudinal tracking of any observed cardiovascular changes, response to potential therapy, and association with clinical outcomes."