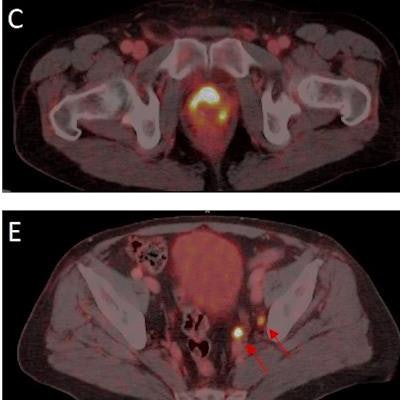 An experimental radiohybrid PET tracer is more effective than CT for identifying tumors prior to surgery in patients with advanced prostate cancer, according to a study published on 6 January in the Journal of Nuclear Medicine.
German researchers tested an experimental radiohybrid prostate-specific membrane antigen (rhPSMA) ligand labeled with F-18 to see how it performed compared with conventional contrast-enhanced CT in patients with metastatic prostate cancer. They found F-18 rhPSMA-7.3 performed well identifying lymph nodes that need to be surgically removed and could be a more reliable clinical tool than contrast-enhanced CT.
"F-18 rhPSMA-7.3 PET offers superior diagnostic performance to morphological imaging for primary N-staging of newly diagnosed [prostate cancer]," wrote Dr. Thomas Langbein, a nuclear medicine physician at the Technical University of Munich.
Radiohybrid (rh) ligands are a new class of radiopharmaceuticals that target prostate-specific membrane antigen (PSMA), which is overexpressed in cancer cells. They are so-called "hybrid" PSMA ligands because they can be labeled with F-18 or with radiometals, such as gallium-68 or lutetium-177, for diagnostic and therapeutic uses.
F-18 rhPSMA-7.3 PET has shown promise in early studies and is currently being evaluated in two phase III trials. In this study, the researchers aimed to provide the first real-world look at how the tracer performs diagnosing lymph nodes in patients during primary staging for recurrent prostate cancer.
The group retrospectively identified 279 patients with primary prostate cancer who underwent F-18 rhPSMA-7.3 PET/CT (staging cohort) between November 2018 and April 2020. A subset of patients (83/279) underwent prostatectomy with lymph node dissection without prior treatment (efficacy cohort). Patients underwent imaging on a Biograph mCT Flow scanner (Siemens Healthineers).
Three board-certified nuclear medicine physicians with three, six, and nine years of experience first analyzed the diagnostic contrast-enhanced CT images followed by the F-18 rhPSMA-7.3 data set at least four weeks later. Standard surgical fields were rated on a five-point scale independently for PET and for contrast-enhanced CT and results were compared with histopathological findings on a patient, right versus left, and template basis.
For the staging group, F-18 rhPSMA-7.3 PET scans were positive in 275 patients (98.6%) for local disease, 106 (38%) for pelvic nodal, 46 (16.5%) for extra pelvic nodal, 65 (23.3%) for metastatic bone, and five (1.8%) for visceral metastatic disease.
In the efficacy cohort, lymph node metastases were present on F-18 rhPSMA-7.3 in 24 out of 83 patients (29%).
Based on majority vote results among readers, the patient-level sensitivity, specificity, and accuracy for pelvic nodal metastases were all higher for F-18 rhPSMA-7.3 PET than for contrast-enhanced CT, the researchers found.
Modalities compared for detecting pelvic nodal metastases in prostate cancer N-staging
F-18 rhPSMA-7.3 PET
Contrast-enhanced CT
Sensitivity
66.7%
37.5%
Specificity
96.6%
91.5%
Accuracy
88%
75.9%
"The present study provides real-world clinical evidence to show F-18 rhPSMA-7.3 has moderate-to-high sensitivity and specificity for the detection of [lymph node] metastases in patients with intermediate- to very high-risk [prostate cancer]," the researchers wrote.
In addition, the efficacy of F-18 rhPSMA-7.3 compared well with published data for PSMA radiotracers approved by the U.S. Food and Drug Administration, such as Ga-68 PSMA-11 and F-18 DCFPyL, the researchers stated.
One well-documented limitation of PSMA-targeting radiotracers such as Ga-68 PSMA-11 and F-18 DCFPyL, however, is a high retention in the urinary system and especially high accumulation in the bladder, the researchers stated.
In this study, F-18 rhPSMA-7.3 showed low urinary retention and high uptake of tumor lesions resulting in a favorable tumor-to-bladder ratio, which could potentially increase the detection of local tumor deposits especially in the prostate base, they added.
"F-18 rhPSMA-7.3 PET can significantly improve primary N-staging versus conventional imaging," the group concluded.