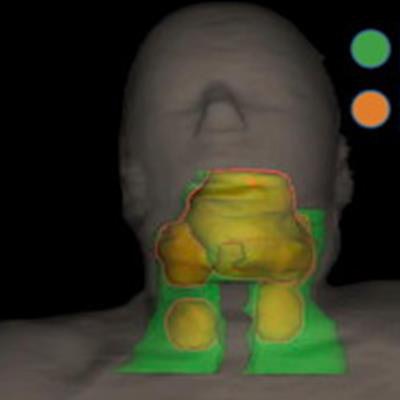 Is a second PET/CT scan worth it before radiotherapy treatment? Swiss clinicians think so, especially when there are delays of more than four weeks after initial scans in patients with advanced head and neck squamous cell cancer, according to a study published on 29 August in Clinical and Translational Radiation Oncology.
Researchers at Bern University Hospital conducted a small study at their hospital in patients with aggressive head and neck cancer who experienced delays of up to four weeks from the time of their first diagnostic PET/CT scan. They found that a second-look F-18 FDG-PET/CT scan prior to treatment identified new cancer lesions, resulting in treatment changes in more than half of patients.
"A second look PET/CT due to a delay of more than four weeks to [radiotherapy] ... led to tumor upstaging in 13% of patients and changes in treatment planning in more than half of patients, which is expected to directly influence oncologic outcome," wrote first author Dr. Olgun Elicin and colleagues at the University of Bern.
Head and neck squamous cell carcinoma is the sixth most common malignancy worldwide. This type of cancer is aggressive, and most patients require radiotherapy or a combination of treatments. Currently, European and U.S. guidelines suggest considering an initial F-18 FDG-PET/CT scan as part of the diagnostic workup if the primary tumor is unidentified by other imaging, such as MRI.
At Bern University Hospital, however, F-18 FDG-PET/CT is an integral part of primary staging prior to surgery or radiotherapy, the authors wrote. Moreover, in 2014, the hospital established the practice of a second-look PET/CT scan if patients experience delays of more than four weeks.
In this retrospective study, the authors aimed to determine the impact at their hospital of second-look PET/CT scans on subsequent radiotherapy planning and treatment.
The researchers reviewed charts of 32 newly diagnosed patients who were treated between 2014 and 2018 and who underwent a second look PET/CT for restaging and radiotherapy planning. The average interval between the first and second scan was 42.5 days. Scans were performed using an integrated PET/CT system (Biograph mCT 128 True V, Siemens Healthineers, Germany).
Consequent treatment changes after the second scan were categorized as minor and major. Minor changes were defined as PET/CT-based changes of radiotherapy plans -- the addition of anatomical compartments, changes in high- and low-risk dose levels, for instance, or both.
Major changes included changes from curative to palliative treatment intent and alterations of interdisciplinary treatment plans, such as the addition of induction chemotherapy, switch to primary surgery, no treatment, or the need for additional diagnostic workup resulting in the postponement or cancellation of treatment.
The researchers found second-look PET/CT led to a major treatment change in one case. PET/CT findings led to a palliative approach with systemic treatment for the patient instead of initially planned radiochemotherapy.
Minor treatment changes occurred in 16 of 31 patients (52%) who continued with curative treatment. New lymph node metastases were detected in all 16 cases, of which six also showed evident progression of the primary tumor size.
"Half of the patients were diagnosed with newly involved lymph nodes, and one-third of the patients with additional lymphatic levels presented regional metastases," the authors wrote.
The time interval between the two PET/CT scans, however, was not predictive of the occurrence of any treatment change, the researchers added.
The authors said theirs was the first study to investigate the value of a second-look PET/CT on stage migration and changes in treatment prior to definitive radiochemotherapy for patients with locoregionally advanced head and neck squamous cell carcinoma.
At Bern University Hospital, approximately 155 primary cases of this type of cancer are diagnosed annually and staged with PET/CT, and although 32 patients within four years indicated good quality in terms of treatment delays, the sample size remained relatively small for the purposes of this study, the authors wrote.
Current rates of locoregional control in comprehensive cancer centers would require a high number of patients in such cohorts to determine a statistically significant influence of the strategy demonstrated in this study, they wrote.
"Nevertheless, the potential long-term benefit of a second-look examination should be further investigated and validated," the authors concluded.