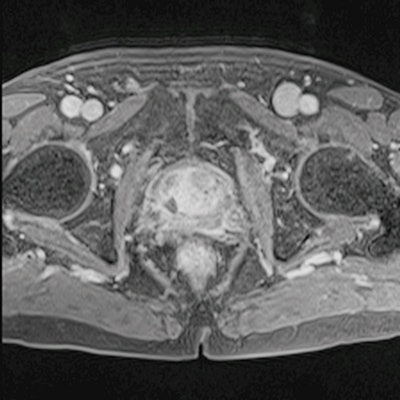 How can you standardize prostate MRI protocols across a hospital network? Researchers from University College London have provided some much-needed answers in a new study.
The central aim was to describe the typical landscape for multiparametric MRI within a region and outline a practical approach to standardization to make protocols clinically viable, senior author Prof. Shonit Punwani, professor of MR and cancer imaging at University College London (UCL), told AuntMinnieEurope.com.
"It was interesting to note that despite technical guidelines being available that a lot of sites still struggled with creating a fully diagnostic protocol," he said. "Experience in setting up scanners for multiparametric MRI, combined with expertise in diagnostic assessment and an ability to share across our region, was critical to success."
The need for standardization
Standardization of diagnostic image quality of prostate multiparametric MRI is crucial to optimize clinically significant prostate cancer detection, lead author Dr. Marianthi-Vasiliki Papoutsaki from UCL and colleagues wrote in an article posted on 20 April by Insights into Imaging. However, they were concerned that there is currently no system in place whereby centers perform a formal quality check of their multiparametric MRI scans to confirm diagnostic acceptability.
Smaller centers may have less experienced radiographers, generalist rather than specialist reporting radiologists, and an absence of MRI physicist support, and therefore they are more likely to have nonoptimized protocols, the authors explained.
An MRI physicist with two years of experience with prostate MRI was employed by North Central and East London Cancer Alliance in a dedicated role to facilitate MRI set up across the regional network hospitals. The physicist led the optimization of protocols over a year (from May 2018 to April 2019), working closely with two uroradiologists, each of whom had more than five years of prostate multiparametric MRI experience reporting over 500 studies per year.
Radiologists from 14 regional hospitals participated in the assessment and optimization of MRI image quality, assessed according to both PiRADSv2 recommendations and on the ability to "rule in" and/or "rule out" prostate cancer. The authors evaluated image quality and sequence parameters of representative scans were evaluated across 23 MR scanners. They performed optimization visits to improve image quality, and two radiologists scored the image quality before and after optimization.
A total of 20 out of 23 MRI protocols, consisting of 111 sequences, were optimized by modifying their sequence parameters. Preoptimization, only 15% of the T2-weighted images were nondiagnostic, whereas 40% of apparent diffusion coefficient (ADC) maps, 50% of high b-value diffusion-weighted images, and 41% of dynamic contrast-enhanced scans were considered nondiagnostic.
After applying the standardization process across the several prostate MRI protocols, the majority of the scores were increased, resulting in 80% of ADC maps, 74% of high b-value diffusion-weighted images, and 88% of dynamic contrast-enhanced MRI to be partially or fully diagnostic.
"Targeted intervention at a regional level can improve the diagnostic quality of prostate multiparametric MRI protocols, with implications for improving prostate cancer detection rates and targeted biopsies," the authors stated.
Future projects
The UCL group is now considering new studies seeking to address some of the remaining difficulties encountered with MRI. It is about to start several multicenter trials, including Prostate Imaging Using MRI +/- Contrast Enhancement (PRIME), led by Veeru Kasivisvanathan, PhD, which compares biparametric MRI with multiparametric MRI (biparametric MRI only involves T2 and diffusion-weighted imaging, so should be easier to set up and standardize).
In addition, Comparison of diagnostic accuracy of Luminal Index and Multi-parametric MRI for Accelerated deTEction of significant prostate cancer (CLIMATE), led by Punwani (who is also honorary consultant radiologist at UCL Hospital), will compare a single < seven-minute technique reliant on T2-weighted imaging alone against multiparametric MRI that may provide an even simpler approach to evaluating the prostate.
The team is also exploring the use of these simpler techniques in the setting of screening men for prostate cancer, he added.
Results from RE-IMAGINE Screening, led by Prof. Caroline Moore, are soon to be published. The team will also start a new study on screening -- Luminal Index MRI Identification of Treatment critical Prostate Cancer, LIMIT PCa, funded by Cancer Research UK and led by Punwani, which will look at the pros and cons of the < seven-minute technique as a screening tool.
"In essence, all of this work is about making mp-MRI simpler and more accessible," he commented.