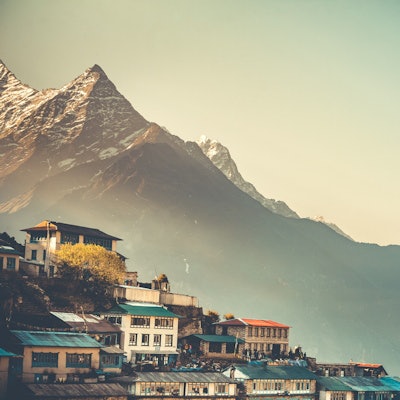 The patient's symptoms began at 12,600 feet with a minor headache. It was the sixth night of a medical research expedition in the Khumbu valley on the Nepalese side of Mount Everest. He felt better the next day and continued trekking. Other members of the medical expedition group saw him running up to different viewpoints along the trail to take pictures.
That night, however, camped near Dingboche at an elevation of 14,200 feet, the 32-year-old Swiss climber's condition worsened.
"The patient became increasingly dyspneic during the night and developed severe orthopnea in the early morning hours of day eight," said Dr. Flavia Wipplinger of the department of anesthesiology and pain medicine, Inselspital Bern University Hospital, Switzerland.
These are the details of events Wipplinger and colleagues described in a case report published March 17 in Wilderness and Environmental Medicine. She and her colleagues were part of a high-altitude medical research expedition that had started in Lukla at about 9,400 feet. They were equipped with handheld point-of-care ultrasound (POCUS) machines that allowed them to test (with the unfortunate help of the patient) the potential of POCUS to diagnose acute high-altitude illness by lung ultrasound (LUS), optic nerve sheath diameter (ONSD) measurement, and echocardiography.
Acute high-altitude illness includes acute mountain sickness, high-altitude pulmonary edema (HAPE), and high-altitude cerebral edema. These illnesses are caused by hypobaric hypoxia and can develop within a few days after ascent to altitudes above 8,200 feet.
Field diagnosis of high-altitude illness is traditionally made with clinical signs and symptoms, field tests such as tandem gait, and the use of basic tools such as lung auscultation and pulse oximetry. With the development of high-quality portable ultrasound machines, POCUS has gained interest as a promising diagnostic tool for patients with high altitude illness.
During the Nepal expedition, each team member completed a medical questionnaire and underwent clinical examination by a physician every evening. During the examination, participants were evaluated for sonographic signs of high-altitude illness using the POCUS machines to measure B-lines and optic nerve sheath diameter.
Lung ultrasound was performed using a modified protocol with four chest areas per side instead of the usual eight to limit examination time in the cold, high-altitude environment. LUS findings were recorded for the upper anterior and basal lateral chest areas of each side.
That evening in Dingboche, the patient, a physician himself, was alert, oriented, and showed no signs of ataxia with tandem gait. Lung auscultation was normal, with an absence of inspiratory crackles. Lung ultrasound, however, showed one to two B-lines in four of the four lung regions. The ONSD measurement remained unchanged at 6 mm.
At breakfast, he did not have a cough or a fever. He was mildly ataxic with tandem gait but had normal mental status without other neurologic findings. On lung ultrasound, the number of B-lines in all regions had increased compared with the previous evening and the ONSD had increased to 7 mm.
"We interpreted it as a possible sign of early [high-altitude cerebral edema]," Wipplinger said.
To investigate pulmonary embolism (PE) as a potential cause of the clinical deterioration, the researchers performed point-of-care echocardiography (parasternal long axis, parasternal short axis, and apical four-chamber view). These views showed a slightly enlarged right ventricle/left ventricle ratio greater than 0.6, which allowed them to exclude a large, central PE.
Wipplinger said that although they could not exclude peripheral PE, the patient did not have typical symptoms, such as chest pain or a cough, which made them question peripheral PE as a differential diagnosis. They interpreted the right ventricle enlargement as an indirect sign of pulmonary hypertension that was most consistent with HAPE.
"The patient's rapid clinical deterioration together with the dynamic changes on POCUS prompted us to evacuate him by helicopter to a hospital in Kathmandu," Wipplinger said.
Importantly, Wipplinger noted the availability of real-time ultrasound images helped the patient understand and accept the decision to evacuate. Although shared decision-making is not always possible or appropriate in emergency situations, showing the dynamic changes on ultrasound was helpful in convincing the patient that descent was the appropriate course of action.
The case illustrates that POCUS can be a valuable tool in remote, high-altitude regions and could allow healthcare providers to diagnose and follow-up with patients exhibiting acute respiratory symptoms when other radiological imaging modalities are not available, the researchers concluded.
As for the patient? A month later, he was back home in Switzerland, mountaineering at altitudes up to 9,800 feet without any issues.