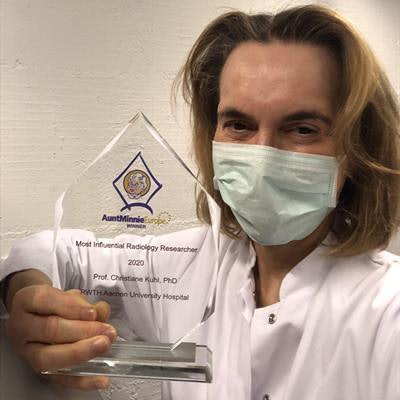 Anyone who doubts the severity of the threat posed by the COVID-19 crisis should listen to the latest assessment from Dr. Christiane Kuhl, the leading breast imaging researcher. "This is a crisis of biblical proportions," she told AuntMinnieEurope.com on 24 March.
"We are busy beyond all reasonable measures," she said. "It is crisis management -- reassuring patients and staff, and trying to prepare us to deal with the upcoming tsunami and prevent cross-infection of staff."
Kuhl described the situation in her own hospital, RWTH Aachen University, which has around 1,300 beds, 900 doctors, 67 professors, and 1,200 scientific and 5,000 nonscientific staff, according to Wikipedia.
"Aachen university hospital is one of the largest hospitals in Europe -- it is huge, and still we are feverishly trying to double the number of intensive care beds and ventilators within the next two weeks or so," she noted. "All healthcare professionals, and even lay people, are being recruited and trained on the job to run ventilators and/or help or do the work of intensive care nurses."
Reflections on EuroMinnies award
Kuhl, who is a professor and chair of radiology, allowed herself a moment or two to reflect on receiving her trophy for Most Influential Radiology Researcher in the 2020 EuroMinnies. She would have been presented with the award at ECR 2020, but because of the postponement of the congress until July, she received the trophy by courier instead.
"I am so proud of this award!" she said, adding that much of her success is due to having a fulfilling personal life. "I usually do not have the chance to talk about this, but it is a very big part of my life. I think it is so important to make everybody -- especially younger radiologists -- understand that people who have a heavy workload can also manage to have a full and colorful private life, because this is the best remedy against burnout."
When Kuhl is not working, she spends time with her partner, Heribert, at their farm near Bonn. Together they groom their five horses and three Shetland ponies, repair fences, and clean the stables.
"It takes a lot of work for a lot of people to get enough hay and grain to feed the horses, and then -- but only then -- I go for a ride in the countryside, usually together with the dogs," she said. " I love to be outside, together with Heribert, the horses, and the dogs."
She has shared her life with Heribert for more than 30 years, and they particularly enjoy hanging out with her parents, sister Gitta, and the rest of the family. They also have two "fur kids": Lennox and Janosch, who are terriers.
On the farm, they have Mogli, a 31-year-old English thoroughbred mare, who Kuhl has looked after for more than 26 years, and her "lifelong partner" is a white Shetland pony stallion called Zorro. They also have Aramis and Darti, two Shetland ponies who have been trained to pull a carriage.
"It's a lot of fun!" she said.
In addition, the couple has Howi (a 10-year-old white Andalusian horse), two brown Andalusians called Nick and Leo, and a white Arabian thoroughbred named Rafi.
"We keep the horses on our own, and to get help, we have a lot of friends; plus, we employ people who look after the horses during the week, when I am busy in clinics," she said. "The horses have a wooden, warm stable to protect them from the weather but are always free to run around over the green land."
Getting to the farm will prove impossible for Kuhl over the coming weeks of lockdown, but the thought of returning there soon with Heribert will enable her to keep going at such a stressful time.