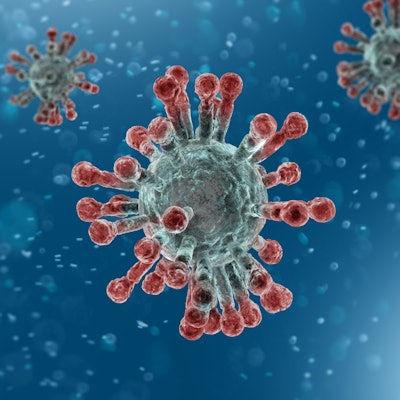 CT can help clinicians determine the severity of disease and the appropriate treatment strategy for individuals affected by the novel coronavirus disease (COVID-19), according to a study published online on 12 March in the European Journal of Radiology.
For the retrospective study, the researchers from China examined the CT and clinical data of 73 patients confirmed to have COVID-19 from 21 January to 3 February. They found that the patients' CT scans displayed different findings depending on the degree of pneumonia severity.
Among the COVID-19 patients, 8% were diagnosed with mild pneumonia and showed no obvious abnormal CT findings. In contrast, 59% of the patients had "common" pneumonia and presented with ground-glass opacities in the lung periphery, with or without interlobular septal thickening on their CT scans.
Furthermore, patients characterized as having severe pneumonia had extensive ground-glass opacities 76% of the time and pulmonary consolidation 24% of the time. The few patients who had to receive critical care due to pneumonia had CT scans displaying an extensive white lung appearance, with atelectasis and pleural effusion.
Though nucleic acid testing on reverse transcription polymerase chain reaction (RT-PCR) assays remains the gold standard for diagnosing COVID-19, the test is time-consuming and offers a low sensitivity and limited ability to assess disease severity, noted first author Dr. Kai-Cai Liu from the University of Science and Technology and colleagues.
"CT imaging can demonstrate typical features making the diagnosis of COVID-19 quite likely, which can help to rapidly screen patients, and to stratify the patients' severity to quickly develop effective treatment strategies," they wrote.