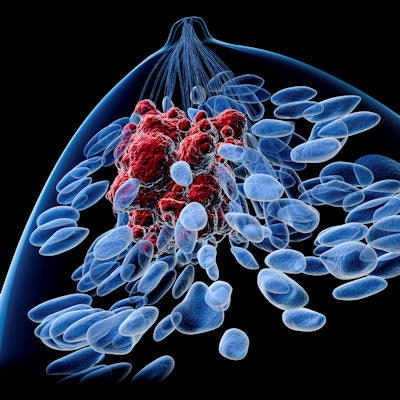 German and U.S. researchers have found that abbreviated breast MRI identifies more invasive cancers in women with dense tissue than digital breast tomosynthesis (DBT) does, according to a study published on 25 February in JAMA.
The results suggest that abbreviated breast MRI could be a powerful breast cancer screening tool in a clinical environment increasingly dominated by DBT, for women both at high and average risk, lead author Dr. Christopher Comstock of Memorial Sloan Kettering Cancer Center in New York City said in a statement released by the center.
"When screening women at average risk with dense breasts, we found that abbreviated breast MRI detected almost two and a half times as many breast cancers as 3D mammography," Comstock said. "We also found that the abbreviated breast MRI was well tolerated by women, with very few side effects."
Performance measures
Breast MRI boasts the highest cancer detection rate of all breast imaging modalities, Comstock and colleagues wrote, and has been shown to be useful not only in women at high risk of the disease but also those at average risk, corresponding author Dr. Christiane Kuhl of RWTH Aachen University in Germany told AuntMinnieEurope.com via email.
"The reason why MRI is superior to radiographic imaging is because it highlights angiogenic activity of breast cancers -- unlike mammography or DBT, which are pure structural imaging," she said. "It's also impervious to dense tissue."
But critics say that using conventional breast MRI to screen for breast cancer isn't practical in a larger population, due to its expense, its longer exam time (45 minutes, compared with 15 minutes for a mammogram), and the fact that it requires a contrast agent. That's why abbreviated breast MRI -- which takes about 10 minutes -- shows promise, Comstock and colleagues noted.
"Multiple studies have confirmed equivalent diagnostic accuracy of abbreviated breast MRI with full MRI protocols," the group wrote. "These observations have led to the consideration of utilizing abbreviated breast MRI to screen women with dense breasts."
The study, called Comparison of Abbreviated Breast MRI and Digital Breast Tomosynthesis, or EA1141, compared the screening performance of abbreviated breast MRI and DBT in women with dense breasts. It consisted of 1,444 women who underwent breast cancer screening with both modalities between December 2016 and November 2017 at 47 sites in the U.S. and one in Germany. The women were between 40 and 75 and had heterogeneously or extremely dense breast tissue (JAMA, 25 February 2020, Vol. 323:8, pp. 746-756).
The primary end point was the detection of invasive cancer. Secondary measures included sensitivity, specificity, the rate of additional imaging recommendations, and positive predictive value of biopsy (PPV1). Biopsy results were the reference standard for cancer detection rate and PPV1, while interval cancers reported were used as the reference standard for sensitivity and specificity.
Twenty-three cancers were found in the patient cohort, 17 of which were invasive cancer with or without ductal carcinoma in situ (DCIS) and six of which were DCIS only. There were no interval cancers.
Breast MRI identified all 17 invasive cancers and five of the six DCIS cases, while DBT found seven of the 17 invasive cases and two of the six DCIS cases. DBT did outperform breast MRI when it came to specificity and PPV1, however, although the PPV1 values were not statistically significant.
Breast MRI vs. DBT for detecting invasive cancers
Measure
DBT
Breast MRI
p-value
Invasive cancers (17)
7
17
--
DCIS alone (6)
2
5
--
Invasive cancer detection rate per 1,000 women
4.8
11.8
0.002
Sensitivity
39.1%
95.7%
0.001
Specificity
97.4%
86.7%
0.001
Additional imaging recommendation rate
10.1%
7.5%
0.02
PPV1
31%
19.6%
0.15
The study offers further evidence that abbreviated breast MRI could be used on its own for screening rather than as an adjunct to mammography or DBT, according to Kuhl.
"Our study investigates abbreviated breast MRI as a standalone imaging method, not as a supplement to mammography or its 'best in class' successor, DBT," she said. "Once the utility of abbreviated breast MRI is established and the demand for more MRI screening is obvious, I would hope vendors would develop dedicated MR systems optimized for screening purposes."
Ready for the clinic?
Abbreviated breast MRI shows promise for breast cancer screening in women with dense tissue, but it may not be ready for the clinic, wrote Anna Tosteson, ScD, of the Dartmouth Institute for Health Policy and Clinical Practice in Lebanon, New Hampshire, U.S., in an editorial accompanying the study.
"The promise of abbreviated breast MRI is that it may improve cancer detection without the lengthy examination time and high costs of conventional breast MRI," she wrote. "Abbreviated breast MRI acquisition requires less than 10 minutes. However, [it] still requires the contrast-enhancing agent used in full-protocol breast MRI and thus carries the same gadolinium-associated risks."
More research is definitely required, Tosteson cautioned.
"Before widespread adoption, further evidence is needed to demonstrate that abbreviated breast MRI will address the limitations of conventional breast MRI in terms of practicality and cost-effectiveness for the larger screening population of women with dense breasts," she wrote. "Importantly, the reductions in image acquisition and interpretation time will not overcome the need for better patient access to MRI, the requirement for intravenous gadolinium contrast administration, and the associated patient preparation time."