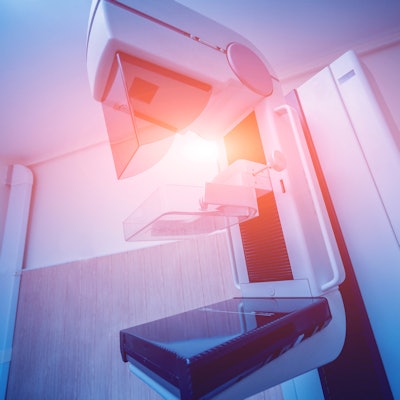 Contrast-enhanced digital mammography (CEDM) may be an excellent choice for staging breast cancer before surgery. The imaging modality had high sensitivity and specificity in a large-scale study published on 30 January in the Breast Journal.
The study included 326 women with breast cancer who had presurgical contrast mammography instead of MRI or another imaging modality. The use of CEDM changed the initial surgical plan in almost one-fifth of patient cases.
"Our results prove that CEDM has an excellent diagnostic performance, so much so that it could be approved as a presurgical technique," wrote the authors, led by Dr. Giulia Bicchierai from the diagnostic senology unit at Azienda Ospedaliero-Universitaria Careggi in Florence, Italy. "High sensitivity, specificity, and a low rate of false positives and negatives are critical characteristics of a preoperative imaging method."
CEDM benefits from high sensitivity like MRI but has a much lower cost. The researchers wondered whether it might be a more feasible imaging method when planning surgery for women with breast cancer.
To find out, they enrolled 326 patients diagnosed with breast cancer between September 2016 and February 2019. Within 30 days of biopsy and diagnosis, the patients underwent CEDM with a Selenia Dimensions mammography system (Hologic) followed by surgery.
CEDM detected all but four lesions for an overall sensitivity of 98.8%. Findings from CEDM imaging resulted in 23.6% of patients getting a second ultrasound scan and 17.5% undergoing an additional biopsy.
The imaging method changed the initial surgical plan for 18% of patient cases. Patients with a changed plan often received a more extensive breast-conserving surgery or converted from breast-conserving surgery to a mastectomy.
However, CEDM also led to four false-negative diagnoses and three false-positive diagnoses, although the authors noted the false negatives were not missed by CEDM but were cases with positive margins on the surgical specimens. CEDM also performed significantly better for palpable lesions than nonpalpable ones.
"The performance of CEDM was significantly better in the group of symptomatic patients with palpable lesions -- with a statistically significant difference compared with the asymptomatic ones -- who could, therefore, benefit more from undergoing CEDM as a preoperative staging, compared with the [conventional breast imaging techniques] alone," the authors wrote.
One important shortcoming of the study was that it only included patients with confirmed breast cancer and, therefore, isn't reflective of CEDM as a screening tool. The authors also cautioned that larger, prospective studies are needed to confirm their findings.
"CEDM has an excellent diagnostic performance in the presurgical staging of patients with breast cancer," the authors concluded. "Symptomatic patients with palpable lesions benefited most from preoperative CEDM, with a statistically significant difference compared with nonpalpable ones."