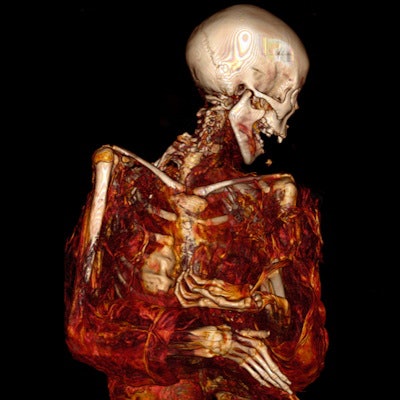 Researchers from various U.S. institutions reported the presence of calcified plaques on the CT scans of mummies of 16th-century Inuits who favored a marine-based diet -- confounding current understanding of risk factors for atherosclerosis -- in a research letter published online on 27 December in JAMA Network Open.
Whereas physical inactivity and a high-fat diet are believed to be risk factors for atherosclerosis, studies have suggested that regular physical activity combined with a plant- or marine-based diet may contribute to lowering the risk of developing the disease, noted lead author Dr. Samuel Wann from Ascension Healthcare in Milwaukee, Wisconsin, U.S., and colleagues. Studies have gone so far as to show that omega-3 fatty acids in fish could help minimize atherosclerosis in animals.
Seeking to better understand the early history behind atherosclerosis, Wann and colleagues examined the mummified remains of five Greenlandic Inuit people discovered by Martin Luther in 1929 and later curated at the Peabody Museum of Archaeology and Ethnology. The Inuit people, who lived in Greenland roughly 500 years ago, were believed to have primarily lived off a marine-based diet and remained very physically active.
The group acquired whole-body CT scans of the five mummies at Brigham and Women's Hospital in Boston. A team consisting of five cardiologists and two radiologists reviewed and interpreted the CT scans.
"It was exciting to work together with our multidisciplinary team of cardiologists, radiologists, archeologists, anthropologists, and basic scientists, using modern CT technology to study the 'modern' disease of atherosclerosis in individuals who lived hundreds of years ago in a preindustrial environment consuming a primarily marine diet," Wann told AuntMinnieEurope.com.
Upon examining the CT scans, the researchers detected calcified arterial plaques in three of the mummies, suggesting the presence of atherosclerosis. They identified the plaques as discrete, high-density regions in an arterial distribution on the scans, but incomplete visualization of the arterial vascular tree limited their ability to grade the severity of the calcification and evaluate the extent of clinical disease.
Other groups have made observations of atherosclerosis in mummies in the past, but the presence of vascular calcifications in these Inuit mummies, despite their active lifestyle and marine-based diet, offers new implications into the disease, the authors noted.
The findings further complicate the role that various risk factors play in the etiology of atherosclerosis, and they possibly emphasize the magnitude of environmental factors beyond diet as having triggered the disease in Inuit people, such as smoke inhalation from indoor fires, the team concluded.