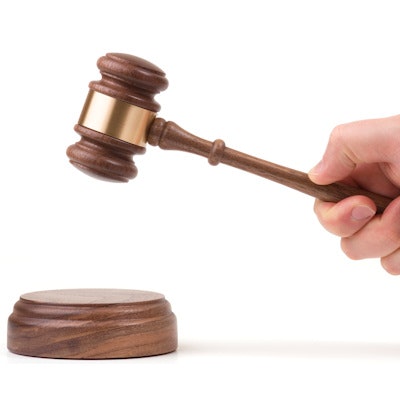 London-based pediatric radiologist Dr. Maria Joao Coelho Dos Reis Klusmann was found not guilty of fraud on 2 October. It took the jury more than 20 hours of deliberation to reach a majority verdict in the trial, which lasted four weeks.
Klusmann was accused of defrauding the U.K. taxpayer of 70,000 pounds (77,500 euros) by working at private clinics across London while she was on approved leave from her National Health Service (NHS) post as a consultant radiologist at University College London Hospital (UCLH). Between April 2014 and April 2016, she allegedly worked at five different clinics: Highgate Private Hospital, Aspen Healthcare, HCA Healthcare, the Wellington Hospital, and Hospital of St John and St Elizabeth in St. John's Wood, according to a report in the Daily Mail.
Reacting to the news of the verdict, a senior clinical radiologist from the U.K., who declined to be named, said this case raises a number of important issues.
"It is now common for radiologists to work for multiple employers," he told AuntMinnieEurope.com. "They need to be extremely clear about who they are working for at specific times of the week. It looks like the radiologist here hadn't made it 100% clear. You could argue it is her fault, but job planning is a joint responsibility with the employer."
A specific issue facing radiologists in London is there is a considerable amount of lucrative private practice work, and it is highly sought after. The cost of living is so high it can be difficult to live comfortably in London without doing private practice, and occasionally radiologists' private practice spills into NHS time by an hour or so. The solution for many of them is to make it up to the NHS by staying late.
Medical training in Portugal
Klusmann qualified in medicine at the Faculdade de Medicina de Lisboa, obtaining a Bachelor of Medicine, Bachelor of Surgery (MBBS) degree, before moving to the U.K. to undertake general radiological training at St George's Hospital in London and then subspecializing in pediatric imaging, according to her LinkedIn profile.
The official results from the Royal College of Radiologists' autumn 2009 final examination for the fellowship (clinical radiology part B) indicate Klusmann (from St George's Hospital) as one of the successful candidates. She was appointed a consultant radiologist at UCLH in November 2011. Her skills are general and acute cross-sectional imaging, ultrasound (including biopsies and injections), adolescent and pediatric imaging, and fetal MRI. She also obtained the Membership of the Royal College of Surgeons (MRCS) qualification, according to LinkedIn.
In the trial at Blackfriars Crown Court, Klusmann faced one charge of abuse of position, contrary to Section 4 of the Fraud Act 2006. If found guilty, she would probably have faced a jail sentence and a General Medical Council tribunal, and depending on her contrition, she may have been struck off or suspended for a year.
Klusmann pleaded not guilty and denied any dishonesty, insisting that much of her private work was during periods of leave from UCLH, with the remainder of time paid back to the NHS, and she noted the computer software of the hospital was unreliable and prone to crash, the Daily Mail reported.
The entire episode was a "massive misunderstanding," Klusmann was quoted as saying in an article posted on 2 October by courtnewsuk.co.uk.
This was a locally led investigation brought by UCLH, who contracted out the work to a company called RSM. The NHS Counter Fraud Authority gave some financial investigator support and would have helped with recovery of assets if Klusmann had been found guilty.
It is unclear how Klusmann's case came to light, and several questions remain unanswered. Did the UCLH radiology budget-holder raise concerns with the hospital's senior managers? If so, did they suffer reprisals for speaking up? Did anybody else at UCLH ever raise concerns? Also, what will be the future working relationship between Klusmann and the hospital? Will she be returning to her NHS post?