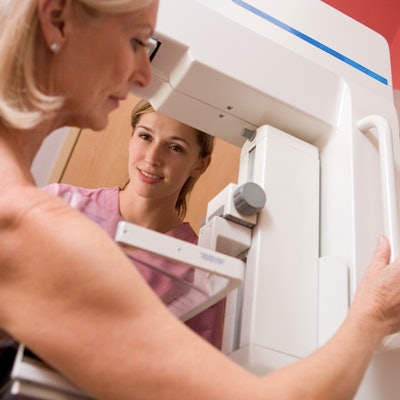 New research has shown that only about a third of women in England in their early 60s are up to date with all evidence-based screening services for breast, cervical, and bowel cancers offered by the National Health Service (NHS). The findings were posted online on 16 September by the Journal of Medical Screening.
In the study sample of 3,060 women between 60 and 65 years old, 1,086 (35%) participated in all three programs, 1,142 (37%) in two, 526 (17%) in one, and 306 (10%) in none.
"At this age, women receive invitations from all three programs, so lack of information cannot explain our findings. Neither can lack of access to the health service, as the women in our study were all registered with the NHS and screening is offered for free," noted lead author Matejka Rebolj, PhD, a senior epidemiologist in the Comprehensive Cancer Centre at King's College London.
The data also showed that most women are not against screening -- about 90% were recently, and 98% ever, screened in at least one program -- so the challenge ahead is to work out how these women can become consistent participants. This is all the more interesting given that similar patterns have emerged from the U.S. and Scotland, with more data from another European country coming out soon, she added.
"Looking at each screening program separately, as we have done until now, is necessary, but understanding what is happening by looking at all three combined may also prove useful in ultimately helping to bring down cancer mortality," Rebolj pointed out. "I am curious what our next research projects on this topic will tell us."
She thinks it's vital to look at the take-up rates in certain areas and practices and address women's preferences for future screening programs. There's an urgent need to understand and target specifically those women who obtain some screening but decide not to take up all the services offered to them, and policymakers must look at these findings and consider what can be done to reduce mortality rates in women older than age 60.
Key results
The researchers wanted to determine how many women participate in breast, cervical, and bowel screening services.
For women included in an England-wide breast screening case-control study, the team investigated the number of screening programs in which they participated in during the last invitation round. Additionally, using the Fingertips database curated by Public Health England, they explored area-level correlations between participation in the three cancer screening programs and various population characteristics for all 7,014 English general practices with complete data.
The results are shown in the table.
Individual-level data for 3,060 English women: Concurrent participation in the 3 screening programs, by screening programs
No. of screening programs attended
Participated in cancer screening for:
Breast
Cervical
Bowel
No. (%)
3
Yes
Yes
Yes
1,086 (35%)
2
Yes
Yes
No
639 (21%)
Yes
No
Yes
445 (15%)
No
Yes
Yes
58 (2%)
1
Yes
No
No
355 (12%)
No
Yes
No
125 (4%)
No
No
Yes
46 (2%)
0
No
No
No
306 (10%)
Total
–
–
–
3,060 (100%)
Participation in all three did not appear to be a random event (p < 0.001). General practices from areas with less deprivation, with more patients who are carers or have chronic illnesses themselves, and with more patients satisfied with the provided service were significantly more likely to attain high coverage rates in all programs, the authors wrote.
Boosting participation
Rebolj's co-author Prof. Stephen Duffy, PhD, told AuntMinnieEurope.com he was surprised the concordance between participation in different programs was not higher. He thinks this relates to the age group in the study, however. In younger women, participation in cervical screening is higher, for example.
"The next step is to learn the reasons for nonparticipation in individual programs and to search for remedial measures for these," noted Duffy, who is a professor of cancer screening at the Wolfson Institute of Preventive Medicine at Queen Mary University of London. "My feeling is that the fact that more than 90% of women participate in at least one program suggests that there is no objection to screening per se. We, therefore, need to improve acceptability of individual programs."
Duffy said he expects the independent review of cancer screening services -- commissioned by NHS England and being conducted by Prof. Sir Mike Richards -- to report very soon. In the interim report, Richards has already recommended taking steps to increase participation.