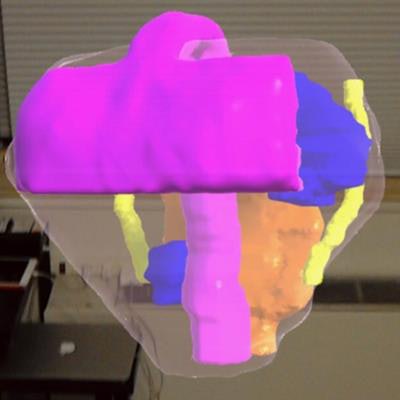 Using augmented reality to plan surgery for patients with prostate cancer allows clinicians to prepare for the procedure better than with conventional MRI, according to a poster presentation at the Computer Assisted Radiology and Surgery (CARS) 2018 international congress in Berlin.
Reesearchers from New York University School of Medicine developed holographic models of the prostate based on the MRI scans of patients with prostate cancer. A surgical team was able to examine these 3D models with a Microsoft HoloLens augmented reality headset and determine the best surgical treatment for each patient.
"The 3D medical models immediately provide a medium for surgeons to visualize patient-specific anatomy ... [and] providing augmented reality cancer models to surgeons can influence their surgical planning decisions," first author and doctoral candidate Nicole Wake told AuntMinnieEurope.com. "We believe that this may ultimately lead to improved patient outcomes."
Better visualization
Determining the optimal treatment for patients with prostate cancer depends to a large degree on the anatomical relationships between the tumor and nearby structures such as the urethra and neurovascular bundles, Wake noted. Early research has shown that patient-specific holographic models of augmented reality technology may help enhance the visualization of these relationships.
Seeking to improve treatment for prostate cancer, Wake and colleagues assessed the benefits of using augmented reality in place of conventional imaging for both presurgical planning and intraoperative guidance.
They began by acquiring the T2-weighted and diffusion-weighted MRI scans of 19 patients with prostate cancer who were scheduled to undergo prostatectomy or focal therapy. Next, they segmented the MRI scans using image postprocessing software (Mimics, Materialise) and co-registered the tumors using a 3D rigid registration technique. Then they converted the scans into 3D models, smoothed and refined the models using computer software (3-matic, Materialise), and finally imported them into software compatible with augmented reality devices (Unity 5.4, Unity Technologies).
Wearing a Microsoft HoloLens headset, three urological oncology surgeons were able to visualize the 3D prostate cancer model as they planned the best surgical treatment for each patient and while they performed the actual procedure.
Afterward, the surgeons filled out a set of surveys in which they evaluated the usefulness of the augmented reality models compared with conventional imaging and the extent to which the models influenced decision-making regarding the surgical approach. Responses to the survey were based on a five-point scale, with "1" indicating augmented reality was not more helpful than standard imaging techniques, and "5" suggesting it was significantly more helpful.
Optimal planning
Collectively, the three surgeons confirmed augmented reality has a role in the operating room, with two of the surgeons recommending its integration into day-to-day practice. They also stated using the HoloLens device was challenging, although this was not surprising due to the novelty of the technology.
Regarding preoperative planning, the survey results indicated using the augmented reality technique either led to changes in the final surgical plan, or predicted complications for 62.5% of the patients (60% for patients who underwent focal therapy; 63.63% in cases of prostatectomy). Compared with conventional imaging, the surgeons found the augmented reality models were considerably more useful (4.33); helped them understand patient-specific anatomy better (4.33); helped them better prepare for surgery (4.33); and saved them time preparing for surgery (4).
However, using the models only slightly improved communication among surgical team members and did not reduce total operating time any more than referring to conventional MRI scans.
The results show that augmented reality models can influence presurgical planning decisions and facilitate minimally invasive urological procedures -- leading to more precise surgeries, Wake said.
"These patient-specific models can also be used for patient engagement ... as they really help patients to understand their disease and surgical procedure, allowing for a more effective informed consent process," she said. "Specifically for prostate cancer, the 3D models provide a better understanding of the spatial relationship of the dominant lesion to the prostatic capsule, neurovascular bundles, and prostatic urethra."
The group plans to continue this line of research by assessing the accuracy of image registration with augmented reality during real-time navigation, as well comparing the benefits of augmented reality to those of 3D printing and other advanced visualization techniques for treating prostate cancer.