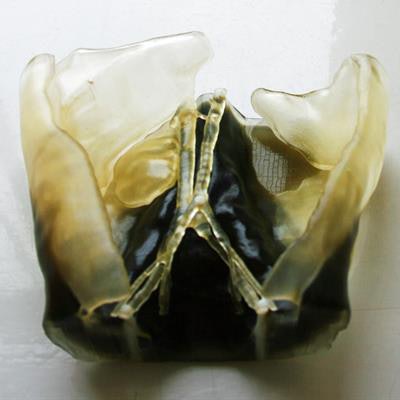 A team of clinicians from the U.K. has created multimaterial 3D-printed anatomical models based on CT scans of the kidney and abdomen. They used the models to plan and guide the transplantation of an adult kidney into a 2-year-old boy.
The young patient was born with obstructive flaps of tissue in his urethra, or posterior urethral valves, which left him dependent on a feeding tube to eat. Before the child was even born, his physicians realized he would require a kidney transplant to mitigate the complications associated with his condition.
Although the patient's father offered one of his own kidneys for the procedure, the child's case was complicated by the child's low weight (10 kg) and the size of the father's kidney, which was considerably larger than the average adult male kidney.
For typical kidney transplants, clinicians acquire and examine CT scans of the donor and recipient for presurgical planning of the operation. In challenging cases such as the present one, surgeons often conduct an invasive surgical exploration of the recipient as part of the planning process in order to determine the feasibility of implanting the donor's kidney.
Rather than perform this invasive exploratory procedure, the patient's clinicians decided to collaborate with 3D-printing specialists at Guy's and St Thomas' National Health Service (NHS) Foundation Trust in London to convert CT scans of the child's abdomen and the father's kidney into virtual 3D models. Next, the clinicians 3D printed these models using a multimaterial 3D printer (Stratasys).
"[The 3D-printed models] helped us appreciate aspects such as depth perception and space within the baby's abdomen, which can often be difficult to ascertain when looking at conventional imaging," lead surgeon Dr. Pankaj Chandak said in a statement from Stratasys. "The ability to print a 3D model of the patient's anatomy in varying textures, with the intricacies of the blood vessels clearly visible within it, enables us to differentiate critical anatomical relations between structures. The flexible materials also allowed us to better mimic the flexibility of organs within the abdomen for simulation of the surgical environment."
Not only did the surgeons use the 3D-printed models to plan the kidney transplantation, but they referred to the models while performing the procedure as well.
"This technology has the potential to really enhance and aid our decision-making process both during presurgical planning and in the operating room, and therefore can help in the safety of what is a very complex operation and improve our patient care," Chandak said.
Both the child and his father have made a full recovery from the surgery, and the child has been able to eat solid food ever since.