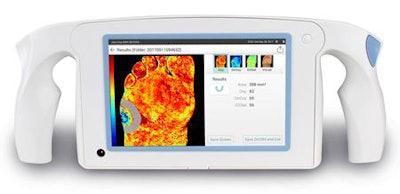 HyperMed Imaging received the CE Mark for its HyperView tissue oxygenation medical imaging system.
The HyperView system is a handheld, battery-operated, noninvasive, and portable diagnostic imaging device that is used to assess tissue oxygenation without contacting the patient. The system uses proprietary technology to capture a diagnostic image containing data for oxyhemoglobin levels, deoxyhemoglobin levels, and oxygen saturation in superficial tissue.
Clinicians may use HyperView to determine if a wound has adequate blood perfusion to heal or if a vascular intervention or additional therapy is needed to improve perfusion.