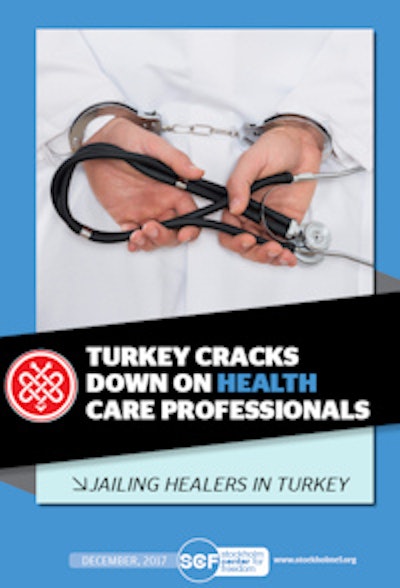 More than 21,000 doctors and healthcare workers -- including many radiologists and radiographers -- across the public and private sector have lost their jobs since the attempted coup against the government in July 2016, according to a report published by the Stockholm Center for Freedom (SCF). This clampdown is having a serious effect on workflow and patient access to specialists, the report noted.
The 54-page document also lists known cases of Turkish healthcare workers who have been arrested and imprisoned, including radiologist Dr. Murat Acar. A number of detainees have been subjected to torture, and some have died in suspicious circumstances while in custody, according to the SCF.
The wide-scale arrest and imprisonment of what is probably thousands of individuals for alleged acts of terrorism or treason and the closure in 2016 of 50 hospitals and clinics across Turkey for their connection to the antigovernmental civic movement, Gülen, are both unlawful and unconstitutional, according to the report, published on 6 December.
"The Turkish government has failed to satisfactorily produce evidence that would justify its actions and has arrested citizens on trumped-up charges," lead report author and SCF President Abdullah Bozkurt told AuntMinnieEurope.com. He pointed to judicial documents in which the Turkish government has cited humanitarian trips made by doctors to perform free surgery in African countries as evidence of crime and terrorism.
A total of 2,337 medical academics, including leading professors, lost their jobs. Of these, 1,697 worked in state-owned medical universities. In addition, 1,684 doctors in public hospitals and 1,200 doctors in privately run hospitals were abruptly laid off, though most sackings occurred among professionals who are not doctors. A further 11,821 healthcare workers other than doctors lost their jobs, and of these, 5,821 were from the public sector.
The research estimates that some 4,000 nonmedical hospital staff also were affected by the layoffs. Dismissed healthcare staff reportedly cannot find new jobs in the private sector because they are marked as "terrorists" by the government, while those that have found new positions face harassment at work, according to the SCF. Meanwhile, entire families of the affected staff have had their passports removed.
The arrests have impacted timely access to specialists and dedicated treatment centers for patients, Bozkurt noted. Also, access to healthcare for detainees and prisoners has become challenging as a result of overcrowded prisons where the number of political prisoners has grown rapidly, according to the report, suggesting in some cases healthcare is denied as another form of punishment. The report lists cancer treatments and other lifesaving drugs denied to prisoners, and permission to travel abroad to receive treatment refused to prisoners' sick family members, including children with leukemia. Pregnant detainees reportedly have given birth in prison or been taken there with their babies shortly after their birth.
Radiologists in exile
For those that managed to escape Turkey often without their families, exile has come at a high price: isolation and anxiety regarding loved ones back home. In addition, specialists may be employed far below their level of expertise. SCF investigators interviewed several doctors who live in exile abroad.
Dr. X worked as a radiology professor at two prestigious Turkish universities that were shut down by the government over alleged links to the Gülen movement in 2016. Leaving his family behind, he fled to Europe when the government started arresting his colleagues on charges of terrorism. He was also charged with coup plotting, an accusation that he says is completely fabricated.
"I had seen my employer and colleagues targeted and instead of waiting for the knock at the door, I traveled to a European country to file for political asylum. I had expected to hunker down for a few weeks and return when the situation was normal. Over a year later, my status as a political refugee is still pending, and I am separated from my family," he said in a Skype interview with AuntMinnieEurope.com.
Back in Turkey, his wife was dismissed from her teaching job at a state-run nursery school by one of the emergency government decrees. Furthermore, he learned his children are suffering from depression. Dr. X is constantly afraid for his family back in Turkey and that his identity and whereabouts will be discovered.
The specialist who has nearly 40 publications on state-of-the-art imaging to his name has found work as an assistant nurse in a radiology department at a local hospital, but he sees no end in sight to the government's pursuit of what it calls "enemies of the state." He noted that among the refugees in his circle of contacts in his host country are other academic and interventional radiologists.
"I did not realize the severity of what would come after July events. I thought I would be back to Turkey in a snap and join my family. I have been away from them for over 16 months now. Not a single moment passes that I do not think of them. It really pains me," he said.
He described how the government started arresting spouses, children, and other relatives of the individuals who remained at large. "It is like Nazi Germany, where people are accused of crimes in association with their families. It is guilt by blood or marriage, in addition to guilt by association," he noted.
While in Europe, Dr. X considered finding employment in Bahrain, Saudi Arabia, and African states.
"After further inquiries, I realized there would be no safety from the long arm of the Erdoǧan regime in these countries either," he continued, adding that his next move was to a second European country.
Dr. X maintains contact with only a small circle of trusted friends and avoids the country's Turkish community, a part of which, he said, has developed into hardcore Erdoǧan fanatics who might inform the Turkish government of his whereabouts. For him and the other Turkish refugees, fear is constant.
"Turkey's crackdown on healthcare professionals, including leading specialists and top surgeons, and the closure of hospitals purely as a political vendetta has far-reaching implications that echo well beyond Turkey's borders," Bozkurt said. "This unprecedented annihilation of healthcare professionals in Turkey is one of the most underreported stories. It has to be widely reported ... and amplified with a view toward putting pressure on Turkey to halt and reverse gross injustices," he added.