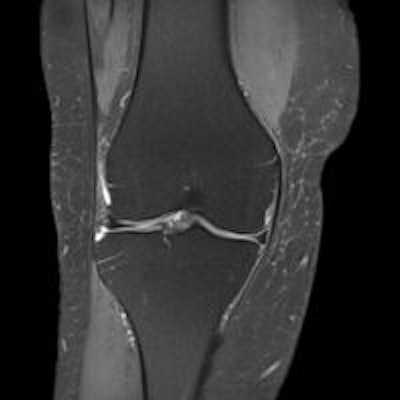 Around 30% of knee MRI referrals by general practitioners (GPs) are inappropriate, and there is an overreliance on MRI of the knee in preference to x-rays in patients older than 65, a study presented at last week's U.K. Radiological Congress (UKRC) has found.
Waste in healthcare is a topic of intense interest at present, and recent reports have suggested doctors are ideally placed to identify savings and minimize waste. More than 200 million pounds (282 million euros) could be saved by reducing unnecessary exams, specifically scans of the lumbar spine and knee, according to lead author Dr. Jassie Tan and colleagues from the department of radiology at the Dudley Group National Health Service (NHS) Foundation Trust in Dudley, West Midlands, U.K.
Against this background, they assessed the pattern of GP-referred MR knee and MR lumbar sacral (LS) spine exams and audited them against current guidelines.
They identified standards from the Royal College of Radiologists' iRefer system (RCR iRefer Guidance, Adult Musculoskeletal M22 and M23), and then evaluated 100 consecutive GP-referred MRI exams of the knee and lumbar sacral spine carried out between July and October 2013. A request was classified as being an appropriate referral when supporting clinical details were justified to trigger an imaging study and as an appropriate investigation when the clinical condition warranted an MRI as the investigative modality. A clinicoradiological correlation was determined by analyzing MRI findings and the respective clinical information.
Of the knee MRI exams, 70% were appropriate referrals and 64% were appropriate investigations. Of the 16 patients older than 65, eight had had prior x-ray confirmation of osteoarthritis (OA), and MRI added no further information. A total of 13 out of 16 patients older than 65 had evidence of OA on MRI.
Of the lumbar sacral spine MRI exams, 81% were appropriate referrals and 98% were appropriate investigations. In this group, Tan and colleagues found there was a generally good referral pattern with relatively good clinicoradiological correlation. Furthermore, a discrepancy existed among primary care providers, and physio-led centers were consistently better in terms of both referral pattern and positive clinicoradiological correlation.
In patients younger than 65, most referrals were appropriate, but MRI was overused in older patients, where most scans were potentially avoidable. In the current financial climate, this extra expenditure can be avoided with more appropriate use of resources.
"With the formation of Care Commissioning Groups (in the U.K.), there is an increasing drive to provide community-centered patient care. This has led to a rise in the volume of imaging studies requested by the primary care providers," the authors explained.
Following this study, an electronic system is being introduced and implemented for use by community practitioners in the West Midlands. Also, the results have been disseminated to primary care physicians, and another audit is due to take place after implementation of the new electronic system, they reported at UKRC 2015 in Liverpool.
To read more about this study, click here.