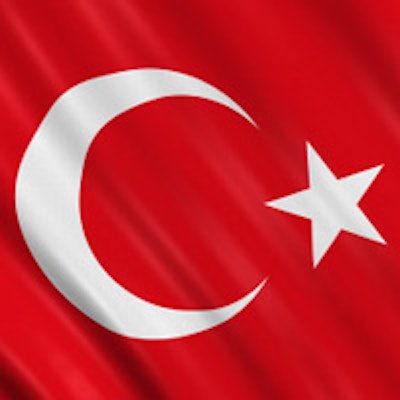 Turkish researchers have created a framework that utilizes grid computing technology to make teleradiology easier between institutions, regardless of the type of PACS, RIS, or hospital information system used at each location.
The group's model provides image caching, querying, and retrieving through the use of intermediary vendor-agnostic software called a "Grid Agent" that's added to local information systems and a "Grid Manager" application that coordinates data flow between participating sites. The result is faster image access times and improved efficiency for teleradiology, according to the team from the department of medical informatics at Middle East Technical University in Ankara, Turkey.
"This agent forms a cloud teleradiology solution where patient data is achieved in a distributed network [and] the delivery of images is optimized in terms of speed and quality based on workflow-centric algorithms," Ayhan Ozan Yilmaz told AuntMinnieEurope.com.
The group discussed their teleradiology infrastructure in a presentation at the 25th European Medical Informatics Conference (MIE 2014), held last month in Istanbul.
Connecting multiple centers
The Turkish team began studying teleradiology in 2007, focusing on designing an infrastructure that could enable several sites to be interconnected without migration or integration costs. They also sought to devise a method that could decrease hardware and maintenance expenses.
"We also decided to investigate this area as hospitals in rural areas did not have budgets to deploy any PACS or employ radiologists to provide written reports for the radiology [studies]," Yilmaz said. "Therefore, we wanted to find a solution where rural hospitals can benefit from without [initial] investments, large institutions could seamlessly be integrated into the system without having to change their presently deployed systems, and where medical image distribution is workflow-centric, optimizing turnaround time and report quality."
The group's method is based on grid computing technology. Installed at each site and integrated with local information systems, the Grid Agent renders medical data and incoming messages, and also transfers radiology data between PACS, RIS, HIS, workstations, nonlocal clients, the Grid Manager, and other Grid Agents.
Developed to run on the Red5 open-source media server, the Grid Agent communicates with the PACS, RIS, HIS, and workstations using DICOM and HL7 protocols; communication between other Grid Agents and the Grid Manager relies on encrypted XML messages using HTTP and Real-Time Messaging Protocols (RTMP), according to the researchers.
Meanwhile, the Grid Manager is tasked with managing image flow between sites as well as distribution of radiological reports. It communicates with Grid Agents and performs database, indexing, and file operations, according to the group. The Grid Manager is also developed to run on Red5.
In addition, the Grid Manager serves as a bridge to the central data center's application, database, and file operation layers. With the framework, network clients can query and retrieve images in parallel from multiple Grid Agents, where medical content is cached during the prefetching and synchronization processes.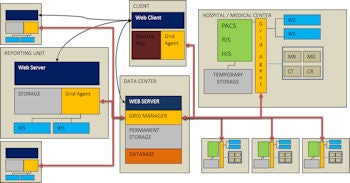 Click image to enlarge.
Grid technology enables institutions of all sizes to be seamlessly integrated, Yilmaz said.
"There is a common misconception or restricted perspective that 'teleradiology is transfer of images from one location to another,' " he commented. "However, with the development of requirements on today's user scenarios where hospitals outsource their radiology reporting services and where patient data resides in multiple hospitals, teleradiology should be defined as an ultimate holistic solution where patient data and medical images are distributed, delivered, achieved, and reported efficiently in terms of speed, report quality, and cost."
The technology would be meaningful in town, state, or country-wide applications. Therefore, teleradiology projects of governments, social screening projects, digital patient record standardization, or multisystem interoperability operations can benefit from this approach, he added.
Current status of research
The group has tested the framework on a test bed and developed a workflow-centric algorithm based on semantic matching and integer linear programming to optimize image distribution to radiologists for reporting. They are now working to integrate 15 clinic centers in Ankara to the infrastructure.
"When the integration is complete, the radiology [studies] in primary healthcare centers (where there are no radiologists) will be reported by radiologists residing in different hospitals and the [studies] of the patients will also be synchronized with the hospital data," Yilmaz said.
Next, the group plans to deploy their infrastructure in large-scale environments and improve the optimization algorithms for higher speed and better report quality.