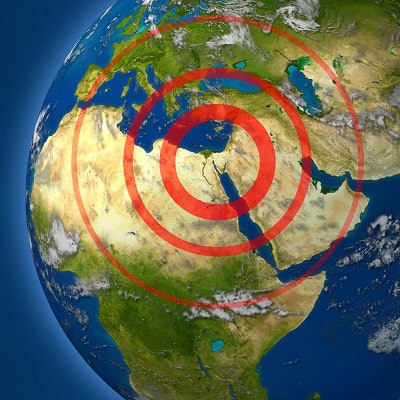 Social media platforms have helped teleradiologists from all over the world support local physicians in Syria, which has been in a state of crisis due to civil war since 2011, according to a case study published in the Journal of the American College of Radiology.
Since the conflict began, 485 medical facilities have been bombed and 841 medical personnel killed, wrote a group led by Dr. Abdulrahman Masrani of the Mallinckrodt Institute of Radiology at Washington University School of Medicine in St. Louis.
"The unique conflict in Syria has disrupted every aspect of the Syrians' lives," the group wrote. "[Continuous] attacks on healthcare facilities and providers ... [have] deprived a growing number of people from urgent and basic medical care" (JACR, May 25, 2018).
In the midst of the crisis, field hospitals have been established, but these facilities are often managed by undertrained physicians and lack basic supplies, according to the authors. And because coping with mass casualties and trauma requires effective radiology services, many people have not received the care they need.
For example, the suburb of Ghouta, nine miles east of Damascus, has been under attack since 2013; its population has dropped from 1.2 million to 400,000. Several portable ultrasound scanners and x-ray machines and one four-slice CT scanner are available, but there is no MRI scanner and no PACS, Masrani and colleagues wrote. Two local radiologists served the area until 2015, when the senior physician was severely injured and evacuated, leaving only one radiology resident remaining.
In February 2015, the Syrian American Medical Society (SAMS) founded the Teleradiology Relief Group (TRG) to provide diagnostic reports to Ghouta, using secret Facebook and WhatsApp groups. Four radiologists and two radiology residents from outside the country provide 24-hour coverage.
Local doctors use satellite internet service to post to the Facebook group the patient's presenting medical issue, vital signs, lab results, and medical images, if available, as well as a description of the care that has been provided. The TRG teleradiology resident provides an initial report as a comment to the post, the attending approves or amends it, and after any further discussion this final report is handwritten on the patient's paper-based chart.
Between February 2015 and January 2018, 497 radiology exams were interpreted by TRG, including 374 CT scans (75%), 119 plain films (24%), and four ultrasound scans (1%). Most CT exams (97%) were performed without contrast, due to the shortage and prohibitive cost of contrast media.
The biggest challenge for TRG radiologists has been reading CT studies performed without contrast, particularly in trauma cases, according to Masrani and colleagues. Even the few contrast-enhanced CT scans are of low diagnostic value due to poor-quality scanners, improper timing of intravenous administration, and poor protocol and acquisition parameters.
"In some instances, submitted images were taken by cell phone camera capturing poorly projected radiographic films or printed CT images on viewing boxes," they wrote.
Despite these obstacles, the project has continued and seems to be helping, Masrani and colleagues noted.
"The TRG project has been sustained for three years and is thriving," they concluded. "The interactive discussions of the cases in the Facebook group [allow] radiologists to get clinical follow-up on each case."