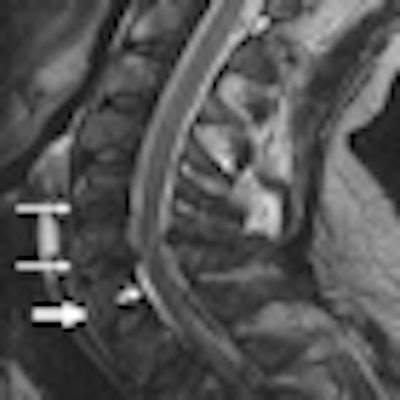 Swiss researchers have concluded that 1.5-tesla MRI provides "only limited evidence" of specific changes to the cervical spine and surrounding tissues in patients with acute symptomatic whiplash injury, according to a study published online December 20 in Radiology.
The research, led by Dr. Suzanne Anderson, who holds positions at the University of Bern and the University of Notre Dame Australia, also showed occasional difficulty in distinguishing MRI results of lower grades of whiplash-associated injury from age-related degenerative changes.
The prospective multicenter study included 100 consecutive patients from the emergency departments of two Swiss hospitals, University Hospital of Basel and University Hospital of Bern. Between 2005 and 2008, the patients received a 1.5-tesla MRI exam of the cervical spine within 48 hours after a motor vehicle accident.
Patients were excluded from the study if they exhibited injuries such as an overt fracture, subluxation of the cervical spine, or direct head injury. They were also excluded due to prior head or spine surgery, prior whiplash with persistence, a musculoskeletal inflammatory disorder, pre-existing head or neck pain, a psychiatric disorder, or drug or alcohol abuse.
Healthy matches
MR images from the whiplash-injury patients were compared to those of 100 healthy control subjects matched in terms of age and sex.
The study sample included a total of 53 women (patients and controls), with an average age of 34.3 years, ranging from 18 to 82 years. There were 47 men (patients and controls), with an average age of 37 years, ranging from 21 to 61 years.
Anderson and colleagues followed the same MRI protocol for both patients and healthy subjects, using a 40-minute scan time on the 1.5-tesla MRI scanner (Magnetom Sonata, Siemens Healthcare) and a dedicated neck coil and spine array coil for imaging in the supine position.
Four radiologists independently assessed the MR images without clinical data for the presence of occult vertebral body and facet fractures, vertebral body and facet contusions, intervertebral disk herniations, ligamentum nuchae strains, ligamentum nuchae tears, muscle strains or tears, and perimuscular fluid.
The analysis revealed significantly more findings in the patients with whiplash, compared with the healthy control subjects (507 versus 237, respectively).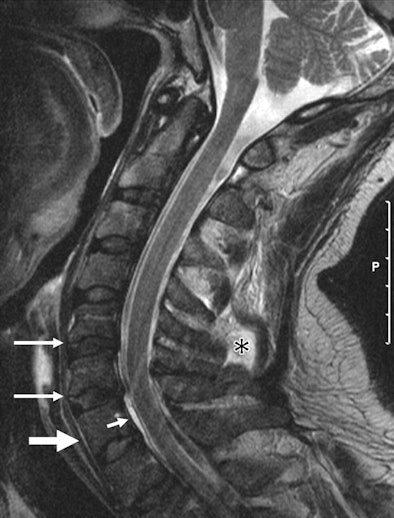 MR image of a 46-year-old man who was imaged within 48 hours after a motor vehicle injury. Sagittal T2-weighted image shows a focal hematoma (*) and trace of prevertebral hemorrhage (thick arrow). A rare epidural hematoma is also evident (short thin arrow). Image courtesy of Radiology.
Abnormal findings
The most frequently recorded abnormal findings were degenerative changes of the intervertebral disks and facet joints, which were equally represented in patients and control subjects.
The data also showed some significant differences between the two groups. The MRI scans revealed 24 findings of occult vertebral fractures in eight whiplash-injury patients and one finding in one control subject. In addition, there were 126 findings of vertebral body contusions in 17 patients and 42 findings in 13 control subjects, and 95 findings of muscle strain in 21 patients and 14 findings in nine control subjects.
MRI also showed nine muscle tears and/or hematomas in one patient and no such results among the control subjects. There were also 46 findings of perimuscular fluid in four patients and two such findings in one control subject.
Based on the results, the researchers rated the accuracy of MRI and interreader reliability as generally poor (correlation coefficient of 62%), with sensitivity of only 33% and specificity of 73%.
"These findings were not consistently detected by all four readers," Anderson and colleagues wrote, "and [results] indicated poor reliability of measurements in vertebral bodies. The readers showed greater agreement for findings in muscles and for all 10 categories of findings taken together."
Patients with symptoms after acute whiplash-associated injury, however, exhibited significantly more MRI findings in the cervical spine (specificity of 73%) than healthy control subjects.