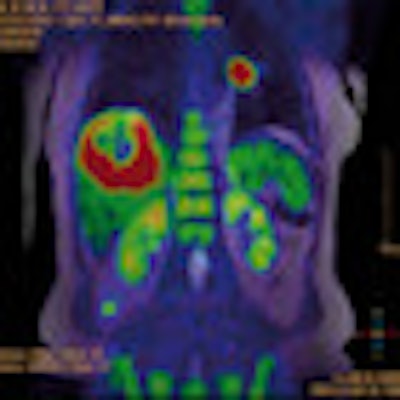 CHICAGO - PET/MRI can outperform PET/CT for lesion conspicuity and characterization in the abdomen, particularly in the liver, according to a study presented by Swiss researchers on Wednesday at the RSNA 2011 meeting.
A total of 19 oncology patients with a mean age of 55 years were enrolled in the study, said lead study author Dr. David Crook, from University Hospital Zurich. Inclusion criteria were a clinically indicated FDG-PET/CT examination for staging and restaging of cancer, a lack of contraindications for PET/MRI, and the presence of a PET-positive lesion in the abdomen.
In the first part of imaging protocol, all 19 patients received a time-of-flight (TOF) PET/CT scan (Discovery PET/CT 690, GE Healthcare) with low-dose CT for attenuation correction. No contrast agent was administered unless requested by the referring physician.
Patients then completed a 3-tesla MRI exam (Discovery MR750, GE Healthcare), with researchers obtaining a T1-weighted 3D gradient recalled echo (GRE) image of the abdomen. Once again, no contrast agent was given unless requested.
A connecting patient transfer table allowed the use of a 32-channel torso coil after PET/CT to avoid coil-induced CT and PET attenuation correction artifacts and to maintain a stable patient position.
Two double-board-certified radiologists and nuclear physicians analyzed PET/MRI and PET/CT data independently, grading PET-positive lesions on a three-point scale for lesion conspicuity in CT and MRI.
A total of 27 PET-positive lesions were evaluated on PET/CT and PET/MRI; the majority of lesions were found in the liver (12), followed by bone (four), the stomach/bowel region (three), pleura (two), lung (two), fatty tissue (two), pancreas (one), and epidural space (one).
Lesions were characterized with moderate and good interobserver agreement on lesion conspicuity in CT and MR, respectively, Crook noted. In an overall lesion-based comparison, no significant difference was found, although a tendency for MRI to outperform CT was apparent (p = 0.11 and 0.08, respectively).
"In comparing liver lesions, MR significantly outperformed CT," Crook added. "However, in extra fatty [tissue] findings, there was no significant difference found in this patient population."
The preliminary data indicate that PET/MRI "tends to outperform PET/CT in abdominal lesion characterization and conspicuity when using unenhanced CT and MRI, although this difference falls short of statistical significance," Crook and colleagues concluded. The difference, however, is significant in the liver.
Crook recommended that further research be done with additional MR sequences to fully evaluate the potential of PET/MRI compared to PET/CT.
Crook receives R&D funding from GE Healthcare.
Editor's note: The image on the home page is courtesy of the University of Geneva.