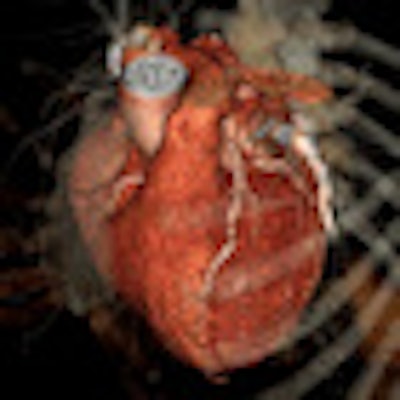 Single-beat cardiac CT not only allows for dose reduction and high accuracy, but also for greater flexibility in imaging patients with arrhythmia, atrial fibrillation, and shortness of breath, said a researcher from Charité Medical University in Berlin.
Now that the slice wars are over, it's important to focus on real issues -- meaning clinical questions about how to best serve patients, said Dr. Marc Dewey at the International Society for Computed Tomography (ISCT) meeting last month.
At the moment, second-generation dual-source CT is one of the latest technologies that allows for single-beat cardiac imaging, which is important because some patients, such as those with arrhythmia, atrial fibrillation, and shortness of breath, require that method.
At Charité, radiologists have access to a 320-detector-row CT scanner that allows for single-beat imaging, which means they receive five times the coverage compared to that of a 64-detector-row scanner. The system can also image up to 16 cm in the z direction, which fits typical hearts.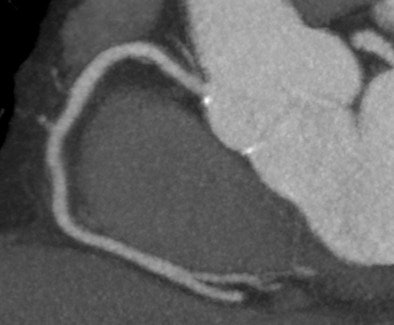 Example of a 320-row CT scan of a right coronary artery with proximal noncalcified plaque but without significant stenoses in a patient with atrial fibrillation and a heart rate between 75 and 120 beats per minute. Image courtesy of Dr. Marc Dewey.
Regarding radiation exposure changes, the patient receives less dose (4.2 mSv) than with conventional coronary angiography (8.5 mSv), "reassuring us we're on a very good track using this technology to further decrease exposure," said Dewey, who is part of Charité's radiology department.
Applications in practice
Quite often, a patient experiences an arrhythmic beat just after contrast injection, he said. "We've seen this several times, and it can really ruin your day."
A recent patient with a heart rate of 50 beats per minute (bpm) experienced an arrhythmic beat, so scanning was stopped and the 320-detector-row CT system used the beat that followed -- a slow one that provided good data for reconstruction. Single-beat cardiac imaging with a 320-detector-row scanner allows the radiologist to be more flexible and react to arrhythmic conditions, which commonly occur, Dewey said.
Another common problem is atrial fibrillation. For example, a patient came in with a heart rate of 27 bpm: Imagine scanning him with retrospectively gated cardiac CT, Dewey said.
"You'd be too fast," he noted. "The pitch would just be too high. You wouldn't cover the anatomy anymore." With single-beat cardiac CT, the entire beat was covered.
In traditional cardiac CT, issues can also arise when there is no breathing command, or if the patient experiences shortness of breath. In a recent case at the institution, a technician turned off the breathing command by mistake. With the 320-detector-row scanner, however, the entire volume is scanned in 350 msec and reconstructed in fewer than 200 msec. Despite constant breathing, the radiologist can see the aortic cusp and the left main artery, all without visualizing any lung motion.
No one can breathe fast enough to blur the image if it's only needed for 200 msec, Dewey said. And in patients who can't hold their breath for longer than five seconds, imaging is still possible.
The researchers are also proceeding with the use of single-beat cardiac CT for myocardial perfusion assessment in several clinical studies, Dewey said.