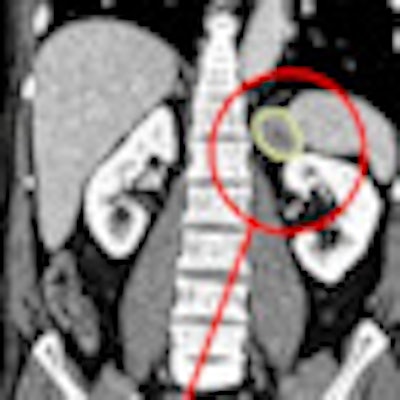 Powered by the advances in acquisition technology and image postprocessing, CT has emerged as a critical validation tool for oncologists in the assessment of tumors. Yet the radiology department has an image problem with oncologists, according to Dr. Philippe Grenier, who leads the department of diagnostic radiology at the Hôpital Pitié-Salpêtrière in Paris.
"The reports we send assessing the response of tumors to chemotherapy are inconsistent and often incomprehensible, and when an oncologist calls us, he learns no two radiologists have the same reading of the same images," he said. "Oncologists do not have a culture that includes medical imaging, and we have not done a very good job of building our credibility with them."
For the past eight months, Grenier's team has studied the potential for computer-assisted detection (CAD) software in second readings of CT exams, specifically testing its capabilities for exams of lung cancer patients following chemotherapy.
"It is nothing less than fantastic," said Grenier, past president of the Fleischner Society and president of the European Society of Thoracic Imaging.
He is convinced that CAD software is accelerating both the quality and the speed of follow-up CT readings in oncology.
"100% of tumors are imaged today, and 80% of this work is done with CT," Grenier said. "Now to compare tumor progression, we can click and voilà , the software shows the targeted nodules with variations in volumes from a previous scan."
CT is critical to the initial detection of a tumor and the supporting diagnosis, while it is also key to guiding biopsies and tumor treatment procedures. CT has also proved effective in follow-up exams that within the first three months of chemotherapy can indicate whether the treatment is working.
Radiologists should be very pleased with CAD as it increasingly brings standardization to reporting, optimization of measurements, and consensus on methods for comparing different examinations, he said. The keen interest of pharmaceutical companies in quantifiable results for effectiveness of chemotherapies will provide a wealth of clinical evidence for radiologists to review and debate as they consider emerging standards.
Standardization should help convince oncologists about the value of imaging for assessing treatment, and will ensure radiologists improve the quality of their reporting.
"There is a serious problem with reproducibility in exams for tumor response with radiologists taking different measures for diameter and volumes," said Dr. Olivier Lucidarme, radiologist at Pitié-Salpêtrière who is leading the investigations into CAD software from Median Technologies of Valbonne, France.
International standards set a 20% increase in volume as the threshold for saying the tumor is growing, he explained. With two different sets of measures from the same tumor, the risk of error increases in reporting, whether a patient is responding or not to a treatment. The automation of second readings is also assisting in oncology therapy follow-up.