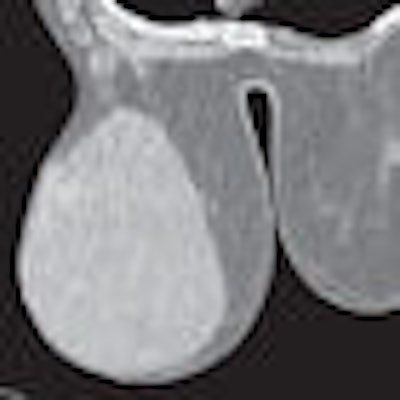 Multidetector-row CT has been commercially available for more than a decade, and its use has proliferated, particularly in applications such as coronary CT angiography.
Although use of the modality is not that common in breast imaging, it may prove a potent alternative to dynamic MRI in the classification of breast lesions suspected on mammography or sonography images, particularly for patients who can't have an MRI exam due to contraindications, anxiety, or claustrophobia. Other alternatives, such as PET or dedicated breast MRI, aren't as widely available as MDCT.
Researchers from the University of Rome "La Sapienza" in Italy evaluated the accuracy of low-dose MDCT in differentiating breast lesions suspected on mammography or sonography. Their findings are presented in this month's American Journal of Roentgenology (June 2008, Vol. 190:6, pp. 1644-1651).
Dr. Anna Perrone and colleagues performed four-slice MDCT scans (Somatom Plus 4 Volume Zoom, Siemens Healthcare, Erlangen, Germany) on 49 women in the prone position and 64-slice MDCT scans (Somatom Sensation Cardiac 64, Siemens Healthcare) on 12 women in the supine position, for a total of 61 scans.
Forty-seven of the 61 patients underwent surgery; the findings showed 20 benign lesions and 27 malignant lesions: 19 invasive ductal carcinomas, six ductal carcinoma in situ, and two invasive lobular carcinomas.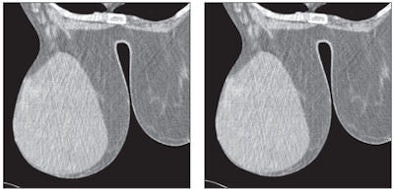 Fifty-eight-year-old woman with phyllodes tumor in left breast. Dynamic MDCT scans at baseline (left) and one minute after contrast administration (right) show a large, regular lesion with early and intense enhancement in most of the breast. All images courtesy of the American Roentgen Ray Society.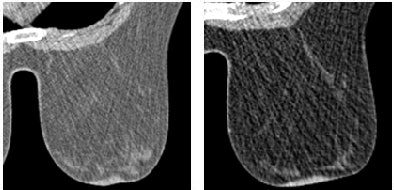 Forty-six-year-old woman with nonspecific inflammatory tissue in right breast. Dynamic MDCT scans at baseline (left) and one minute after contrast administration (right) show thickened homogeneous tissue beneath the nipple, which exhibited strong enhancement.
The MDCT diagnosis was correct in 25 of 27 malignant lesions and in all 20 of the benign lesions, Perrone and colleagues wrote.
The team found that a value of 60 to 70 mAs made it possible to obtain good image quality with a total radiation dose of 18.24 mGy for a four-slice MDCT scanner and 16.40 mGy for a 64-slice MDCT scanner when the image was taken of the entire breast. When the study was limited to a particular region of interest, the radiation dose was 13.6 mGy for four-slice MDCT and 12.3 mGy for 64-slice MDCT.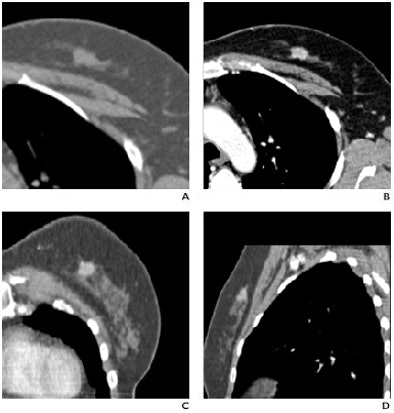 Fifty-two-year-old woman with invasive ductal carcinoma in left breast. (A and B) Dynamic MDCT images at baseline (A) and one minute (B) after contrast administration depict an irregular lesion with homogeneous enhancement; evaluation of time-attenuation curve showed washout pattern. (C and D) Coronal and sagittal multiplanar reconstructions one minute after contrast administration show lesion in A and B located in upper left quadrant of breast, approximately 2 cm behind nipple.
One key advantage of CT mammography over MRI is its shorter acquisition time, according to the researchers.
"A complete study can be performed in one breath-hold with good spatial and contrast resolution due to the strong contrast enhancement of the surrounding fat tissue," Perrone and colleagues wrote.
Another advantage of MDCT, particularly 64-slice MDCT, is thin collimation, which enhances multiplanar and 3D reconstructions. Finally, CT can be done with a patient in a supine position, which helps the radiologist localize the lesion while simultaneously evaluating its breadth and examining the skin, chest wall, lymph nodes of both axillae, and the internal mammary chains of lymph nodes.
Perrone's team concluded that MDCT can be a helpful tool when mammographic or sonographic findings are unclear and there is no palpable lesion, as well as in cases of suspected lesions, particularly for women for whom the use of MRI isn't feasible.
By Kate Madden Yee
AuntMinnie.com staff writer
June 19, 2008
Related Reading
MRI outperforms MDCT in endoleak detection, May 30, 2008
Incidental findings on cardiac MDCT common for healthy adults, May 9, 2008
Whole-body multidetector CT spots head and neck injuries, April 15, 2008
People, not equipment maximize MDCT capacity, study finds, January 7, 2008
64-slice MDCT highly accurate for stenosis detection, November 5, 2007
Copyright © 2008 AuntMinnie.com