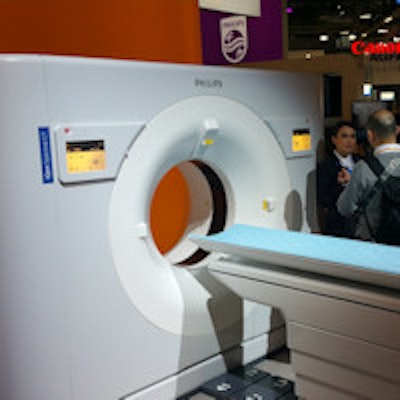 VIENNA - The latest version of its IntelliSpace Portal platform is among the ECR 2015 highlights for Philips Healthcare. The company is also showing recently introduced technology ranging from its IQon spectral CT scanner to its DoseWise Portal radiation dose management program.
First launched at RSNA 2014, IntelliSpace Portal 7.0 is designed to give radiologists a more integrated view of patients as they move through the healthcare continuum, and it enables faster communication of radiology reports to referring physicians.
The software can integrate with PACS, RIS, and hospital information systems across clinical locations, allowing radiologists to review and complete cases from anywhere. IntelliSpace Portal Enterprise is the version of the software for enterprises with multiple sites, ensuring that clinicians have access to the same applications. The platform is also scalable, and it has clinical applications covering cardiology, oncology, neurology, and other areas.
Also in the software realm, DoseWise Portal is a radiation dose management offering that Philips is developing to enable healthcare providers to record, analyze, and monitor radiation from imaging modalities across multiple diagnostic and interventional settings. The company's DoseWise Solutions program includes other products and services such as ClarityIQ for angiography procedures, iterative model reconstruction (IMR) for CT studies, and DoseAware.
Philips is also reprising product launches first made at the RSNA conference, including its IQon spectral CT scanner. IQon analyzes signals from two x-ray energies to determine changes in tissue composition, allowing clinicians to view conventional grayscale anatomical images along with the spectral information from the same scan. IQon spectral CT does not yet have the CE Mark.
In MRI, Philips is discussing its Ingenia 1.5T S scanner, a 1.5-tesla scanner that the company introduced at RSNA 2014. The scanner supports Philips' dStream digital broadband architecture and Omega gradients, and it will be available with Ambient Experience, which creates an audiovisual experience designed to help patients relax during scans. Ingenia 1.5T S is awaiting the CE Mark.
In x-ray, Philips is showing the Veradius Unity mobile C-arm, MobileDiagnost Opta mobile x-ray system (for markets outside the U.S.), and MobileDiagnost wDR digital radiography system, as well as version 4.1 of its software for the DigitalDiagnost system, which includes better workflow. In digital subtraction angiography (DSA), EmboGuide with XperCT Dual is designed to improve the detection of lesions and the vessels that feed them, compared with standard DSA.
Regarding mammography, the company is developing digital breast tomosynthesis as a technology that will be available for its MicroDose SI mammography system in the near future; at ECR 2015, Philips announced that its customers will have an upgrade path to future advanced applications such as spectral tomosynthesis.
Finally, ultrasound practitioners are getting a look at the company's Affiniti scanner, which debuted in September 2014, as well as a new software upgrade for the Epiq scanner that is being offered to its installed base. The upgrade provides better anatomical algorithms for improved image quality, as well as elastography applications.