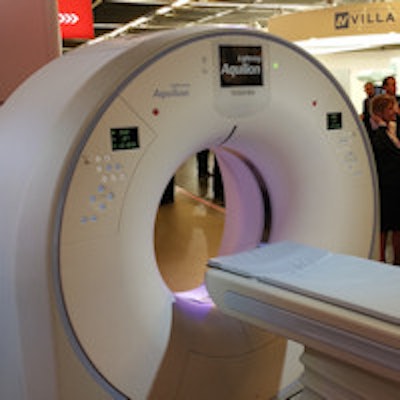 VIENNA - At this week's ECR 2015 meeting, Toshiba Medical Systems is rolling out Aquilion Lightning, a new CT scanner designed to bring improved performance to the entry-level segment. Other ECR launches include an ultrasound software upgrade platform, new MRI coils, and a rebranded radiation dose management program.
Available in 16- or 32-slice configurations, Lightning is the successor to Astelion in Toshiba's budget segment. But the scanner includes a host of technology improvements, such as the PureVision detectors that the company launched at the RSNA 2014 meeting, which produce 40% more light output, reducing both dose and contrast use.
Another improvement is a new digital acquisition system that reduces noise by 28%, according to the company. Other technologies available on Lightning include the company's single-energy metal artifact reduction (SEMAR), an iStation technologist console mounted on the scanner, and protocol optimization that enables the correct protocols to be used during scanning with minimal programming required by radiologists or radiographers.
Lightning also sports a wider 78-cm bore, compared with the 72-cm bore found on Astelion, and the system can be sited in a room as small as 9.8 sq m. The first Lightning installation is scheduled for next week in Germany, according to the company.
In ultrasound, Toshiba is highlighting new features available with version 5 of the company's Platinum Edition upgrade package for the Aplio product platform. These include a new Doppler algorithm called Superb Micro-Vascular Imaging (SMI), designed to improve imaging of small vessels, and shear-wave elastography for detecting strain in tissues.
Another new ultrasound technology called Smart Fusion enables the synchronization of live ultrasound with CT and MR images to help physicians locate structures during real-time biopsy procedures. In addition, a 3D mode called Fly Thru allows users to dive into large datasets and explore cavities, ducts, and vessels from the inside out.
In MRI, Toshiba has rolled out to its 3-tesla Vantage scanner 16-channel flex coils first launched on its 1.5-tesla line. The coils come in medium and large configurations and are suited for musculoskeletal imaging.
Also, the company's version 2.5 software release includes techniques such as Toshiba's version of Dixon water-fat separation, metal artifact reduction, and multiecho acquisition for C-spine studies. The company is also talking up the unique capabilities of its Pianissimo noise reduction technique, in which Toshiba has built the scanner's gradients inside a vacuum chamber for noise reduction that is independent of the scanning sequence being used.
In x-ray, Toshiba is displaying Xantara, a fluoroscopy unit that the company has licensed from French x-ray manufacturer Apelem and is now distributing in Europe and other select global markets.
Finally, Toshiba has rebranded its radiation dose minimization and management offering as DoseRite. The new campaign includes the company's Dose Tracking System software for managing dose, as well as tools such as spot fluoroscopy modes to reduce dose.