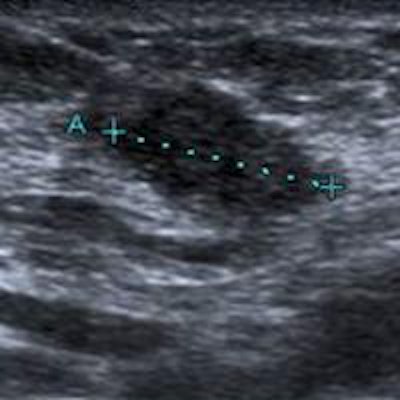 When it comes to screening women for breast cancer, those with dense breasts or tissue abnormalities tend to be the most troublesome, but breast ultrasound has proved, and continues to prove, its utility for these women, say leading researchers.
Estimates for mammography sensitivity range anywhere from 65% to 91%, and the masking effect of dense breast tissue is the most relevant cause of false negatives, according to Dr. Veronica Girardi from the Istituti Ospedalieri Bresciani in Brescia, Italy, a speaker at today's ECR 2015 refresher course.
"When we consider breast density, there are two different issues: One is that it's influencing cancer detection on mammographic imaging, and the second is its possible independent effect on breast cancer risk," she noted. "Breast density is significantly associated with an increased risk of breast cancer at any age, but it does not seem to influence ultrasound accuracy. For this reason, the association of ultrasound to mammography in women with dense breasts has been proposed by many authors, although there is no evidence of mortality reduction."
Girardi advocates ultrasound because, especially compared with mammography and MRI, it is quick, widely available, well-tolerated, very safe, and relatively cheap. In addition, it can boost cancer detection by about 2.9%, as found in a recent study by her group. However, ultrasound may increase false-positive biopsies.
"We have no sufficient information for a thorough analysis of costs, but it is quite evident that ultrasound implies a relevant additional cost as compared with mammography only and causes a major increment of invasive diagnostic procedures," she said.
It took about 540 ultrasound exams to detect one additional cancer, which of course depends on patient characteristics such as age, previous cancers, or dense breasts.
"Previous studies show that additional cancer detection by ultrasound is likely to improve screening benefit in dense breasts and supports the implementation of a randomized trial of adjunct ultrasound in women with increased breast tissue density," she explained. "Trials to evaluate mortality reduction are in process in Japan and Sweden."
The decision about whether to use breast ultrasound should be an individual one and should take into account patient context, particularly specific benefits and harms.
"Although supplemental screening with breast MR imaging is usually preferred for women who are at very high risk for breast cancer (i.e., women with a lifetime risk of over 20%, women who are BRCA-positive, or have multiple first-degree relatives with a history of premenopausal breast cancer), screening breast ultrasound should be considered in women at very high risk for breast cancer who cannot tolerate breast MR imaging, as well as those women with dense breast tissue and intermediate risk or even average risk," Girardi stated.
Future studies should establish strategies to reduce false-positive results and continue to optimize both technologist-performed handheld screening ultrasound and automated whole-breast ultrasound in women with mammographically dense breast tissue.
Also at the scientific session, Dr. Corinne Balleyguier, from the diagnostic imaging department at Gustave Roussy Cancer Campus in Villejuif, France, plans to discuss whether elastosonography is providing true advances or a false hope.
"Ultrasonography (US) B-mode is an established and challenging imaging tool in the diagnosis of breast tissue abnormalities," she noted. "US provides a high degree of sensitivity in differentiating malignancies; nevertheless, false-positive results represent a drawback for US."
Elastography improves the specificity of ultrasound. The most common elasticity imaging technique is free-hand elastography, which requires manual compression on a lesion with the ultrasound probe.
"This technique is easily feasible with a learning curve, but remains dependent on the operator," she continued. "Shear-wave elasticity imaging is a new technology which provides qualitative and quantitative analysis on a lesion and is less dependent on the operator."
Shear-wave elasticity or elastography may improve breast lesion characterization and help to better categorize undetermined lesions such as BI-RADS 4a and 3 nodules. In fact, elasticity imaging characteristics have been added in the latest version of the BI-RADS ultrasound lexicon.
"Elasticity imaging is not mandatory, but may be used as an additional tool to help characterization," she said. "Anyway, in case of doubt, B-mode imaging features still should be considered with priority against elasticity results. Elasticity imaging principles, with an overview of the different elasticity modes which may be used, will be presented during this session."
Meanwhile, Dr. Suzanne Diepstraten, from the radiology department at the University Medical Center Utrecht in the Netherlands, will present on whether nodal staging of breast cancer is still needed.
"In breast cancer, axillary lymph node status is an important prognostic factor and a guiding factor in treatment decisions," she said. "Sentinel node biopsy, followed by axillary lymph node dissection in cases where the sentinel node proves to be positive, has been the standard of care for axillary nodal staging for more than a decade. A disadvantage of this approach is the need for two-stage surgery in patients with axillary involvement."
Recent studies have shown in patients with limited axillary involvement who are undergoing breast-conserving treatment, subsequent axillary lymph node dissection does not improve overall survival or reduce local recurrence, which means a reassessment of the value of preoperative axillary staging for this subgroup of patients is necessary.
"Future studies investigating preoperative axillary staging should be aimed at methods that allow differentiation between limited versus extended axillary involvement, or specific identification and sampling of the sentinel lymph node," she concluded.
Originally published in ECR Today on 4 March 2015.
Copyright © 2015 European Society of Radiology