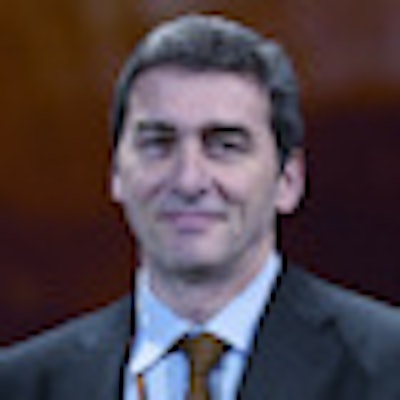 VIENNA - Small is beautiful when it comes to head and neck imaging, particularly because the small structures are so fascinating to explore, according to Prof. Roberto Maroldi, head of radiology at the University of Brescia, Italy.
"These anatomical structures allow you to explore the environment through senses like vision, hearing, smell, and taste," he said in yesterday's Antonio Chiesa Honorary Lecture. "They provide functions like breathing and swallowing, which require perfect coordination. Senses and functions combined, like hearing and voice, permit a sophisticated interaction with other humans. All these functions and senses are provided by miniaturized structures."
The goal of head and neck imaging is to analyze these structures and functions, as well as to demonstrate abnormalities, plan multidisciplinary treatment strategies, assess response to treatment, and follow up patients.
Imaging of the ear -- or temporal bone imaging, as it used to be called -- means examining structures beyond a direct clinical evaluation. This encompasses the sound-waves transmission system, the submersed fluid-waves sensor and its bony box, the data carrier fiber-cable, and the processors that analyze, decode, and eventually provide the information as sound, including speed, frequency, loudness, and stereo-location.
Studying the larynx is the next challenge, which involves imaging the submucosal tissues to separate tumor from uninvolved structures. Radiologists must also assess the submucosal muscles, deep fat spaces, supporting cartilages, and ligaments containing membranes and muscles.
Modality choice is likely to be CT (and contrast agent arterial and venous enhancement) or MRI. It depends on tissue contrast resolution, contrast enhancement (arterial and venous), tumor versus edema discrimination, and high spatial and contrast resolution and 3D capabilities.
The sinuses are the third field of study, and the largest in terms of number of patients and euros, he said. The main aims are to identify or delineate anatomy and variants, to determine tumor versus orbit/skull base/fissures and fossae relationship, to assess post-treatment complications and follow-up, and "to orientate surgeons along new corridors."
Another important task is to teach: to bring different groups together and to share and exchange experiences and ideas, Maroldi pointed out. Particular attention must be paid to how to train residents and younger colleagues, and promoting cooperation with ear, nose, and throat (ENT) and maxillofacial surgeons and oncologists is a critical issue. Setting a minimum number of cases, and how to fully integrate PET/CT, and maybe PET/MRI, are other key issues for the future.
When he was a resident, Maroldi was introduced to the topic by his mentor, Antonio Chiesa, who was European Congress of Radiology (ECR) president in 2005.
"In spite of his illness, he worked tirelessly for European radiology," noted Maroldi.
Originally published in ECR Today March 4, 2012.
Copyright © 2012 European Society of Radiology