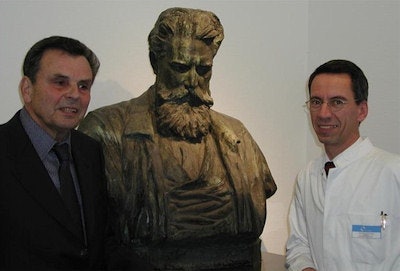 The history of radiology in Berlin predates that of the X-Ray Institute of Charité by 43 years, but the institute itself has a long and storied past -- not all of it good, said Dr. Walter Reisinger, senior radiologist at Charité Campus Mitte.
An 11 July symposium at the institute celebrated its history by focusing on science, according to an article by the Germany Radiology Society (DRG). Science, said Reisinger in a keynote speech, seemed the most appropriate language in which to celebrate the center's achievements considering that it was founded in 1939, during the darkest days of the Nazi regime in Germany.
That first phase, from 3 July 1939 until the war ended in 1945, saw "all the constraints and destructive consequences of the Nazi dictatorship," Reisinger said. Phase two began with the founding of the German Democratic Republic (GDR) in 1949 and was characterized by "signs of a renewed dictatorship" on one hand, but important structural and technical advances on the other.
Since the fall of the Berlin wall in 1989, Charité and the X-Ray Institute have successfully fought for their survival as a scientific institution, culminating the merger of the radiological facilities of Campi Rudolf-Virchow Clinic and Charité Hospital Benjamin Franklin, Reisinger said in his talk.