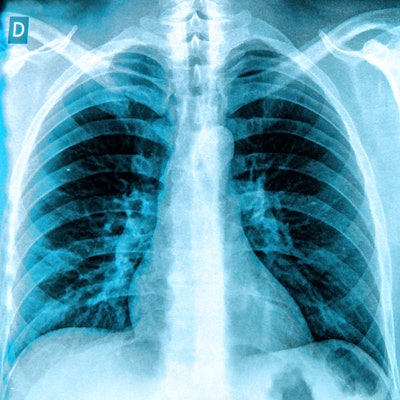 In recent years, the annual growth rate of the European general radiography market has stalled to a near standstill, and this trend is expected to continue in 2018 with market revenues forecast to increase by a mere 1%. The market has been buoyed in recent years by the transition from analog and computed radiography (CR) to fully digital systems. In Western Europe, this trend has largely run its course, but there are still opportunities for growth, both at a product and country level.
The European (Western Europe and Eastern Europe, excluding Russia) market for mobile general radiography systems is forecast to grow at a compound annual growth rate (CAGR) of 3.6% to top $200 million U.S. (172 million euros) by 2022.
Mobile systems can be used in a wider variety of clinical settings, including emergency departments, intensive care units, and operating rooms, improving workflow efficiency and patient access to diagnostic imaging. More diversity in the design of mobile digital systems, particularly lightweight and compact systems, coupled with extended battery life, is increasing their versatility for bedside imaging.
Hospitals have typically prioritized the digitialization of fixed rooms, and there is still a sizeable stock of analog mobile systems in use. These will gradually be replaced with digital systems over the coming years. The cost for a digital replacement can typically be justified by the operational efficiency gains and reduced dose associated with digital mobile systems.
Radiography goes retro
For some hospitals, particularly small to mid-sized ones with lower x-ray volumes, a full-scale replacement of analog rooms with digital radiography (DR) is not an economically viable option. Instead, DR retrofit kits can be a cost-effective upgrade to digital radiograpy, perhaps until budget becomes available for a full DR system. When compared with analog systems and CR, DR retrofit kits offer faster workflow and lower dose.
Nearly 2,000 DR retrofit kits were sold in Europe in 2017 and the market is forecast to grow by nearly 10% in 2018. However, retrofit kits are a stopgap product and once the diminishing stock of analog and CR systems have been converted, the need for retrofit kits will decrease. Moreover, as prices of digital systems continue to fall, enabled by falling flat-panel detector prices and intense competition between suppliers in a stagnating market, they will become increasingly affordable, particularly at the lower end of the market. As such, the annual growth rate for DR retrofit kits is expected to peak in 2018, with a market decline forecast from 2019 onward.
Value-based imaging
As European healthcare systems transition to value-based care models, the cost of medical imaging equipment is coming under increasing scrutiny. Thus cost of ownership and workflow efficiency are becoming increasingly important buying criteria when selecting new DR systems. At the same time, there is a gradual shift in the product mix, with higher growth forecast for the more affordable lower-end systems than feature-rich premium systems.
At a country level, higher growth is forecast for Eastern Europe than Western Europe (see next section), and as most East European markets favor value systems, this will also boost growth at the lower-end of the market. Vendors will need to work harder to justify the higher prices of premium systems and demonstrate the operational and clinical benefits of investing in a higher-priced system.
Look East for growth
With essentially flat growth forecast for the general radiography market in Western Europe, the best opportunities for growth are in the East. The Eastern European DR market is heavily influenced by the availability of European Union (EU) development funds for healthcare projects. The high level of funding in recent years has set a high baseline for the DR market, but recent announcements from Brussels that EU funding is to be shifted away from Central and Eastern Europe to the countries worse hit by the financial crisis, such as Spain and Greece, cast a shadow of doubt over the longer-term growth prospects for the region.
On the plus side, the economic situation in many Eastern European countries is improving, but the net effect of the expected cuts to EU funding is expected to result in slower growth for the DR market than in previous years, but still at a higher rate than in Western Europe.
Next big thing: Intelligent radiography
Artificial intelligence (AI) continues to make rapid inroads in radiology, with the first wave of analytics and image analysis tools now coming to market. These early solutions are either deployed on postprocessing workstations or on cloud-based platforms, but moving forward we expect to see AI tools increasingly embedded in medical imaging hardware, with DR likely to be one of the early adopters. With the prospects of low market growth and increasing competition, particularly from Chinese vendors, the established general radiography vendors need to innovate, both to stimulate customer demand and to protect their market share.
AI is likely to be one of the main development trends in the coming years with the first intelligent systems with embedded tools for feature detection, classification, and quantification likely to hit the market as early as 2019. Initially, AI-based tools that support the trend to value-based imaging are expected to gain the most traction, such as analytics for operational efficiency and tools that triage incoming studies and prioritize the worklist.
Simon Harris is managing director and principal analyst at Signify Research, a health tech, market-intelligence firm based in Cranfield, U.K. He can be reached at [email protected].
The comments and observations expressed herein do not necessarily reflect the opinions of AuntMinnie.com, nor should they be construed as an endorsement or admonishment of any particular vendor, analyst, industry consultant, or consulting group.