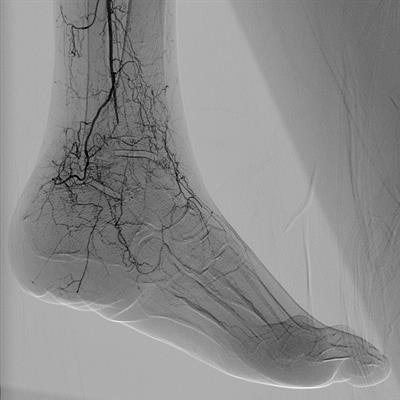 As medical imaging's bread-and-butter modality, digital radiography (DR) is all about efficiency. At this week's ECR 2019 technical exhibition, DR vendors are highlighting how their new technologies can help radiology departments work more efficiently and deliver better patient care at a lower cost.
From mobile units to radiography rooms and interventional suites, exhibitors are showing systems that are more compact, more flexible, and more capable of advanced applications. Mobile x-ray units in particular are getting slimmed down, while security features are being beefed up to prevent cybersecurity lapses. In advanced clinical applications, several companies are showing image-stitching algorithms for performing examinations of the spine and long bones. Also, look out for vendors focusing on artificial intelligence (AI) analysis of radiography examinations.
Philips Healthcare is unveiling Philips Zenition, a new high-end mobile surgery platform. It designed the system in cooperation with customers to ensure ease of use and operating efficiency, and the system includes features that aim to increase clinical performance in the operating room.
For the Azurion angiography platform, Philips has released Azurion 7 C20 with FlexArm. The updated version has a flexible arm that moves on eight different axes, enabling clinicians to perform imaging across the entire patient in 2D and 3D. In classic radiography, the company is promoting DigitalDiagnost C90, a premium ceiling-mounted DR system that's designed to support more efficient workflow through features such as a touchscreen display on the Eleva tube head and a live camera that helps with patient positioning by providing a clear view of the collimated area.
At its ECR booth, Siemens Healthineers is directing visitors to Multix Impact, a floor-mounted DR system, and Mobilett Elara Max, a mobile x-ray unit. Multix Impact features a height-adjustable, float-top table, as well as an in-room touch-based user interface that enables radiographers to stay at the patient's side during examinations. Key features include graphical organ program selection and a positioning guide display. The device has 17 x 15-inch digital detectors.
Mobilett Elara Max was specially designed to reduce the risk of hospital-acquired infections with a variety of enhancements. The entire system has an antimicrobial coating, and cables are hidden inside the unit's articulating arm. Siemens has also upgraded the machine's security package and created "virtual workstation" software that enables the installation of software to provide access to patient information at the bedside without affecting the security of the IT network.
Alphenix is an interventional angiography platform that Canon Medical Systems is highlighting at the congress in Vienna. Enhancements include a conebeam CT mode called AlphaCT for low-contrast imaging and a real-time autopixel shift mode that cleans up imaging in less than 10 msec. The platform also includes the Hi-Def Detector, a flat-panel digital detector available on the Alphenix Biplane and Alphenix Core + systems.
An interventional suite that pairs an angiography system with a CT scanner -- called Alphenix 4D CT -- also is being demonstrated at the vendor's booth. The suite matches an Alphenix Sky + C-arm with an Aquilion One Genesis volumetric CT scanner, enabling clinicians to plan, verify, and treat patients in a single session.
Agfa HealthCare is promoting what it calls intelligent radiography via DR 800, a multipurpose x-ray room that enables users to perform both radiography and fluoroscopy within a single room. Support for artificial and augmented intelligence is built into DR 800, which also supports advanced clinical applications, such as full-leg/full-spine studies and large-field/low-dose tomosynthesis. The company is also highlighting the DR 100e and DX-D 100+ mobile x-ray units, the DR 600 ceiling-suspended room, the DR Retrofit kit, and Musica image processing software.
Meanwhile, Carestream Health is showcasing several important x-ray developments. The company's DRX-Revolution nano device is a scaled-down version of its DRX-Revolution mobile radiography system that uses carbon nanotube technology to reduce size and weight, as well as a lithium ion phosphate battery. It can use detectors in a variety of sizes.
DRX-Revolution also is being displayed. Carestream is emphasizing the system's collapsible column, which makes the unit easier to drive. In room-based radiography, DRX-Evolution Plus is designed to provide flexibility with an extended tube column, high-performance x-ray generator, and table that supports larger patients.
Fujifilm Medical Systems is promoting FDR Smart X, a range of DR rooms that are available as either ceiling-suspended or floor-mounted configurations. They include automated and motorized stitching functions and can be used with the FDR D-Evo II and FDR-ES digital panels.
For long-view exposures, Fujifilm is offering FDR D-Evo GL, which enables the acquisition of single-shot exposures of the whole spine and inferior limbs. The ISS and Virtual Grid technology are designed to reduce scatter radiation. The vendor is also showcasing the FDRGo Plus and FRD Nano mobile x-ray units.
GE Healthcare developed its Discovery XR656 HD radiography system to reduce repeat imaging examinations. The unit includes FlashPad HD digital detectors, which have four times more pixels per area than previous technology, producing highly defined x-ray images, according to the company.
The firm's Helix image processing software enables workflow to continue smoothly, while the AutoRAD Suite supports the stitching of x-ray images. GE's Auto Image Paste tool supports seamless long-bone and spine x-ray studies.
Konica Minolta is promoting its AeroDR X10 mobile radiography system, a manually driven unit that's designed to deliver high performance, even in tight spaces. Equipped with the AeroDR flat-panel digital detector, the device features a 19-inch touchscreen display and AeroNAV software.
EOS Imaging is highlighting stereoView, a 2D/3D viewer for clinical collaboration and patient engagement. The software enables the sharing of 2D and 3D data, improving multidisciplinary clinical collaboration with referring physicians and better engagement with patients. The company is also discussing a new online training platform, as well as its sterEOS 2D/3D modeling and analysis software and EOSapps 3D surgical planning software suite for spine, hip, and knee applications.
Ziehm Imaging has introduced a larger 31 x 31-cm amorphous silicon flat-panel digital detector for the Vision FD surgical C-arm. Previously, the system was only available with a 20 x 20-cm detector. Other highlights are Vision RFD 3D CMOSline and Vision RFD Hybrid Edition CMOSline units, which are both premium C-arms based on complementary metal-oxide semiconductor (CMOS) digital detectors.
Samsung is looking to harness the growth of AI by discussing several products, including Bone Suppression, an algorithm that reduces signal from bone in chest x-rays, bringing out lung tissues that might otherwise be obscured. Another technology, SimGrid, is designed to make it easier to replace x-ray grids while providing excellent image quality with fewer scatter artifacts.
The vendor is also showing an algorithm called Auto Lung Nodule Detection (ALND) on its GC85A with Prestige radiography system. Another feature on GC85A with Prestige is called "full-auto system," which includes autopositioning and autotracking to streamline workflow.
Originally published in ECR Today on 27 February 2019.
Copyright © 2019 European Society of Radiology