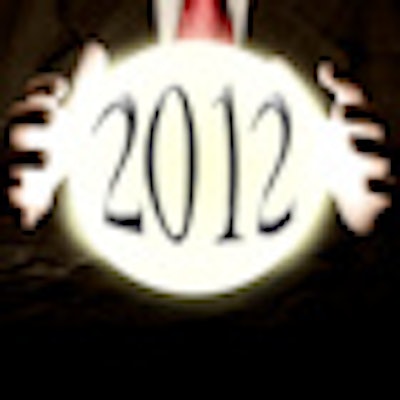 What lies ahead for the imaging market in 2012? Three industry analysts look into their crystal balls and make some predictions for PACS, ultrasound, digital x-ray, and the overall imaging market.
Poor adoption for cloud PACS in 2012
Over the past year there has been no shortage of PACS vendors offering "cloud" systems. Both in 2010 and 2011, this was the most popular trend amongst PACS vendors exhibiting at the RSNA congress in Chicago. The difference between RSNA 2010 and 2011 was that more PACS vendors had products that had gone from alpha/beta testing to formal launch status.
Nevertheless, there is a lack of adoption of these systems in the PACS market. Hospitals are still uncertain about the security implications of third-party hosted images. Moreover, application features and image quality from many currently available systems are not on par with traditional PACS. The ability to provide remote, anytime, anywhere access to PACS remains an attractive proposition for cloud systems. However, to achieve this, end users are rather opting for thin-client virtualization systems rather than cloud PACS.
Indeed what some vendors are referring to as cloud PACS is simply a virtualization of locally hosted systems, further hindering market adoption of "true" cloud PACS. True cloud PACS is defined as having both application and storage provisioning and hosting by a third-party server offsite from the end user (i.e., public cloud).
Cloud PACS was estimated to account for 0.9% of North American PACS revenues in 2010; in 2012, it is projected to increase to only 1.3%. In Western Europe, cloud PACS only accounted for 0.3% of revenues in 2010; in 2012, it is projected to grow to only 0.5%.
Managed services in imaging IT
Managed services refer to a model in which the vendor owns and manages the IT infrastructure, providing service level management, application, and system administration. The vendor is also fully responsible for maintaining this infrastructure, including the data center/storage, which may be housed locally or remotely.
Benefits of managed services include reducing the need for heavy capital investment in PACS, such as costly in-house IT support staff and IT infrastructure investment. It also provides regular access to the latest software upgrades and allows flexible storage capacity to suit an end user's needs.
Particularly, managed service models involve a fee-per-study option in which hospitals can switch from a capex to an opex model, only paying for studies and storage space as and when they need it. In the current economic climate as hospitals face reducing capital expenditure and reducing reimbursements, this is becoming increasingly attractive.
Managed service revenues in the PACS market are forecast with a compound annual growth rate (CAGR) of 20.3% from 2010 to 2015. Furthermore, 2012 will see strong growth in the market for this model. Indeed, revenues are projected to grow globally from $272 million U.S. (209 million euros) in 2011 to $328 million (253 million euros) in 2012.
The overall picture
CT, MRI, and angiography/cardiology x-ray are set for a challenging 2012. Less expensive modality markets such as ultrasound and general radiography have bounced right back from the economic downturn, buoyed by cost-efficiency purchasing and significant advances in imaging technology.
In contrast, continued economic uncertainty in mature markets such as Europe continues to affect capital health expenditure, with many orders postponed or canceled. Combined with concerns regarding CT and x-ray dosage, and less robust investment from emerging regions, these factors are set to prevent any significant global market rebound.
Despite this, a few areas of the "big iron" market look set to exceed this global trend. The cylindrical 3-tesla MRI market is set for global revenue growth of 7% to 10%, spurred by increased market penetration of wide-aperture and short-bore systems. Demand for 64-slice and higher CT systems will offset market decline in 16-slice and fewer CT systems, driven by demand for greater image quality, particularly in CT angiography (CTA). Furthermore, the release of dynamic flat-panel detectors for angiography, cardiology, and fluoroscopy x-ray should boost this segment.
We forecast that the global markets for CT, MRI, and angiography/cardiology x-ray will not exceed 5% revenue growth in 2012, despite stronger growth in some market segments.
Mobile x-ray growth
The newest generation of wireless flat-panel x-ray boasts stronger casing, faster processing, and longer battery life, clearly improving daily radiography workflow. Yet, their greatest benefit is not in their internal components but in their method of application. The most notable beneficiary: mobile x-ray systems.
The technology of wireless flat-panel display (FPD) for x-ray usage has been available for the last few years. A higher price tag and risk of drop damage or theft damaged market confidence initially. Yet, the first generation of wireless panels combined unique features for digital FPDs: near instant processing in a cassette format. Now, the newest generation of wireless panels has been deployed in new mobile x-ray systems, providing a recipe for market success.
The impact of these new systems in clinical settings is clear: Radiographers will no longer have to shuttle between patient bedsides and processing rooms, increasing exam time efficiency. Wireless panels also simplify patient positioning, as panels are not tethered. Digital FPD systems also boast dose reduction benefits, especially important in clinical settings outside the radiography suite.
We anticipate that the surge of new wireless mobile x-ray systems will push global revenue growth of this market above 10% in 2012.
Ultrasound growth
Another market prediction for 2012 is for double-digit growth for point-of-care ultrasound. This market is experiencing strong demand, driven by key applications such as anesthesiology, musculoskeletal, emergency medicine, and critical care. Combined, these applications are forecast to increase by 44% between 2011 and 2015.
The use of ultrasound in point-of-care applications is well-established in mature healthcare markets, such as Western Europe and North America. The capability for rapid patient diagnosis using flexible ultrasound platforms, as well as the development of new product innovations, has driven growth in these point-of-care markets. For example, improved procedural guidance and visualization techniques have helped drive the use of ultrasound in anesthesiology.
In comparison, emerging ultrasound markets, such as in India and Latin America, are still in the early stages of point-of-care development. Increased physician education is needed to demonstrate the benefits (both clinical and financial) of using ultrasound in point-of-care applications. With this education becoming more widespread, along with the growing compact market, point-of-care is starting to become more recognized.
World ultrasound point-of-care (POC) revenue growth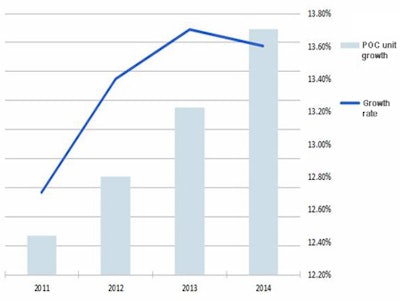 The authors are market analysts in the medical imaging and healthcare IT research groups at InMedica. InMedica is a leading provider of market research and consultancy in the medical electronics industry (www.in-medica.com).
The comments and observations expressed herein do not necessarily reflect the opinions of AuntMinnieEurope.com, nor should they be construed as an endorsement or admonishment of any particular vendor, analyst, industry consultant, or consulting group.