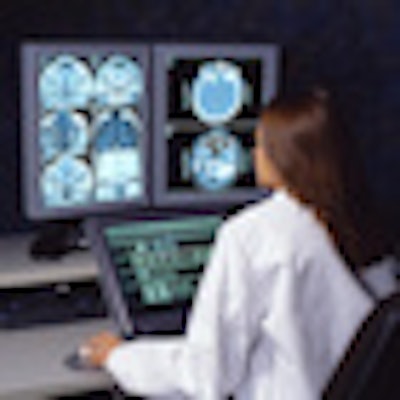 In many ways, the radiology PACS market in Europe can be described as mature and highly saturated, with few sites lacking a system. This is particularly the case in the large-scale sector, where most hospitals with more than 250 beds have PACS. But in smaller hospitals, particularly in imaging centers, many installations still lack this technology. Indeed, InMedica's PACS and RIS installed base database shows that while more than 7,400 European sites have PACS, another 3,350 are still without radiology PACS; penetration is also much lower for PACS in other departments.
Germany contributes most to the installed base of radiology PACS in Europe. France and Italy, which are ranked second and third in terms of the size of their installed base due to the large number of hospitals and imaging centers available, also have the lowest penetration rates in Western Europe. Penetration in France at the end of 2010 was particularly low: 60% in the large-scale and 40% in the medium-scale market. France has lagged behind the tremendous growth seen in the rest of Western Europe, but as the country's focus now shifts toward PACS implementation for regional hospital groups, France is projected to have the largest number of new PACS installations in Europe in the next five years.
Similar to France, Italy has a relatively low PACS penetration. However, new installations here are forecast to be restricted in the short term as the current debt crisis and austerity measures affect the healthcare IT market. In the east, Poland has by far the largest installed base of PACS, driven by a large number of radiology departments available, increasing economic wealth, and a strong drive by the government to raise standards of care.
In terms of the number of remaining sites that do not have PACS installed in Europe, France contributes most. Eastern Europe, Germany, and Italy also contribute heavily. The U.K. and the Republic of Ireland, Benelux, and Nordic countries, conversely, hardly have any sites remaining.
An important question is: What direction will the European PACS market take over the next five to 10 years? As the pioneers of PACS in Europe, the U.K. and the Republic of Ireland, Benelux, and Nordic countries all have fully developed PACS markets. Interestingly, they are also leading the continent in terms of innovations in PACS technology and business models. On the other hand, the countries with less developed PACS markets and high numbers of remaining sites, such as France, Poland, and the rest of Eastern Europe, may end up lagging behind in PACS innovation.
In the U.K. and the Republic of Ireland, Benelux, and Nordic countries, almost every PACS installation is a replacement. With years of experience with their PACS, end users in these countries tend to have clearer and better-defined requirements from vendors for improving their PACS experience. Increasingly, these include vendor-neutral archives, advanced visualization, and managed service business models, including software as a service and cloud-based PACS.
For example, 93% of PACS installed in the U.K. in 2010 were via managed service models; this compares with 26% in France, 4.0% in Italy, and less than 1% in Poland. Managed services refer to a model in which the vendor owns the PACS infrastructure, with the hospital paying a fixed fee per month based on projected examination volumes. The vendor is also fully responsible for maintaining PACS infrastructure, providing the storage and software as a service. Benefits of managed services include reducing the need for heavy capital investment in PACS, in-house IT support staff, and investments in IT infrastructure. It also provides access to the latest software upgrades and allows the total storage capacity that a hospital maintains to closely match that which they actually need at any one moment.
Clearly, the demand for this model is highly divergent by country. So users have to wonder why a model that works so well for hospitals in one country is not being effectively transferred to others. This is not to say that it must be transferred, but the question must be asked.
Theo Ahadome is lead market analyst for healthcare IT at InMedica (www.in-medica.com), the medical research division of IMS Research. The information in this article is obtained from InMedica's research on healthcare IT markets, including PACS, RIS, CVIS, enterprise management, cloud storage, and vendor-neutral archives.
The comments and observations expressed herein do not necessarily reflect the opinions of AuntMinnieEurope.com, nor should they be construed as an endorsement or admonishment of any particular vendor, analyst, industry consultant, or consulting group.