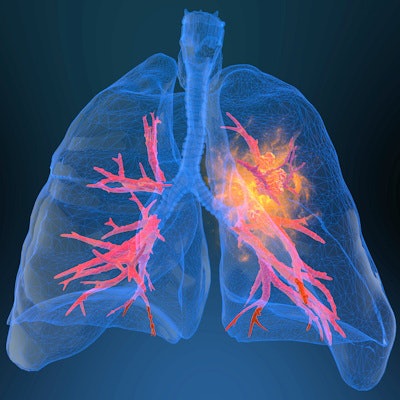 Netherlands-based artificial intelligence (AI) software developer Aidence has partnered with chest and cardiac radiology reporting services provider Heart&Lung Health (H&L) on an initiative to provide CT lung cancer screening reporting for the Tameside, Glossop, and North Manchester Clinical Commission Groups in the U.K.
The screening service is provided by Manchester University NHS Foundation Trust. The H&L radiology team will analyze over 30,000 low-dose CT lung cancer screening exams over three years with the help of the company's AI-based Veye Lung Nodules software, Aidence said. These studies are being performed under the Targeted Lung Health Checks (TLHC) multicenter, four-year screening program in England.
Aidence and H&L are also supporting other TLHC sites in Luton, Basildon, Hull, Liverpool, and Stoke, according to the vendors.