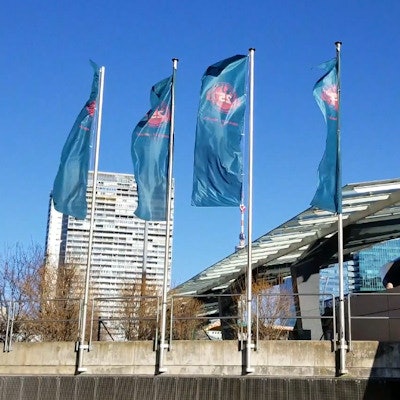 Next week's European Congress of Radiology (ECR) has been called off and rescheduled for 15-19 July in Vienna. It was impossible to guarantee a safe environment for attendees due to the spread of the novel coronavirus disease (COVID-19), according to organizers of the meeting.
The European Society of Radiology (ESR) decided to postpone the congress after careful evaluation of the facts about the growing COVID-19 epidemic and the recent statements issued by the World Health Organization and the European Centre for Disease Prevention and Control. It also took account of the evolving worldwide crisis and restrictions on travel and major events.
"Above all, we have analyzed the recommendations from the Austrian health authorities for large-scale events and came to the conclusion that we are not in a position to fulfill their requirements and guarantee a safe congress for our participants and industry partners at this time," stated ESR President Prof. Boris Brkljačić in a statement sent to all ESR members on 3 March. "The safety, health, and well-being of our delegates and partners will always be the highest priority for the ESR."
The July meeting will be a fully equivalent replacement for the planned event that had been scheduled for 11-15 March, and registration fees for the event and the online services will remain in place for the new congress dates. Registration for ECR 2020 remains open, he explained.
Full details on the refund policy will be published soon, according to a source at the ESR.
"Regarding flights and hotels people have booked on their own, they have to approach their airlines and hotels. With the official statement on our website regarding the postponement ... refunds should be possible," the source told AuntMinnieEurope.com in an email. "Regarding people who have booked via our travel service, we are currently in negotiations."
If ECR attendees are unable to make the July dates, it is unclear yet whether they will receive a refund on registration fees paid.
Busy summer period
The new dates in July fall at a relatively quiet time for medical congresses but at a busy period for families and sports fans. Mid-July marks the start of the school holiday season across Europe, while the British Open golf championships will take place from 16 to 19 July and the Summer Olympics are scheduled to start in Tokyo on 24 July. Also, 14 July is Bastille Day in France.
The ESR is hoping the COVID-19 outbreak will be firmly under control by the summer. The situation in China appears to have stabilized over the past two months, although experts have warned that it could take around 10 months to develop a vaccine.
Last month the organizers issued an upbeat press release about ECR 2020, stating that attendance could reach an all-time high. Registration figures for onsite participation showed around 1,000 more registered attendees this year than at the same time point in 2019, the ESR said.
However, the decision to postpone ECR looked increasingly likely last week, when Italian, Swiss, and French governments outlawed large public gatherings and the virus reached the Austrian capital. By the morning of 3 March, there were nine confirmed cases of COVID-19 in Vienna, making a total of 21 in Austria, according to the Vindobona Vienna International News service.
Striking a positive note
Brkljačić, who is a professor of radiology and vice dean at the University of Zagreb School of Medicine and chair of the department of diagnostic and interventional radiology at University Hospital "Dubrava" in Zagreb, Croatia, was determined to end his statement on a positive note.
"We would like to express our sincere thanks to our participants and industry partners for their understanding, continuous support, and flexibility. The majority of our industry partners have already expressed their ongoing commitment and are fully on board for ECR 2020 in July," he wrote. "Please rest assured that in these turbulent and challenging times, the entire ESR and ECR team are doing their best to respond to any query at the earliest possible time and to make ECR 2020 a spectacular and memorable event for all."