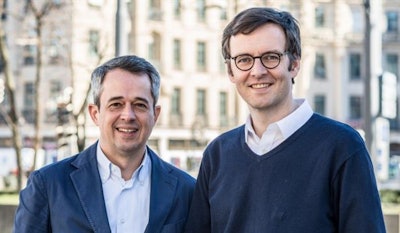 EuroMinnies finalists, page 2
Scientific Paper of the Year
Do you recommend cancer screening to your patients? A cross-sectional study of Norwegian doctors. Bringedal B et al, BMJ Open, online 30 August 2019.
Relatively few research studies have investigated the factors behind a physician's cancer screening advice, and this made a Norwegian team led by Berit Bringedal, PhD, a sociologist and senior researcher at the LEFO-Institute for Studies of the Medical Profession in Oslo, look into this topic. The group found that a wide range of different issues influence physicians' behavior, and the variation may be due to conflicting roles doctors play when it comes to recommending screening for disease in asymptomatic patients.
"The evidence [for cancer screening] is ambiguous and the doctors are faced with potentially inconsistent expectations of their roles," the authors wrote. "They are obliged to be both the patient's advocate and a steward of societal resources at the same time. Further, as a member of a profession, their duty is to act in accordance with professional norms. ... Knowing which role(s) a doctor is loyal to when making a decision can explain variations in practice."
Bringedal and colleagues sent a questionnaire to 1,545 Norwegian clinicians across all health services in 2014-2015, asking whether and why doctors recommend disease-specific cancer screening to their patients. The survey response rate was 75%, and they found the following:
94% of respondents stated they recommended screening for cervical cancer.
89% advised screening for breast cancer.
42% stated they recommended screening for colorectal cancer.
21% stated they recommended screening for ovarian cancer.
17% advised screening for lung cancer.
Cancer screening guidelines vary across professional organizations due to disagreements about the benefits and harms of screening, the group noted.
"Many cancer screening programs are controversial," they wrote. "Disagreements are related to the likely harms and benefits and whether the cost-effect ratio justifies the implementation of such programs. ... Norway is no exception: Here, as in many other countries, there have been heated disputes, especially concerning programs for breast cancer screening."
More research is needed, they concluded. A comparison between actual referrals and the findings in this survey would demonstrate whether the stated and actual practices are similar. Also, further studies of tensions and conflicts in the doctors' roles are required.
Additional details on this paper are available in our news report.
Swedish national survey on MR safety compared with CT: A false sense of security? Hansson B et al, European Radiology, online 13 December 2019.
The serious accident in Swedish Lapland on 23 October was not an isolated incident. That was the inevitable conclusion to draw from a large national survey about MRI safety in Sweden, which demonstrated that many staff members are unaware of reported incidents within their own department.
"This national survey has shown that safety incidents resulting in human injury, material damage, and close calls in clinical MR environments do occur. Risk level of these incidents is high," noted lead author Boel Hansson, a 7-tesla research radiographer, and colleagues from the department of medical imaging and physiology at Skåne University Hospital in Lund.
Using a web-based questionnaire on safety in clinical MR environments with CT for comparison, the authors collected data for MR and CT safety incidents over a year. The 529 participants reported a total of 200 MR and 156 CT safety incidents. Among the MR incidents, 16% were given the highest potential severity score. More MR workers (73%) than CT workers (50%) were confident of being aware of any incident occurring at their workplace, but in reality 69% of MR workers were not aware of reported incidents at their hospitals (83% for CT).
Reported MR incidents were mainly related to burns and projectiles. There were also many close calls involving wheelchairs, ventilators, oxygen tanks, and beds, and several lethal cases could have happened.
To minimize vulnerability, it is essential to continuously review safety routines, staff education, and feedback mechanisms on incidents, and they advocate a change of culture toward learning from mistakes. They urge MRI practitioners to identify potential risk zones, design educational programs for all staff and visitors, state clear MR safety procedures, and facilitate rigorous but easily manageable incident-reporting systems.
"The results indicated that MR personnel tend to have a false sense of security, as a high proportion of staff members were sure that they would have been aware of any incident occurring in their own department, while in reality, incidents did occur without their knowledge," they concluded.
Get more details in this article.
Best New Radiology Device
Artis icono interventional angiography system, Siemens Healthineers
More evidence that companies choose ECR to make major product launches came in March 2019, when Siemens Healthineers unveiled Artis icono, a new range of interventional angiography systems.
The product line is intended to support both radiology and cardiology interventional procedures using a novel detector positioning design. The first systems were the Artis icono biplane, a dual-plane device designed for use in multiple disciplines, and Artis icono floor, a single-detector, floor-mounted unit optimized for vascular and interventional radiology procedures.
A new detector positioning system called Lateral Plane Switch allows users to switch from the optimal radiology configuration to the best cardiology setup, and vice versa, in just seconds.
The vendor also redesigned its angiography imaging chain from the ground up for the Artis icono systems. Called Optiq, the imaging chain includes redesigned processing, ranging from acquisition to postprocessing to on-screen display. This results in high image quality across a wide range of C-arm angles and patient weights, which also leads to lower radiation dose, according to the manufacturer.
The units use the company's latest 16-bit high dynamic range (HDR) digital detectors, with two detector sizes: a 30 x 40-cm detector for radiology and neuro work and a new 21 x 21-cm detector for cardiology procedures. Another new feature is Case Flow, which incorporates predetermined system settings that can be customized by users to simplify procedures and speed up workflow.
Learn more in our article from ECR 2019.
Revolution Maxima CT scanner, GE Healthcare
The latest addition to the GE Revolution product range is Revolution Maxima, a high-performance CT scanner designed to optimize every step of the CT workflow. The new scanner is fitted with a variety of features powered by Edison for advanced applications and artificial intelligence algorithms.
A patient-positioning system, called Auto Positioning, can automatically center patients undergoing a CT scan with a single click. To perform this task, it uses a depth-sensing camera to generate in real-time a 3D image of an individual lying on the scanner bed. Auto Positioning then uses a deep-learning algorithm to identify the center of the scan range, align it with the isocenter of the bore, and finally center the patient automatically.
The technology aims to improve the accuracy and efficiency of patient positioning and provide the technologist with more time to focus on other aspects of patient care. Early case studies from China have reported single sites scanning roughly 60 patients per day and as many as 17 patients in a single hour.
Revolution Maxima received 510(k) clearance from the U.S. Food and Drug Administration (FDA) in 2019, though Auto Positioning was still pending clearance by late last year.
You can find out more in the AuntMinnie.com report from RSNA 2019.
Best New Radiology Software
AI-Rad Companion Brain MR software, Siemens Healthineers
AI-Rad Companion Brain MR from Siemens is designed for morphometry analysis. It automatically segments MR brain images, measures brain volume, and marks volume deviations in tables for diagnosis and treatment.
Through its artificial intelligence algorithms, AI-Rad Companion Brain MR identifies approximately 30 brain segments on MRI and compares the results with data in a reference database for brain morphometry from the Alzheimer's Disease Neuroimaging Initiative (ADNI).
In cases of suspected dementia, Alzheimer's disease, and Parkinson's disease, the brain volumetry function quantifies changes in the volume of gray and white matter, as well as cerebrospinal fluid, which serve as biomarkers for the conditions. Abnormal results are automatically tagged in a patient's report to give radiologists objective, quantitative data relevant to the diagnosis and subsequent therapy management, according to the manufacturer.
Similarly, AI-Rad Companion Prostate MR automatically segments MR images of the prostate so radiologists can mark lesions and the organ's outer contour for more precise procedures and enhanced patient outcomes. Annotated MR images are sent to the urologist for fusion with ultrasound images during the biopsy, helping to detect significant prostate carcinomas.
For more details, see the AuntMinnie.com report from RSNA 2019.
IntelliSpace AI Workflow Suite, Philips Healthcare
The IntelliSpace AI Workflow Suite reflects Philips' efforts to integrate artificial intelligence technology into the imaging workflow.
The software features a set of applications for integration and centralized workflow management of AI algorithms, and it is designed to integrate into existing hospital and departmental infrastructure to take care of the routing of clinical data to the appropriate AI application, enabling algorithms to analyze data without requiring user interaction, according to the vendor. The suite then automatically displays the results for the users; structured results are delivered where they're needed in the enterprise.
The suite is designed to support training of site-specific AI applications based on local data. Although it will integrate natively with Philips imaging systems and informatics software, AI Workflow Suite will also work with imaging equipment from other vendors, the company said.
It will also include a marketplace of apps for users to choose from. Philips has signed on algorithm developers Aidoc, MaxQ AI, Quibim, Riverain Technologies, and Zebra Medical Vision as initial partners for the AI Workflow Suite. The early focus is on algorithms for radiology applications, but the vendor would also like to expand it in the future to cardiology, pathology, and other areas.
The plan is to release AI Workflow Suite in the first quarter of 2020. In late 2019, Leiden University Medical Center in the Netherlands agreed to become the first to install the platform.
Read more in this AuntMinnie.com article from RSNA 2019.
Best New Radiology Vendor
Contextflow, Vienna, Austria
Contextflow is a spin-off of the Medical University of Vienna, Technical University of Vienna, and Khresmoi, the medical information and analysis research project.
The main aim of Contextflow is to develop and implement artificial intelligence-based image recognition technology to improve outcomes in radiology. Currently it works with lung CT exams. Using its software, radiologists can mark a region of interest in a scan, and the system retrieves reference cases from other patients based on visual disease pattern detection. It also provides relevant medical literature to help a diagnosis.
"There's no more need for time-consuming and frustrating searches in different websites and books to find the information you need. It's now just a mouse click away," noted co-founder and CEO Markus Holzer on the firm's website.
In October 2019, Contextflow secured new funding from Apex Ventures along with Crista Galli Ventures and Nina Capital. It is using the new capital to obtain a CE certification and accelerate international proof of concepts (POCs). Currently, POCs with seven clinics in Germany, Austria, the Netherlands, and Croatia are underway.
"Contextflow was born in response to important challenges in modern radiology: Radiologists today deal with an increasing amount of data, fine-grained disease variants that are the key for effective treatment decisions, and an ever-increasing workload," said Marta-Gaia Zanchi of Nina Capital. "For us, this company has it all: a thoughtful and ambitious team, a compelling and timely need, a deep-tech solution designed in response to this need that leverages a large and credible data asset, and a business model built on top of a very sophisticated understanding of how the system works."
Contextflow received the Digital Innovation Award from the Austrian Federal Ministry of Education, Science and Research in 2017. In 2018, the firm was selected as one of 19 start-ups from more than 700 applications to participate in the Philips HealthWorks accelerator program. It also won Best Healthtech Startup - Austria from the Central European Startup Awards.
Smart Reporting, Munich, Germany
Smart Reporting is a digital health start-up founded by CEO and managing partner Prof. Wieland Sommer, head of the CT department and a professor of radiology at Ludwig-Maximilian University, Grosshadern Hospital, Munich.
The company is a university spin-off that offers software solutions for structured reporting and clinical guidance in medical diagnostics. The aim is to achieve fully integrated image analysis and reporting in research and clinical routine, and it wants to enable customers be more productive, improve quality, and fully digitize processes as a gateway for artificial intelligence, according to the Smart Reporting website.
"Although technology has advanced significantly in the last few decades, the workflow pattern has essentially remained the same," Sommer said in an interview from February 2019. "The central limitation is the lack of standardized reports; historically, these have been dictated as free-form texts. If the same images are shown to three radiologists, each will use a different style and vocabulary and will apply them with different diagnostic criteria."
This lack of uniformity creates confusion and limits statistical analysis, and in the era of artificial intelligence, the standardization of reports will be essential, he added.
The company stated that its browser-based, vendor-neutral system requires no installation. The reporting templates are created by medical experts and conform with the latest guidelines, thus ensuring quality reports that are eligible for data mining and machine learning.
Smart Reporting has around 40 staff members and several thousand users around the world, and its software has been integrated by Agfa, GE, and Siemens Healthineers, the company claims. The next step is to expand into pathology. Its scientific board includes Prof. Paul Parizel, PhD, from the University of Western Australia; Prof. Stefan Schönberg from Mannheim; Prof. Claus Claussen from Tübingen; Prof. Maximilian Reiser from Munich; and Prof. Julian Dobranowski from Cancer Care Ontario.
"I encourage young physicians to investigate entrepreneurship and adapt this perspective to medicine," Sommer said. "Entrepreneurship drives innovation and should be covered in the medical curriculum."