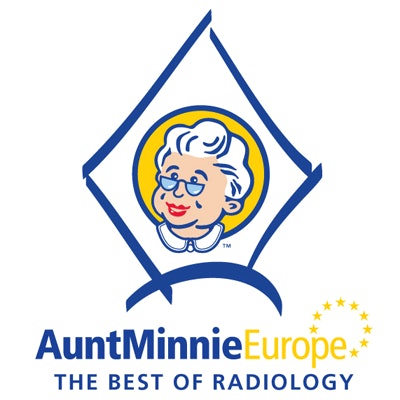 The list of candidates for the second edition of the EuroMinnies award scheme is now available. The EuroMinnies recognize the best and brightest in European radiology, and our second annual campaign includes candidates in eight categories, ranging from Most Influential Radiology Researcher to Best New Radiology Vendor.
The EuroMinnies candidates below were chosen based on nominations from our members. Winners will be selected by our expert panel in two rounds of voting. The finalists will be announced in late January 2020, with the final winners announced in February. Trophy presentations will take place at ECR 2020 in Vienna.
You can also view the winners of the 2019 edition of the EuroMinnies.
Most Influential Radiology Researcher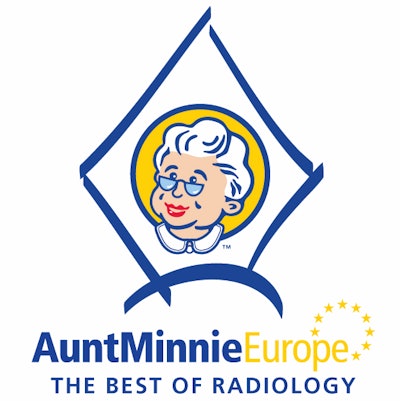 Dr. Jelle Barentsz, PhD, Radboud University, Nijmegen, the Netherlands
Dr. Afshin Gangi, PhD, University Hospital of Strasbourg, Strasbourg, France
Dr. Christiane Kuhl, Aachen University Hospital, Aachen, Germany
Dr. Tim Leiner, PhD, University Medical Center Utrecht, Utrecht, the Netherlands
Dr. Mathias Prokop, Radboud University, Nijmegen, the Netherlands
Dr. Alexander Radbruch, JD, University Hospital Essen and Heidelberg, Germany
Dr. Francesco Sardanelli, San Donato Polyclinic, Milan, Italy
Dr. Nandita deSouza, Institute of Cancer Research, London, U.K.
Most Effective Radiology Educator
Thomas Beyer, PhD, European Society for Hybrid, Molecular and Translational Imaging & Medical University of Vienna, Vienna, Austria
Dr. Carlo Catalano, European Society of Radiology & La Sapienza University of Rome Hospital, Rome, Italy
Dr. Christopher Clarke, Radiology Cafe & Nottingham University Hospitals NHS Trust, Nottingham, U.K.
Dr. Erik Ranschaert, PhD, European Society of Medical Imaging Informatics & ETZ Hospital, Tilburg, the Netherlands
Dr. László Tabár, Mammography Education & Uppsala University, Uppsala, Sweden
Dr. Nikoleta Traykova, PhD, European Society of Radiology & University Multiprofile Hospital for Active Treatment "Sv. Georgi," Plovdiv, Bulgaria
Dr. Valérie Vilgrain, European School of Radiology & University Beaujon Hospital, Clichy, Paris, France
Dr. Laura Oleaga Zufiría, European Diploma in Radiology & Hospital Clinic of Barcelona, Barcelona, Spain
Radiology Rising Star
Dr. Luisa Andrade, Grupo HPA Saúde, Portimão, Portugal
Dr. Danoob Dalili, Oxford University Hospitals NHS Foundation Trust, Oxford, U.K.
Apollo Exconde, Lego open MRI, London, U.K.
Dr. Paloma Largo Flores, La Princesa University Hospital, Madrid, Spain
Dr. Francesco Gentili, University of Siena, Siena, Italy
Dr. Costin Minoiu, Carol Davila University of Medicine and Pharmacy, Bucharest, Romania
Dr. Susan Shelmerdine, Great Ormond Street Hospital for Children NHS Foundation Trust, London, U.K.
Dr. Tsvetelina Teneva, Medical University of Varna, Varna, Bulgaria
Most Significant News Event in European Radiology
Continuing debate over retention of gadolinium in the brain
Difficulties with radioisotope supplies due to Brexit
European societies join in ethical statement on artificial intelligence
Fraud trial of Dr. Maria Klusmann
MRI accident in Swedish Lapland
Problems at the Karolinska in Stockholm
Regulator finds shortage of radiologists puts lives at risk in U.K.
Warnings over health effects of vaping
Scientific Paper of the Year
Anthropogenic gadolinium in tap water and in tap water-based beverages from fast-food franchises in six major cities in Germany. Schmidt K et al, Science of the Total Environment, online 6 July 2019. Learn more.
Diagnostic accuracy of whole-body MRI versus standard imaging pathways for metastatic disease in newly diagnosed colorectal cancer: The prospective Streamline C trial. Taylor S et al, Lancet Gastroenterology & Hepatology, online 9 May 2019. Learn more.
Do you recommend cancer screening to your patients? A cross-sectional study of Norwegian doctors. Bringedal B et al, BMJ Open, online 30 August 2019. Learn more.
Microstructural white-matter alterations in men with alcohol use disorder and rats with excessive alcohol consumption during early abstinence. De Santis S et al, JAMA Psychiatry, online 3 April 2019. Learn more.
Pilot study of rapid MR pancreas screening for patients with BRCA mutation. Corrias G et al, European Radiology, online 28 January 2019. Learn more.
Public awareness of and responses to media coverage of invitation errors in the Breast Screening Programme in England: A cross-sectional population survey. Ghanouni A et al, BMJ Open, online 6 September 2019. Learn more.
Swedish national survey on MR safety compared with CT: A false sense of security? Hansson B et al, European Radiology, online 13 December 2019. Learn more.
Best New Radiology Device
Artis icono interventional angiography system, Siemens Healthineers
Cartesion Prime PET/CT scanner, Canon Medical Systems
DR 100s digital radiography system, Agfa HealthCare
DRX-Revolution nano mobile x-ray system, Carestream Health
Echelon Smart Plus MRI scanner, Hitachi Healthcare
Epiq Elite ultrasound scanner, Philips Healthcare
Evry dedicated head MRI scanner, Synaptive Medical
FDR D-Evo III digital radiography detector, Fujifilm Medical Systems
KDR AU Advanced U-arm digital radiography system, Konica Minolta Healthcare
Localizer wireless breast lesion localization device, Hologic
MyLab X5 ultrasound scanner, Esaote
Revolution Maxima CT scanner, GE Healthcare
RS85 Prestige ultrasound system, Samsung Healthcare
Ruby rubidium elution system, Jubilant DraxImage
Sonialvision G4 LX edition interventional system, Shimadzu
Best New Radiology Software
AI-Rad Companion Brain MR software, Siemens Healthineers
BioMind artificial intelligence algorithm, BioMind
ChestEye artificial intelligence algorithm, Oxipit
cNeuro software for assessment of brain images, Combinostics
Contextflow artificial intelligence software for case evaluation, Contextflow
Edison Open AI Orchestrator, GE Healthcare
iBiopsy imaging phenomics platform, Median Technologies
Icobrain artificial intelligence portfolio, Icometrix
InferRead DR Chest, Infervision
IntelliSpace AI Workflow Suite, Philips Healthcare
iNtuition AI Data Extractor, TeraRecon
Lify medical imaging app, Osimis
Qure.ai head CT scan interpretation and triage aid, Incepto Medical
Rede PACS image management software, Konica Minolta Healthcare
Sectra 3D trauma pelvic tool, Sectra
Unifi Workspace workstation software, Hologic
Best New Radiology Vendor
Aidoc, Tel Aviv, Israel
BioMind, Luxembourg
BrainScan, Gdynia, Poland
Combinostics, Tampere, Finland
Contextflow, Vienna, Austria
HypnoVR, Strasbourg, France
Incepto Medical, Paris, France
Infervision, Wiesbaden, Germany
Oxipit, Vilnius, Lithuania
Smart Reporting, Munich, Germany