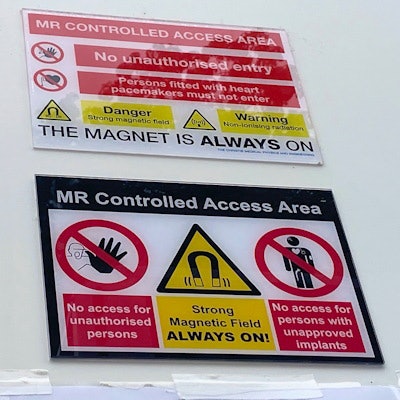 Details have emerged about an incident in which an inmate and guard were stuck to an MRI machine, causing serious injuries. More transparency on how accidents occur and how others can learn from these mistakes are vital, a safety expert said.
Inmate Lacey Windust and a prison guard were both stuck to an MRI machine at a SimonMed Imaging Center in Avondale, Arizona, U.S., in May 2022 after a SimonMed tech/radiographer allowed them to go inside the imaging room with metal on, an Arizona Department of Corrections incident report stated.
SimonMed was not required to tell federal regulators about an incident where an inmate and guard were stuck to an MRI machine, causing serious injuries, according to a report by the ABC 15 news outlet.
The news report states that state regulators were not able to investigate or take enforcement action because the imaging center is not currently licensed or regulated by the Arizona Department of Health Services due to an exemption provided in state law. The department said is now reviewing SimonMed's exemption, noted the report.
MRI safety expert Tobias Gilk spoke with the news station, saying that while the incident may not rise to the level of classification of a serious reportable event, it's "pretty serious."
Windust was only taken to the Emergency Room and never admitted to the hospital. The U.S. Food and Drug Administration (FDA) requires reporting for a serious adverse event if there is a hospital admission.
A federal database search of adverse events conducted by the news station found no report matching the date or description of what happened at the SimonMed in Avondale.
SimonMed later issued a public report stating that the company did voluntarily report this incident to the FDA, but the report was filed more than 10 months after the incident happened in March 2023. However, it did not share any information about why the company voluntarily reported the incident nearly a year after it happened.
Gilk said to ABC 15 that efforts should be taken on transparency about how accidents occur, as well as how other providers can learn from these mistakes.