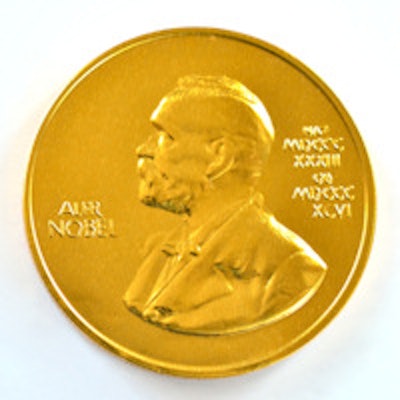 Moungi Bawendi, PhD, is one of three scientists to share the Nobel Prize in Chemistry in recognition of the discovery and synthesis of quantum dots. Bawendi is a co-founder of Lumicell, which develops fluorescence-guided imaging technology for cancer surgery.
Bawendi's work in optics, fluorescent molecules, and tissue imaging guided the design and invention of Lumicell's Direct Visualization System. The system, developed in Bawendi's lab at the Massachusetts Institute of Technology (MIT), is designed to assist in detecting residual cancerous tissue during lumpectomy using fluorescence imaging. The system is currently under review by the U.S. Food and Drug Administration (FDA).
Bawendi's expertise in the physiochemical properties of fluorescent molecules also led to the design of the company's investigational imaging agent Lumisight.
Today, Bawendi serves on Lumicell's board of directors. He has co-authored numerous studies, including one on single-molecule imaging via stable, small, specific, low-valency quantum dots. Along with that, he holds multiple patents with Lumicell. These include compositions and methods for imaging tumor resections and an imaging agent for detecting diseased cells.
At MIT, where he has worked since 1990, Bawendi is the Lester Wolfe Professor of Chemistry. Before that, he earned his undergraduate degree from Harvard University in 1982 and his doctorate from the University of Chicago in 1988. Bawendi's MIT lab has developed spectrometers based on quantum dots to diagnose diseases.
"It's exciting to see Professor Bawendi's research into quantum dots, which has enabled breakthroughs in medical imaging, display technology, and electronic materials, recognized with the top scientific prize in the world," said Jorge Ferrer, PhD, senior vice president, clinical research and strategy at Lumicell, in a company news release.
Ferrer is also a co-inventor of Lumicell's technology developed in Bawendi's lab at MIT.
"His expertise has been instrumental in the development of our investigational Lumicell Direct Visualization System, and he continues to be an important scientific advisor as we work toward FDA approval of the [system] for breast cancer and embark on the development of new imaging technologies to expand into other cancers," Ferrer stated.
The company said the system's performance has been investigated in more than 700 breast cancer patients across five clinical studies.
The Nobel Prize annually recognizes discoveries that have "conferred the greatest benefit to humankind." It rewards discoveries and contributions in the categories of physics, chemistry, physiology or medicine, literature, and peace. Bawendi will share the prize with Louis Brus of Columbia University and Alexei Ekimov of Nanocrystals Technology.