When it comes to hypersensitivity, mild contrast-induced reactions are sometimes overtreated, while moderate/severe reactions of internal organs tend to be undertreated, Swiss researchers have reported. They've produced a novel cartoon to illustrate their point.
"Patients with underlying conditions, such as allergic predisposition or specifically contrast medium allergy, are at increased risk to acquire an adverse drug reaction upon re-exposure to contrast materials, and therefore should undergo a prophylactic management before receiving contrast medium," noted Dr. Paolo Lombardo and colleagues from University of Bern, Academic Hospital (Inselspital).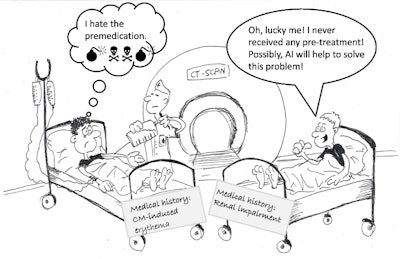 Radiologists should adjust their prophylactic regimen according to patients' preferences, and underlying diseases, respectively, they noted in an opinion article posted on 19 November by Insights into Imaging.
"In other words, in patients at risk prophylaxis is necessary, but with respect to anti-allergy drugs one should realize that in most cases less is more," they wrote, adding that the use of AI can help to reduce the dose of contrast-enhanced CT examinations, the number of exams, and to find the optimal individual prophylaxis.
Patients with minor and harmless complaints following contrast injection, such as erythema, regularly receive a maximal pretreatment (e.g., prednisolone plus H1-antagonist), according to the Bern team.
On the other hand, patients with reduced kidney function, renal insufficiency, and nephrotoxic medication should also undergo special prophylaxis protocols, such as naïve examination (without contrast), low-dose contrast application, or will be referred to an alternative modality, especially when multiple contrast applications during the last two to three days have been given.
"Experience shows that such patients are rarely candidates for a prophylaxis," they explained.
Prime objective
The authors' aim is to draw attention to the phenomenon that patients with a history of mild cutaneous contrast reactions are subjected more frequently and intensively to premedication than patients with moderate to severe systemic reactions.
"It appears to be counterintuitive that more severe disease patterns are associated with a less stringent premedication protocol and vice versa," they noted, adding that they found no studies in the literature to challenge this idea.
Lombardo and his colleagues speculate that visually apparent allergic symptoms after contrast injection are more likely to trigger an appropriate, or sometimes even overcautious response and pretreatment when patients are readmitted than, for example, further impairment of the damaged kidneys. This is nonimmediate and therefore is very likely to remain unnoticed by the radiologist.
Cartoons -- or RadioComics as they've called them -- can serve as an artistic complement to more evidence-based methods like radiomics to shine light on complex issues.
"Premedication is stressful or problematic for the patients. For example, H1 antagonists (antihistamines) have a sedative effect. Outpatients are therefore not allowed to drive a car following the examination," they noted. "Corticosteroids are problematic, for example, in patients with infectious diseases, osteoporosis, and diabetes mellitus."
The researchers explained how and why they use cartoons in an AuntMinnieEurope.com article published in 2019 and in a European Radiology article from January 2020.
You can read the full Insights into Imaging article here.