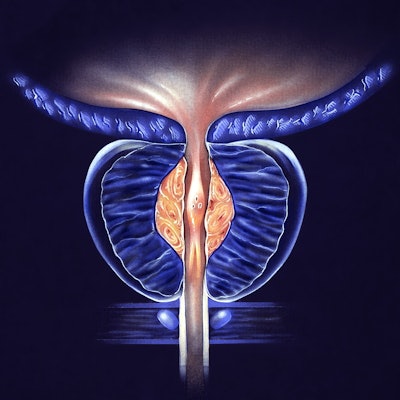 Minimally invasive prostate artery embolization provides significant benefits over combined blood pressure medications in patients with enlarged prostate, investigators from Paris have reported.
Researchers led by Dr. Marc Sapoval, PhD, of the Hôpital Européen Georges Pompidou, compared the approaches in a phase III trial in men with benign prostatic hyperplasia. They found that prostate artery embolization (PAE) significantly reduced lower urinary tract symptoms in patients after nine months.
"We also found that embolization provided better outcomes on sexual function in this population," the group wrote.
Benign prostatic hyperplasia (BPH) is the primary cause of male lower urinary tract symptoms (LUTS) and affects more than 50% of men over the age of 60. Management consists first of watchful waiting and behavioral and dietary modifications. This is followed by medications, starting with an alpha-blocker. The medication protocol typically consists of 5-alpha-reductase inhibitors (5-ARI), which are combined with alpha-blockers, and while this approach can improve symptoms, it carries a significant risk of side effects that can lead to patients discontinuing treatment, the authors explained.
Conversely, PAE is performed by interventional radiologists through a small puncture in the groin. A catheter is inserted and directed toward the prostate to deliver embolic agents that reduce blood flow to the prostate and shrink it.
In this trial, the researchers aimed to compare the effect on lower urinary tract symptoms of PAE versus combined medical treatment in patients with symptomatic BPH who still complained of bothersome LUTS despite more than one month of alpha-blocker treatment.
Between September 2016 and February 2020, the researchers enrolled 90 patients in 10 French hospitals and split them into two equal groups to compare results of PAE and combined therapy. Patients with BPH greater than 50 ml who were resistant to alpha-blocker monotherapy were included, with combined therapy consisting of a combination of 0.5 mg of oral dutasteride and 0.4 mg of tamsulosin hydrochloride per day.
After nine months, outcomes were evaluated using the International Prostate Symptom Score (IPSS) and the International Index of Erectile Function (IIEF), both widely used questionnaire tools used to assess the severity of patient symptoms.
According to the study findings, the nine-month change in IPSS was -10.0 for the PAE group and -5.7 in the combined therapy group. In addition, at nine months, the change in patients' IIEF score was 8.2 in the PAE group and -2.8 in the combined medication group.
While this is the first randomized trial comparing the two approaches, the improvements in the PAE group were of a magnitude that is clinically significant to patients, the group wrote.
"PAE provides better urinary and sexual symptoms score benefit than combined therapy in patients with bothersome LUTS related to BPH," the researchers concluded.
The study was published June 29 in the Lancet Regional Health -- Europe.