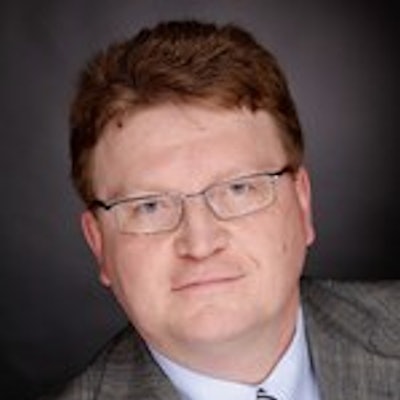 As social networks continue to evolve as a medium for exchange, radiologists too have harnessed them as a tool for communication, but what motivates them to do this? In this Q&A interview with the German Röntgen Society (Deutsche Röntgengesellschaft, DRG), Dr. Heiko Alfke discusses his unusual way of sharing professional expertise through regularly publishing images of radiological interventions on LinkedIn -- and the reasons behind it.
Alfke is director of the Clinic for Diagnostic and Interventional Radiology at the Lüdenscheid Hospital. The following is an edited version of a translation of an article published in German online by the DRG.
Q: How did you get the idea to publish interventional images on LinkedIn?
A: I registered on LinkedIn a few months ago out of pure curiosity. I use it to get informed about professional topics, especially digitalization in medicine and climate-related issues. In addition, I use the continuing education opportunities on LinkedIn related to user software, management, data science and the like.
However, LinkedIn is a social network and so I asked myself what I could contribute in terms of content and where there might still be a gap in the service. I noticed that only relatively few colleagues publish interventional radiology cases and content on it, so I started doing so myself.
Q: Do you see your posts on LinkedIn as training for colleagues or are you more concerned with exchange and networking?
A: Both. Of course I hope that the topics presented, which are mostly structured like case reports, can be used as a refresher. It is particularly exciting when other colleagues comment and provide their own input. The case presentations benefit from this and have generated interesting contacts.
Q: What has been the response from the radiological community so far?
A: For me as a social media newcomer, it has been surprisingly good. Every case is viewed by several hundred colleagues, and I also get positive feedback in the form of likes. In the meantime, some younger radiologists are also following me, which I interpret as interest, especially in the case presentations.
Q: Are your contributions also a chance to get young radiologists interested in interventional radiology?
A: I am convinced of that. The full spectrum of interventional radiology cannot be learned and experienced at every training center. In this respect, it is interesting to get to know less-common interventions and to refresh one's knowledge. The case-based presentations also enable practical learning through small chunks of knowledge in a short time. With increasing knowledge of the rich possibilities of interventional radiology, enthusiasm for the subject will certainly increase.
Q: Is it possible to use LinkedIn posts like yours to attract young people to become members of the German Society for Interventional Radiology and Minimally Invasive Therapy (DeGIR)?
A: That is certainly possible. I myself consciously rate publications by other interventional radiologists or by DeGIR positively. Some of the people who follow me see this. Or DeGIR uses the opportunity to actively draw attention to itself in the comments section. As far as I understand it, LinkedIn's algorithm "rewards" interactions between users, i.e., likes, comments, forwarding of publications, etc. This way, networks can be linked to each other from a network. In this way, networks of members interested in interventional radiology can be created on LinkedIn.
Q: What further plans are you pursuing with your LinkedIn account?
A: For the time being, I'll just try to keep publishing interesting articles. You can see from the feedback what is of particular interest. In addition to interventional radiology topics, I also publish classic x-ray findings from my case collection. I have also thought about presenting (interventional) radiological working techniques more intensively as a kind of "How I do it" guide. But of course the whole thing should not be too elaborate. Effort and benefit must be in reasonable proportion.
Editor's note: This is an edited version of a translation of an article published in German online by the DRG. Translation by Frances Rylands-Monk. To read the original version, go to the DRG website.