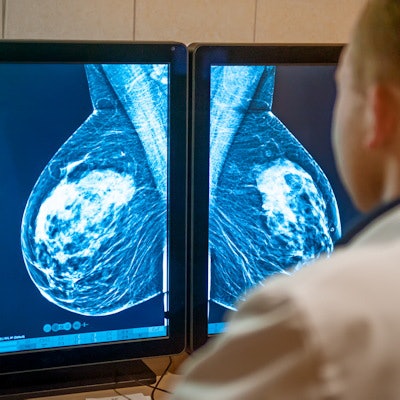 Adding digital breast tomosynthesis (DBT) to mammography screenings could help detect slow-growing, invasive breast cancers that might not otherwise be detected for the next three years with conventional imaging, according to a 1 February study in Radiology.
Researchers led by Dr. Pierpaolo Pattacini from IRCCS of Reggio Emilia in Italy also found that DBT helped detect large numbers of fast-growing cancers early in women younger than 50 years and in those with dense breasts.
"Our results suggest a true improvement in early diagnosis, compared with digital mammography, when DBT is used to screen women aged 45 to 50," corresponding author Paolo Giorgi Rossi, PhD, told AuntMinnieEurope.com. Rossi is also from IRCCS of Reggio Emilia.
Research indicates that DBT is more sensitive than conventional digital mammography. Specificity with DBT also improved in studies where the recall rate with mammography was high. On the other hand, DBT's specificity was unaffected or only slightly higher in programs where mammography's recall rate was low.
This suggests that higher sensitivity could improve screening through earlier diagnosis and possibly improved prognosis without more false-positive results. However, DBT's effect on subsequent cancer incidence and mortality is still unknown, and finding this out would take too long, the study authors wrote.
Pattacini's team wanted to compare rates of interval cancers and overall breast cancer incidence after screening with DBT plus mammography versus mammography alone. The group led a previous study that found the combined imaging approach can help detect more cancers.
"This follow-up addresses the hypothesis that DBT plus digital mammography reduces interval cancers and cancers at the subsequent screening round; if not, the gain in detection would likely be mainly for slow-growing cancers," the authors wrote.
Pattacini and colleagues looked at data from a total of 26,877 women. Of these, 13,356 (49.7%) were randomly placed into the cohort that had DBT plus mammography, while 13,521 (50.3%) had mammography alone.
The combination of DBT and mammography detected 101 cancers among the 13,356 women, while mammography alone detected 61 cancers among the 13,521 women.
The researchers also found that interval cancer incidence was similar in both cohorts (21 versus 22 cancers) when it came to rescreening with mammography after 12 months in women ages 45 to 49 years or after 24 months for women ages 50 to 69 years.
Cumulative incidence also remained higher for women older than 50 in the combined approach cohort at 153 cancers versus the 124 cancers found in the mammography cohort. However, such incidence was similar in both cohorts for women ages 45 to 49 years, with 36 cancers for the combined group and 41 for the mammography group.
Rossi told AuntMinnieEurope.com that the researchers were "very surprised" they did not see a decrease of screen-detected cancers on subsequent screening after DBT. The team called for larger studies and pooled analyses of ongoing trials to validate their results.
"It is important to further investigate if the excess in detection observed in the DBT arm is due to overdiagnosis or to cancers that will be detected in the following years," Rossi said.
In an accompanying commentary piece, Dr. Amie Lee and Dr. Kimberly Ray from the University of California, San Francisco wrote that more long-term clinical outcomes data from multiple screening rounds and analyzing additional substitute end points from ongoing DBT trials will be of "immense interest" to women and their healthcare providers.
"The current study provides further data on the clinical effectiveness of DBT by using the surrogate end point of interval cancer incidence," they wrote. "Importantly, it highlights the need for continued accrual of more robust evidence on the long-term clinical outcomes of DBT screening."