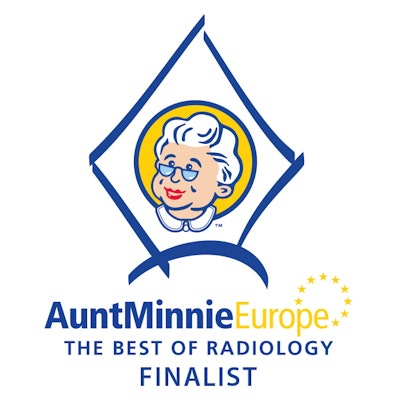 The fourth edition of the EuroMinnies, AuntMinnieEurope.com's annual awards scheme, is entering its final phase, and today we can reveal the full list of finalists. In the four "people awards," the eight finalists come from eight different European nations.
After the first round of voting, the expert panel comprising members of our editorial advisory board, regular columnists, and previous winners has now agreed on 18 finalists in nine categories, including the three industry prizes and the newly introduced award for radiographers.
The full list of semifinalists was based on nominations submitted in late 2021 by subscribers of AuntMinnieEurope.com. One winner will now be selected for each category by our judges. The winners will be announced in February, and the trophy presentations will take place in March.
Most Influential Radiology Researcher
Dr. Gabriel Krestin, PhD, head of radiology and nuclear medicine (retired December 2021), Erasmus MC, Rotterdam, the Netherlands
Krestin has extensive experience in leadership, management, and strategic planning. He is a past president of the European Society of Radiology (ESR), founder of Management in Radiology (MIR), and founder and current scientific director of the European Institute for Biomedical Imaging Research (EIBIR).
Born in Romania, Krestin immigrated to Germany at the age of 19. He graduated in medicine from the University of Cologne in 1981 and completed a residency in radiology there in 1988. After fellowship training in abdominal imaging and MRI at Cologne, he completed his PhD thesis on experimental and clinical applications of fast gradient-echo MRI in the abdomen in 1990.
He worked as a staff radiologist and head of the MRI Center at the University Hospital in Zurich, becoming head of clinical radiology and acting chair of radiology before moving to Erasmus MC. From 1998 to 2009, he was a permanent visiting professor at Stanford University Medical School.
Krestin is a former president of the European Society for Magnetic Resonance in Medicine and Biology (ESMRMB) and the International Society for Strategic Studies in Radiology (IS3R). He has received the ESR Gold Medal, the Albers Schönberg Medal of the German Society of Radiology, and the Schinz Medal of the Swiss Society of Radiology. He is a member of the U.S. National Academy of Medicine.
His main areas of research are imaging of abdominal organs and cardiovascular diseases, molecular imaging, and population imaging. At EIBIR, he has played a central role in drafting a strategic research agenda for biomedical imaging. The agenda was aimed at informing policymakers of key areas of imaging research and hot topics to consider in future funding programs.
"The radiologists who will be practicing in 20 to 30 years' time will need to understand more about the molecular basis of diseases, understand the power of computers and artificial intelligence, and deal with big data, and data analytics," he said in an interview prior to ECR 2017. "This is something we need to introduce as fast as possible into our education."
Krestin said the future role of radiologists will be more about consulting with clinicians in a multidisciplinary team, handling data, and answering their questions. To perform this role, radiologists need to change their daily practice, moving from describing images to interpreting and integrating information from blood tests, imaging, and genetic sequencing.
In the commercial arena, Krestin founded Quantib in 2012 as a spin-off of Erasmus MC. From the outset, he has been a member of the supervisory board at Quantib, which develops certified medical software designed for clinical use.
Dr. Denis Le Bihan, PhD, founding director, NeuroSpin, French Atomic Energy Commission (CEA), Saclay, Paris, France
Le Bihan is credited with inventing, refining, and introducing into research and clinical practice the concept of diffusion MRI. He has also made major contributions to the evolution of functional MRI.
Born in 1957, Le Bihan completed his training in medicine -- including a residency in neurosurgery and radiology -- and physics before moving to the U.S. in 1987. He was a research section chief in the Clinical Center at U.S. National Institutes of Health, Bethesda, Maryland, and a clinical associate professor of radiology at Georgetown University, Washington, DC.
In 1994, he joined the Service Hospitalier Frédéric Joliot (SHFJ), a division of the CEA based in Orsay, near Paris. This interdisciplinary facility conducts medical imaging research, particularly in the field of PET. Le Bihan established the Anatomical and Functional Neuroimaging Laboratory at the SHFJ to develop and apply neuroimaging methods.
In 2000, he became the director of the Federative Research Institute of Functional Neuroimaging (IFR 49), and in 2007, he founded NeuroSpin, which is dedicated to the study of the brain by MRI at very high magnetic fields.
Le Bihan was awarded the gold medal of the International Society for Magnetic Resonance in Medicine (ISMRM) in 2001. He is also the 2002 recipient of the Lounsbery Award from the U.S. National Academy of Sciences and French Academy of Sciences and a 2003 co-recipient (with French scientist Stanislas Dehaene) of the Louis D. Award of the Institut de France.
He is a full member of the French Academy of Sciences, an honorary member of the American Society of Neuroradiology and the French Canadian Society of Radiology, and a Knight of the French National Order of Merit. He has also forged strong connections in Japan, having been a guest professor at Kyoto University's Human Brain Research Center since 2005.
According to an ESR statement about Le Bihan issued in 2016, "His pioneering work has combined the invention and development of extremely innovative methods, such as diffusion MRI, with the application of these methods to questions of the utmost scientific and clinical importance, such as brain function, brain connectivity, cancer diagnosis and treatment,"
His Gallic flair was evident last October, when Le Bihan and his colleagues scanned a pumpkin using an 11.7-tesla MRI scanner prior to Halloween. This report was the most viewed article on AuntMinnieEurope.com during 2021.
Most Effective Radiology Educator
Dr. Bettina Baessler, professor of clinical radiology, University Hospital Würzburg, Germany
Dr. Bettina Baessler recently became professor of clinical radiology at the University Hospital Würzburg, focusing on cardiovascular imaging and AI.
"My plans here are to engage in medical student teaching, but to also focus on a new and modern residency program," she said. "I have already started to develop a new training curriculum based on the ESR curriculum and to introduce modern teaching formats. Digital competences and AI will also be a focus of my teaching activities."
She has been an active member of the cardiac imaging and medical imaging IT working groups of the German Roentgen Society (DRG) and the European Society of Medical Imaging Informatics (EuSoMII).
In Germany, Baessler helped to revise the national training curriculum for medical students and is involved in the "Medizinischer Fakultätentag" (medical faculty day). In her role as co-founder of the DRG's Diversity Commission (with Dr. Nienke Lynn Hansen), she introduced the RADiversum series of podcasts and has emphasized the DRG's welcoming culture and the importance of involving more young people.
She supports the implementation of digital skills into the medical training curriculum and helped to develop a quality improvement project for radiological teaching at her former department in Cologne, providing lectures on demand and incorporating online voting systems into lectures. She was also involved in the national training curriculum of medicine (Nationaler Kompetenzbasierter Lernzielkatalog Medizin, NKLM) as a speaker of the project group "digital competencies" and as a co-speaker in the working group for the implementation of NKLM.
In 2021, she was appointed chair of the Education Committee of the cardiovascular section of the International Society for Magnetic Resonance in Medicine (ISMRM), and she plans to develop new teaching material for the society. Also in 2021, she co-founded lernrad.com, a company that is focused on producing e-learning content for medical students and radiologists in Germany.
Dr. Francesco Sardanelli, professor of radiology, University of Milan, Italy
Sardanelli has dedicated much of his career to training and education in breast imaging, and he has a deep passion for peer-reviewed scientific journals.
In a 2010 interview, he said he typically wakes up at 5:30 a.m. and works out for up to an hour at home while watching the TV news. He is fascinated by current affairs in Italy and worldwide.
"My workout is a good time for this, especially since I never read newspapers anymore. I usually arrive at work between 7 and 7:30 a.m., take a very brief break of 15 minutes for a light lunch at 2 p.m., and am usually at work until 7:30 p.m.," he noted.
Born in Genoa in 1953, Sardanelli has been head of radiology at the Research Hospital (IRCCS) Policlinico San Donato in Milan since 2001 and is professor of radiology at the University of Milan. He has worked as editor in chief of the European Radiology Experimental journal since 2016.
He was a staff radiologist at the San Martino Hospital, Genoa, from 1987 to 1999 and helped run postgraduate education in radiodiagnostics at the University of Genoa from 1992 to 2000. He was associate professor of radiology at the University of Milan from 2006 to 2014. Since 2015, he has been director of the university's Postgraduate School in Radiodiagnostics.
Sardanelli was an editorial advisor on European Radiology from 2003 to 2006 and from 2012 to 2016. From 2013 to 2016, he was associate editor of Radiologia Medica. He has been a member of the editorial boards of the Breast since 2007, the American Journal of Roentgenology (assistant editor, Women's Imaging Section, since 2009), and Clinical and Translational Imaging since 2014.
From 1999 to 2011, he was involved in the Istituto Superiore di Sanità as a national radiological coordinator of Italian multicenter studies on breast MRI screening of high-risk women. He is founder and member of the board of directors of European Cancer Care Certification (now Breast Centres Certification). In addition, he is a member of the audit team for certification of European Breast Units, and vice president of the Quality Assurance Scheme Development Group.
Sardanelli is past president of the European Society of Breast Imaging and the Italian College of Breast Radiologists. He is a member of the Research Committee of the ESR and director of the European Network for Assessment of Imaging in Medicine at the European Institute for Biomedical Imaging Research.
He is co-author of over 1,000 abstracts accepted at national and international medical meetings and has given over 500 oral presentations, lessons, and invited lectures. He has written six books and 46 book chapters, as well as over 350 full articles.
Radiology Rising Star
Dr. Paola Clauser, PhD, radiologist, Medical University of Vienna, Austria
Clauser has worked as a staff radiologist at the Department of Biomedical Imaging and Image-guided Therapy, Medical University of Vienna, since 2016. She has more than seven years' experience in breast imaging (diagnostic and interventional) and over three years of experience in prostate imaging.
She is co-founder and chair of the young radiologists committee of the European Society of Breast Imaging (EUSOBI), which aims to improve education for junior radiologists and foster connections within and outside Europe. She conducts research mainly in breast PET-MRI and comparison between contrast mammography and MRI, and she has received the Carla Boetes Investigator Award from EUSOBI.
Clauser did her radiology residency at the department of medical and biological sciences at the Institute of Diagnostic Radiology, University of Udine, Italy, from 2010 to 2015. She then worked as a breast imaging researcher in the department of biomedical imaging and image-guided therapy in the Division of Molecular and Gender Imaging at the Medical University of Vienna, focusing on breast tomosynthesis and breast MRI. Between 2016 and 2021, she undertook her PhD at the same department.
She has been actively involved in several multicenter studies, dealing with onsite organization and data management. She is co-principal investigator of the ÖNB-funded project measuring hallmarks of cancer for non-invasive characterization of breast lesions by simultaneous multiparametric F-18 ethylcholine PET-MRI.
Clauser is responsible for more than 70 publications in peer-reviewed journals. She is junior deputy editor for the journal of the Italian Society of Medical Radiology, and a member of the Scientific Editorial Board of European Radiology. She is also a reviewer for several peer-reviewed journals, including European Journal of Radiology, Academic Radiology, Investigative Radiology, JMRI, and the Breast.
Dr. Michail Klontzas, PhD, radiology resident, University General Hospital of Heraklion (PAGNI), Greece
Between 2014 and 2018, Klontzas studied for a PhD in chemical engineering at Imperial College London, focusing on metabolomics in bone tissue engineering. His first degree was in medicine at the University of Crete, and he is currently working as a resident in radiology at the University Hospital of Heraklion, Greece. He is also a collaborating researcher on artificial intelligence (AI) and has a strong interest in musculoskeletal applications.
In the first half of 2019, Klontzas was a postdoctoral fellow in regenerative medicine at the Emory University, School of Medicine Winship Cancer Institute & Georgia Institute of Technology. He concentrated on how various "omics" disciplines (i.e., genomics, metabolomics, radiomics) could work with stem cell therapies. From July 2019 to March 2020, he worked as a full-time military camp physician with the Greek army.
Klontzas is a member of the recently established 2021-22 trainee editorial advisory board of the journal RadioGraphics. He was chosen as one of 16 members out of 100 applications. Only four members of the board are based outside of North America.
In an interview with Imperial, Klontzas said his favorite quote came from Teddy Roosevelt: "The credit belongs to the man who is actually in the arena ... who at the best in the end knows the thrills of high achievement, and who at the worst, if he fails, at least fails while daring greatly."
A particularly inspiring experience during his PhD studies was to attend one of the last lectures given by Prof. Stephen Hawking, the renowned physicist from Cambridge University, he added.
Klontzas maintains a research collaboration with the Institute of Computer Science of the Foundation for Research and Technology, as a member of an interdisciplinary team working on musculoskeletal imaging, molecular imaging, and AI. He was also selected as the only delegate of the European Society of Medical Imaging Informatics to the Radiology Trainee Forum of the European Society of Radiology.
Most Influential Radiographer
Charlotte Beardmore, executive director of professional policy, Society and College of Radiographers (SoR), U.K.
Beardmore qualified as both a diagnostic and therapeutic radiographer. Her career began at the department of clinical oncology at Guy's Hospital in London in 1985. A year later, she joined London's Royal Marsden Hospital, where she worked as senior radiographer from 1988 to 1992 and as superintendent radiographer from 1992 to 1998.
Between 1998 and 2002, she was radiotherapy services manager and superintendent radiographer for Berkshire Cancer Centre, the Royal Berkshire & Battle NHS Trust, Reading. She joined the SoR in 2004 as professional officer for radiotherapy, before becoming the society's professional and education manager (2012-2014) and director of professional policy (2014-2021).
She became an honorary member of the Royal College of Radiologists in 2015 and represents the SoR on a steering group establishing a project to develop national reporting musculoskeletal standards.
In addition, Beardmore was liaison lead/chair of the Radiotherapy Expert Committee of the European Federation of Radiographer Societies (EFRS) from 2015 to 2020. She served as vice president of the EFRS from November 2017 to February 2021, when she was appointed president. She stepped down from the presidency in November 2021, handing over to Charlotte Graungaard Falkvard, but she continues to be an executive board member of the EFRS.
In her role at the SoR, Beardmore leads the development of professional policy.
She manages a team that develops professional guidance for diagnostic and therapeutic radiography for those working in imaging and radiotherapy services, supports and develops evidence-based practice for the profession through research leads, and oversees the approval processes for radiography education in the U.K. and the accreditation of practitioners to assure quality of provision and to support professional development. Additionally, she helps develop guidance to support the profession.
"As a profession, we must further develop our skills to capitalize upon the exciting technological opportunities emerging, and continue to develop our profession to support delivery of evidence-based, personalized care for patients," she said.
Beardmore is co chair of the National Advancing Practice Programme board for Health Education England and has recently been invited to contribute to a U.K. working group of the All-Party Parliamentary Group on Global Health, which will be making recommendations about workforce requirements over the next 20 years.
Jonathan McNulty, PhD, associate professor, University College of Dublin (UCD) School of Medicine, Ireland
McNulty has a senior academic leadership role at the UCD, serving as vice principal for teaching and learning at the College of Health and Agricultural Sciences, associate dean of graduate-taught studies in the School of Medicine, and UCD fellow in teaching and academic development.
He focuses on supporting the strategic academic development, enhancement, planning, and delivery of graduate programs and continuing professional development provisions, as well as the effective academic governance of graduate programs. He is a member of the College and School Executive Management Teams, College Education and Training Group, and University Teaching and Learning Leadership Group. He is also responsible for faculty development related to postgraduate teaching and assessment and has led the introduction of 20 new postgraduate programs over the past four years.
McNulty earned a degree in radiography at UCD and began his career at Beaumont Hospital in Dublin. After securing a postgraduate diploma in MRI at Trinity College Dublin, he then returned to UCD, as a member of faculty, and commenced a PhD in diagnostic imaging. He is a former chair of the Erasmus Radiography Group, which consists of 16 academic institutions across Europe, and since 2014 he has filled a variety of roles for the European Federation of Radiographer Societies (EFRS) -- from treasurer and board member to vice president and president (2017 - 2021). He is also a member of the executive board of the European Society for Magnetic Resonance in Medicine and Biology.
In April 2021, it was announced that McNulty would become editor in chief of the journal Radiography. He began his tenure in the role in January 2022. In his opening editorial, he outlined the following five priorities for the coming year:
Engagement (with readers, reviewers, the profession, and other professions)
Equality, diversity, and inclusion (establishing a plan, reviewing metrics, and implementing an action plan)
Recognition (recognizing and rewarding top authors and reviewers)
Leadership planning (building a pipeline to develop and support current and future editorial board members)
Growing metrics (continue the upward trajectory across all metrics and to progress the journal ranking)
For many years, McNulty has been involved with discussion and debate around the development of radiographer reporting, and he urges medical imaging professionals to look at advanced practice as something much more than just radiographer reporting. Reporting is the area most people first think about and that most radiographers or organizations might first explore, but there are many other areas of advanced practice that may be more easily implemented and have more impact, he explains.
"One size does not fit all," he said. "We have all been guilty of looking at the success of radiographer reporting across most, but not all, of the U.K. and thinking 'we need to do this in our country' and this must be the goal of our national societies, etc. However, the possibility is not a good enough reason; we must first establish that there is a clear need, as there was in the U.K. when radiographer reporting started."
Any advanced practice should be underpinned by postgraduate-level education and training, and governance and quality assurance processes must be in place.
"This, together with engagement and partnership with key stakeholders, is what can allow advanced practice by radiographers to flourish, to improve patient care, improve patient outcomes, and thus truly add value," he continued.
McNulty's main interests include healthcare education research, neuroimaging, and forensic imaging, and he has published more than 80 papers in a variety of journals. In April 2020, he told AuntMinnieEurope.com about how radiographers can best use personal protective equipment (PPE) and prevent infection in the imaging suite, emphasizing that radiographers are "front-line healthcare personnel, often in direct contact with suspected or confirmed COVID-19 patients ... [and] must have access to PPE."