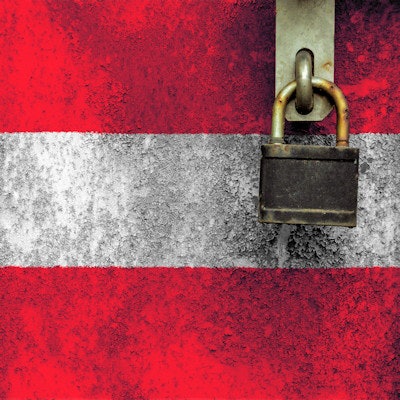 The European Society of Radiology (ESR) is pressing on with plans to stage ECR 2022 as a face-to-face meeting in Vienna, despite the national lockdown that has now begun in Austria.
On 22 November, Austria became the first Western European country to reimpose lockdown this autumn in the face of surging COVID-19 infections. Restaurants, bars, Christmas markets, and most hotels have closed their doors for 10 days initially, and maybe for up to 20 days, though ski lifts remained open to the vaccinated.
In the light of the latest developments, the ESR has not so far adapted its plans for ECR 2022, which begins on 2 March -- in just over three months' time.
"We are preparing for all kinds of different scenarios, and we will hold ECR 2022 as an onsite meeting according to Austrian national regulations, whatever those may look like in March 2022," a spokesperson told AuntMinnieEurope.com on 22 November.
The Austria Center Vienna (ACV) also serves as a COVID-19 testing and vaccination facility, and this means the organizers can quickly adapt to any changes in restrictions, if necessary. Vienna's COVID-19 infection rates are regarded by most observers to be fairly modest for a city with around 2 million inhabitants, and this situation is due to widespread polymerase chain reaction (PCR) testing and many people already having their booster jabs.
Nevertheless, ECR 2022 will be accessible online, and the ESR will stream all content live, with the possibility to collect continuing medical education (CME) credits. Every ECR 2022 ticket grants full onsite and online access.
"Registration is going very well, and we are currently ahead of bookings in comparison to our last onsite ECR in 2019," the ESR representative said. "Preparations are in full swing, and all our industry partners are delighted to return to an onsite meeting. We are in constant contact with our exhibitors. Just today, we welcomed GE in Vienna for a full-day site inspection at the ACV, and all other 'big players' are visiting us for regular site inspections."
There are questions to answer and obstacles to overcome as both sides are facing challenges caused by the pandemic, but the overall spirit is extremely positive, the spokesperson continued.
The ESR Executive Council, under its president, Prof. Dr. Regina Beets-Tan, addresses all matters as they arise. The ESR's Annual Leadership Meeting was recently held in Graz, Austria, and ECR 2022 was one of the main topics of discussion.
When asked what advice the ESR has for potential ECR 2022 delegates, the representative replied, "As our attendees are arranging travel by themselves, we are not really in the position to give any advice. Naturally, we advise anyone booking flights to the congress to check the terms and conditions of their respective airlines carefully before booking. As a Green Meeting, we are always happy to see people use the train and recommend traveling as environmentally friendly as possible."
Regarding refunds, in terms of registration, this is clearly stated in the organizers' terms and conditions. Each ECR 2022 registration is valid for onsite and/or online participation, and in case national regulations do prevent ESR from holding an onsite meeting, all tickets are valid for ECR 2022 Online.
"The biggest reassurance we can provide is that everyone -- from the ESR staff and Executive Council to congress presenters and industry partners -- is planning for a full onsite meeting in March 2022," the spokesperson concluded. "All involved stakeholders are positive that we can make it happen. If worse comes to worst, then we are fully prepared to hold the meeting online."
Last-minute changes are still having to be made by some event managers, however. For instance, the hosts of EuroMedLab 2021 have just decided to postpone their onsite conference in Munich due to rising COVID-19 infection rates in Germany -- only a week or so before the late November start date.