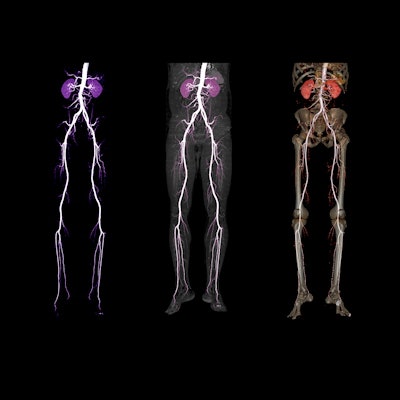 In an interview published on the German Röntgen Society's website (DRG), three experts from the German Society for Interventional Radiology and Minimally Invasive Therapy (DeGIR) explain that the specialty is gaining ground in the treatment of occlusive peripheral arterial disease (PAD).
Analysis of the DeGIR registry data for 2018/2019 has shown a high volume of procedures performed in the care of vascular patients. During the period of analysis, there were 57,732 interventional procedures across 228 centers for diseases such as occlusive PAD. However, there is still a need to recruit more centers to participate in the DeGIR Quality Registry and to specifically train interventional radiologists certified in vascular medicine, the interviewees noted.
Currently, 301 clinics register their interventions with DeGIR, these totaling around 195,000 procedures per year, and over half of the clinics are DeGIR training centers.
The registry records the interventions performed, any complications and -- since the examination is performed with x-rays -- dose values, noted Prof. Philipp Paprottka, head of interventional radiology at Klinikum rechts der Isar, Technical University of Munich, member of the DeGIR Board of Directors, and head of the DeGIR Quality Assurance Software Steering Group.
"The registry is not only used for quality assurance of the participating centers: the data are scientifically evaluated and can be used in the future, for example, for the development of new dose reference values in radiation protection. In recent years, numerous evaluations of the DeGIR quality register have been published and several more are in progress," he said. "In this respect, the registry makes a decisive contribution to better patient care."
He pointed to plans to create long-term quality assurance in the registry's software, which will be important in oncology where patients are followed up over time.
To read the full article published in German, go to the DRG website.