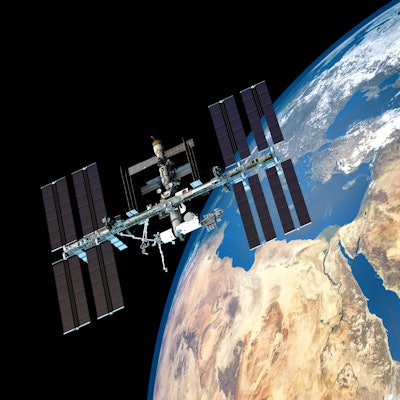 France's radiology society, the SFR, has launched the "Mars Interventional Radiology (IR) Toolbox" challenge. The challenge, in partnership with the National Center for Space Studies (CNES), calls for teams of two to five resident or senior radiologists to design an IR toolbox for use during long-distance space journeys and extraorbital travel.
During such long trips into space, particularly the planned mission to Mars, medical issues will have to be managed autonomously with compact and versatile equipment, noted Prof. Vincent Vidal, professor of interventional radiology at Assistance Publique -- Hôpitaux de Marseille (AP-HM), who spoke about the event in a special session held on 11 October at the French national congress, Journées Francophones de Radiologie (JFR) 2021.
The toolbox challenge is the latest project in the year-old partnership with CNES, which was announced at JFR 2020.
The impossibility of heavy surgery and direct interaction with experts on earth will limit the management of a good number of pathologies in astronaut patients. IR addresses several of these issues, particularly given its capacity to access deep organs under ultrasound guidance, via procedures such as drainage of a life-threatening digestive tract abscess.
At JFR 2022, the jury will award a prize comprising a scholarship grant and a visit to CNES in Toulouse. This prize will go to the team with the best and most comprehensive solution, the idea being that this toolbox will cover every possible medical scenario and use the lightest and most versatile equipment, according to Vidal. Conversely, these interventional procedures developed for space in turn also may be applied on earth.
Objectives

Conceptualize the IR toolbox for distant space journeys meeting the following requirements: Ensure the technical realization of specific interventions while minimizing as much as possible the requirements in terms of volume and weight of medical devices and instruments.
Describe new interventional radiology interventions to respond to pathologies that on earth are treated surgically.

Rules

The application is open to any team made up of two to five radiologists, either residents or seniors.
The SFR stated that doctors who embark on this mission must be extremely versatile and have skills in interventional radiology.